Whatever your needs, Kevin Gibney of PropertyForSaleMarche.com brings us an essential guide to buying your perfect Italian property
How do you find the perfect property? It's a question that has been posed hundreds of times to property expert Kevin Gibney of Le Marche estate agency PropertyForSaleMarche.com. And now he guides Italia! readers along the road to finding the right property for their own personal version of the Italian dream.
"The 'right' property is different for every buyer, and how you define that is a highly personalised discussion," says Kevin. "You need to ask yourself: where in Italy you'd like to be, how much you have to spend, how willing you are to trade immediacy for customisation, whether you want super authenticity or the worry-free benefits of a newly restored house… Then it comes down to selecting the category of house, visiting contenders and making a decision on what suits you."
"It's important to examine the various categories of houses on the market and proceed from there," says the Marche property veteran, who has bought, sold and restored many, many types of properties. "Fortunately, property categories are very distinctly defined and each has it respective pros and cons."

Finished houses
The first category is the finished, restored house, the most obvious property category. "As the name implies, houses that are finished and fully restored are ready to enjoy the moment you complete on the purchase," says Kevin. He continues, "These houses have the obvious appeal – they're done! There's nothing to think about. An example of such a property is Casa Vostra, an exquisite example of a Marche farmhouse restoration with original touches, pool and proximity to town."
PROS The pros of such a property are centred around speed – you buy the house, you move in and that's it! You can also get good value for your money today with many finished houses.
CONS On the downside, buying a finished house means you need to accept the prior owner's ideas for how the house should look and function, and build quality can vary.

Ruins to rebuild
Kevin then takes us to the other end of the spectrum, ruins to demolish and custom rebuild. "Based on my personal and professional experience, I am a big fan of these rebuild projects," says Kevin. "You get exactly what you want and you get a state-of-the-art new building that, to all intents and purposes, looks like an old one! Casa Gioia is an ideal ruin with great views, easy access and a four-bedroom restoration plan."
PROS Best-in-class with respect to structural elements (earthquake resistance), energy systems, anti-damp measures, open-space architecture and just about everything else. Build quality is excellent and it's completely customized to your needs.
CONS The downside is the time it takes (10-16 months), and
the cost per square metre will be higher than with other solutions. Also, while old materials are frequently used to add character, for some people the original character might be lacking.

Structurally restored
In the middle of the spectrum are two other categories. Kevin describes the first: "There are several houses on the market that have been structurally restored and await finish work," he says. "The work required includes heating, plumbing and electrical systems, as well as windows/doors and decorative items like bathrooms, floor tiles and kitchens," he explains. "These are great options, in between the ruin and the finished house – there just aren't very many of them. One we love is Casa Icona, which marries excellent build quality with terrific views and the chance to finish the interior as you desire, all in about five months."
PROS Build quality, approvals/permissions already in place, chance to customize the finish work, short timeframe to complete.
CONS General lack of availability, some constraints on floor plan design and in some cases, the price per square metre can be high.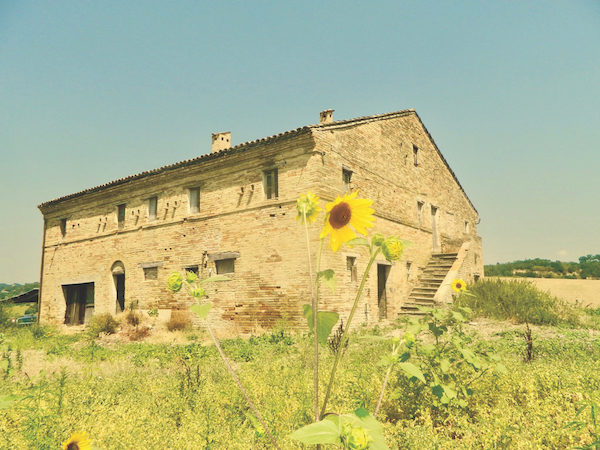 Houses to restore
The final category is the old farmhouse that's still standing and can be restored without demolition. "These are houses that are in need of restoration," Kevin explains, "but that remain standing, so the works basically reinforce the structure, change the layout to the degree possible, install all new plumbing, heating and electrical infrastructure and address energy consumption and damp prevention. This is the ideal sort of house for the lover of authenticity and rusticity as the category allows for preservation of original touches and architectural character. Casa Arcata, with its amazing vaulted ceilings, is an example of such a property on our website."
PROS Authenticity and character combined with your own choices of modernization. Entry costs are low in today's market.
CONS A restored house will never have the same build quality as a new build. This type of restoration is more prone to unknowns in the course of works. Architectural flexibility is limited. Sometimes the restoration cost can exceed that of a new build.
More information:
Property For Sale Marche
+39 347 538 6668
info@propertyforsalemarche.com
Ad feature in association with Property For Sale Marche