It can be hard to find a gift that throws into the mix a bit of luxury, perhaps a touch of style and something that's an all round treat. Italia! have investigated all the options and here is the top list, hopefully this will make it a lot easier to choose something perfect for everyone…
For Her
Spread Eat Repeat

Giandiuso Hazelnut Chocolate Spread
Smooth milk and hazelnut chocolate spread made with Piemonte hazelnuts. Perfect for spreading on hot toast, or eat it straight from the tube!
£4.95
---
Summer Fig Treats
Now we're heading towards the summer, its time we started smelling like it. The Italian Summer Fig Treats gift set from The Body Shop will give you that summery scent of Puglia on your skin, a tantalising treat. It contains a shower gel, a body lotion (both 60ml) and a mini crinkle bath lily – but most importantly, it contains a dose of instant warmth.

£6
---
Appassionata Boutique
Timeless elegance, Appassionata Boutique offers a fabulous range of unique, high quality, handmade Italian leather handbags at great prices.
Every handbag is lovingly made in a traditional Italian workshop where skills have been passed down from generation to generation. The great attention to detail during the creation of each unique handbag starts with sourcing the finest Italian leather from Florence and finishes with the final choice of stylish fittings.
dawn@appassionataboutique.com
---
For Him

Hang on Lads, I've Got an Idea
How cool are these red, white and blue, Mini-shaped chopping boards! Inspired by the classic Michael Caine film The Italian Job, the set of three boards are smooth on one side to allow for easy chopping and slicing, and feature detailing of the windscreen, grille, headlights etc of these legendary 1960s cars on the other. With these in your kitchen armoury, you can't fail to be inspired. Just don't go blowing the bloody oven door off.
£11.99
---
For the Family

Get the Family Cooking
In this day and age, it's common for your kids to eat their dinner in their bedroom while you eat yours on a tray in front of the TV. A new book, Let's Cook Italian, aims to restore some family unity to your dining. Compiled by chef Anna Prandoni, it's packed with starters, mains and desserts, and encourages joint preparation by parents and children by way of fun activities. It's written in both English and Italian, too, so you can brush up on your language skills as you go.
£12.99
---
For a Friend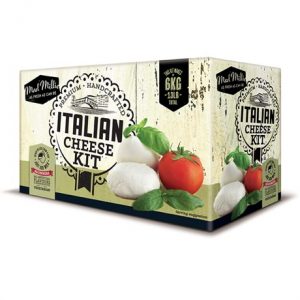 Pass the Cheese please
Let's face it, we've all got a friend who loves cheese. This gift has got everything set up and ready to go, it contains, bar milk, to make mozzarella, ricotta, mascarpone and more, with no cheese making experience necessary.
£20.99
---
Tuscan Italian Stripes
The Italian Stripe brings an elegantly reigns in that rustic charm that you're friend aspires too. It's classic, brushed linen, perfect for the chilled summer months you and your friends have been looking forward too…
---
For everyone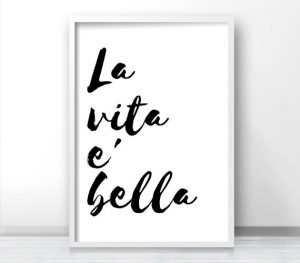 Life is Beautiful

This poster may be minimalist, but the message is loud and clear: 'La Vita e' Bella' is Italian for 'Life is Beautiful', making this artwork the perfect gift for a anyone – or the ideal addition to your own abode. It's downloadable and customisable too, which gives you flexibility.
£4.21 (frame is not included in the price)