Bring some Italian style to the festive season with our fantastic Italia! Christmas gift guide. Featuring gift ideas for the whole family!
Marche Leather Goods
Beautiful leather goods including handbags, manbags and purses. All lovingly designed and totally handmade from the very finest Italian leather by local artisan producers, specially sourced for you by From Marche Ltd.
For prices go to www.frommarche.com or email them at frommarche@gmail.com
Dark Navy Windowpane Checked Double Breasted Jacket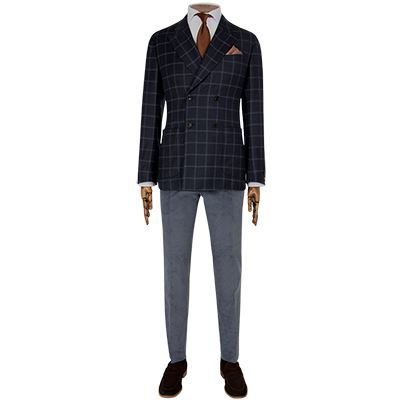 Crafted out of pure wool from the renowned Marlane mill in the Biella region in the north of Italy, this double-breasted windowpane jacket was purposefully designed with the modern cosmopolitan gentleman in mind. Whether you're in between meetings, or waiting to board a plane, this jacket will ensure you always make a daring statement. Tailored in a peak-lapel profile, this jacket is easy to pair up and comes in a slim fit and contemporary fit option, the latter being equivalent to a regular fit.
For details see gagliardi.eu.
Baroque Ivory Notebook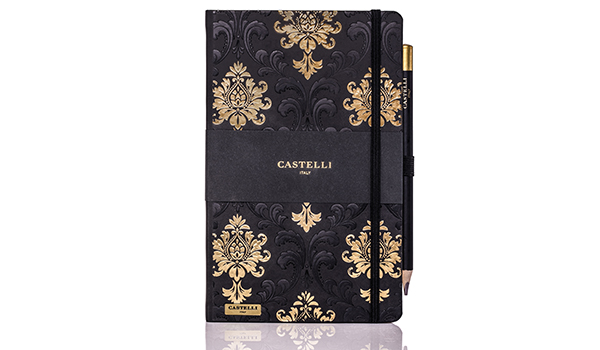 Castelli notebooks are renowned for their elegant design and quality craftsmanship. This item from their new collection is a must for those who love writing in style.
£13.95 – www.castelli.co.uk
Limited Edition Prints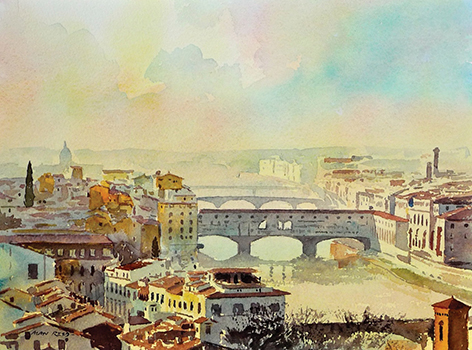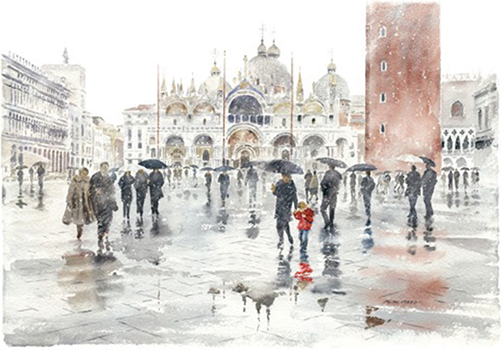 Watercolour art. Here: Girl in the Red Coat, Venice and Ponte Vecchio, Florence by Alan Reed, £65.
 Contact on 01661 871 800 or art@alanreed.com.
Seeds of Italy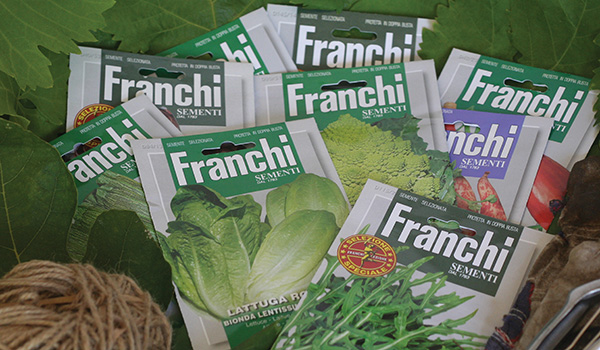 Everything you need to create your very own Italian vegetable garden, with premium seeds from Franchi for the freshest Italian produce this side of the Alps. Including special selections of rocket and chicory as well as colourful beans, squash, courgettes and many more – the Buon Gustaio Selection Deli Bag will ensure that 2018 is a real gourmet year in your garden.
£19 for nine packets of seeds.
Spuma di Sciampagna shower gift set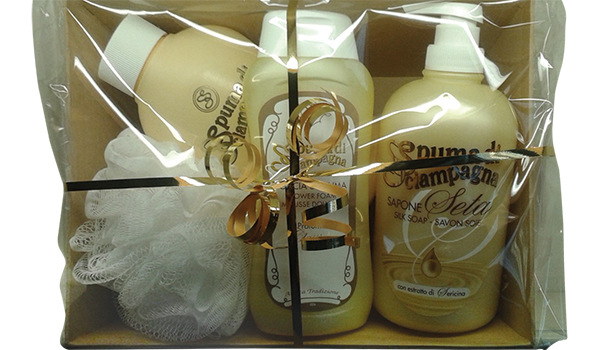 Spuma di Sciampagna originated in the 1930s with its wonderful bath line. Today, Spuma di Sciampagna still takes great pride in emphasizing its traditional formulation with softening ingredients, all with a subtle, powdery, floral fragrance.
The Spuma di Sciampagna Shower Gift Set contains:
Spuma di Sciampagna Shower Gel 200ml
Spuma di Sciampagna Body Powder 200g
Spuma di Sciampagna Liquid Hand 500ml
Loaf sponge with rope
Relax in the bathtub this Christmas with this famous Italian powdery scent.
£20 – www.something-italian.com.
Limited edition Siena PRINT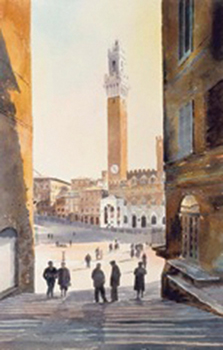 Painting of Siena from the cold shadows, looking towards the warmth of the shell-shaped Campanile.
£65 from Alan Reed % 01661 871 800 art@alanreed.com.
---
Food and Drink
Traditional Panettone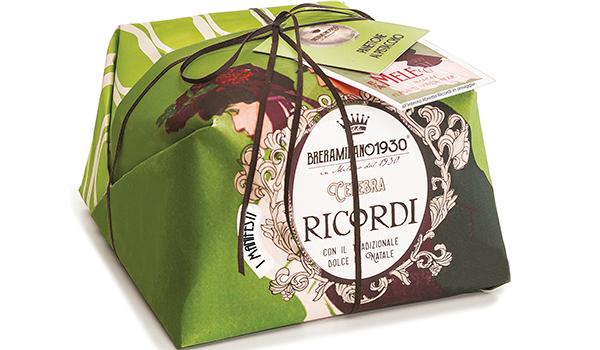 No Italian Christmas is complete without panettone, a sweet bread cake filled with candied fruit and raisins. Similar to our Christmas cake, panettone is fed with alcohol to achieve a juicy cake bursting with flavours. This year Eusebi is stocking a range of panettone called 'Ricordi', a collaboration between Milanese bakers BreraMilano 1930 and Ricordi, an historical music collection featuring artists such as Puccini and Verdi. Each panettone tells the story of an artist and is accompanied by a little book with a story.
The Ricordi Collector's Range of Panettone retails between £16-£18 and is available from Eusebi Deli, 152 Park Road, Glasgow G4 9HB or online at eusebideli.com/shop.
Loison Panettoncino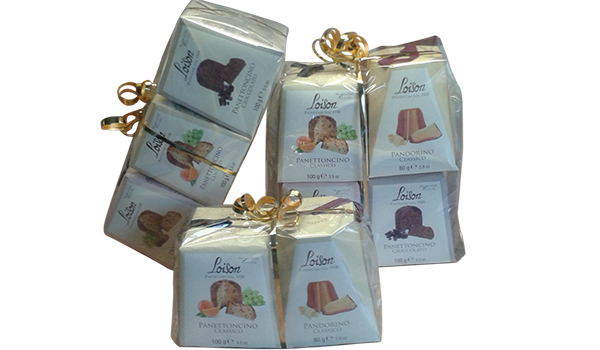 In case you don't know them, Loison has been a premium pasticceria brand in Italy since 1938. They hold dear the idea of staying true to their artisan roots, even while reaching out to the international market. The gift sets offered here by Something Italian comprise two, three or four items. Head to the Something Italian website for details and prices, and to see what else might take your fancy.
Italian Pastries 
There are few things quite as delightful as receiving beautiful Italian pastries in the post. Pasticcini have mastered the art of Italian pastry and will send your chosen recipient a lovely box of treats that are just perfect to enjoy with their morning espresso or cappuccino. Aragostine (lobster tail pastries) are layers of thin crunchy pastries filled with cream centres – 8 pieces, £10. Cannoli are ideal for you and your guests or make the perfect gift for friends and family sent to their home or work – 16 pieces, £16. Send someone a treat this Christmas!
L'Espresso Hamper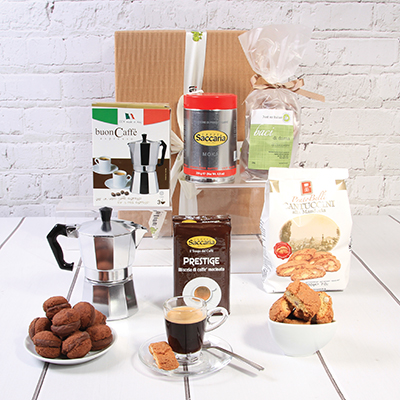 When your loved one is a coffee aficionado, there's no better gift than this hamper from Just So Italian. It includes everything you need to enjoy a caffeinated Christmas: a traditional silver moka pot with a choice of flavoursome coffees, plus a selection of Italian biscuits to sweeten the deal – all beautifully presented in a natural fluted box tied with the 'Just so Italian' ribbon.
£49.95 – www.justsoitalian.co.uk
Soft Italian Nougat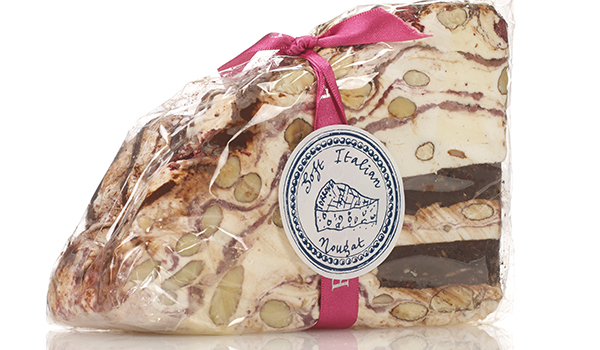 A mouth-watering slab of Italian nougat has all the festive ingredients you could wish for – nuts, fruit and honey. These examples are beautiful enough to hang on the Christmas tree, but too tasty to be left hanging there for long. In Italian, the word is torrone, and it's as traditional at Christmas as panettone and prosecco.
£11.50 – www.rococochocolates.com
Formaggio Hamper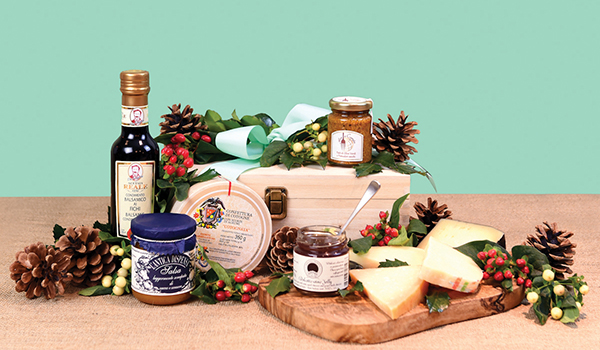 The Formaggio Hamper contains a magnificent selection of Italian cheeses plus accompaniments that are sure to delight the most ardent cheese lover. This gift box includes chutneys, balsamic vinegar and pâté to compliment every mouthful.
£60 – www.linastores.co.uk