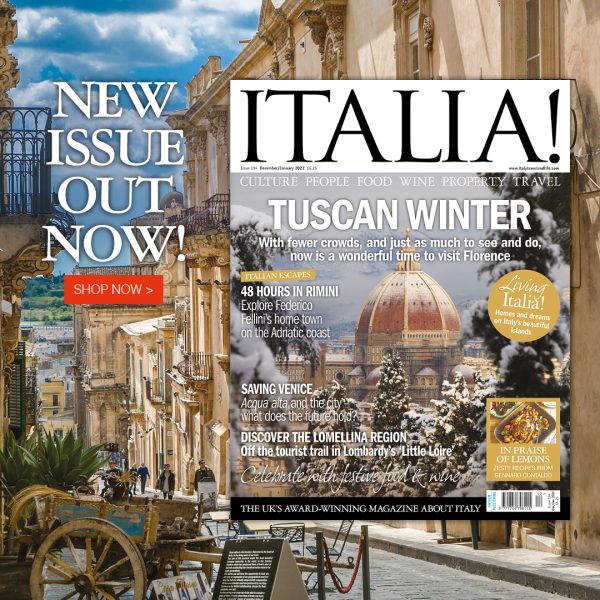 Welcome to the new issue of Italia! magazine – the final one for 2021 and the first of 2022… It's in our DNA to feel a sense of anticipation at this time of year – after all, Christmas is approaching and the promise of a new year is on the horizon. Whatever the holidays bring us, we are ready! We're celebrating the best of Italy at this special time of year, bringing you inspiring travel features, a look at Italian festive traditions and delicious, hearty recipes to enjoy.
We begin in Florence with our winter guide to this captivating city crammed with cultural treasures, and worth a visit at any time of year. On to Rimini, where we discover another side to this seaside town, through its abiding connection to local boy Federico Fellini. Right off the beaten track next, to the Lomellina region of Lombardy, for a bit of pastoral peace and quiet, and then to Venice and the environmental challenges faced by this fragile city on the water.
Buy your copy online here!
What's inside this issue of Italia!
Florence in Winter: Our at-a-glance guide to the top 10 things to see in Florence in the winter months
48 hours in Rimini: Abigail King explores Rimini and examines its fascinating history
High water in the Fragile City: Sara Scarpa learns more about the tides in the Venice Lagoon and the future of the water filled city
Living on the Islands: Which Italian island will be your paradise?
Get your copy of Italia! magazine issue 194
Order Italia! magazine online
Order your copy directly from us today for just £5.99 (inc. P&P)
Download the Italia! digital edition
Get the digital edition from Pocketmags. Or find the new issue in the Italia! app.
Not downloaded the free Italia! app yet? Find out more about the app here.
Find Italia! magazine issue 194 in stores
Available from WH Smith, Sainsbury's and selected independent newsagents priced £5.99. Use our handy Store Locator to find your nearest Italia! stockists.