Download the Italia! app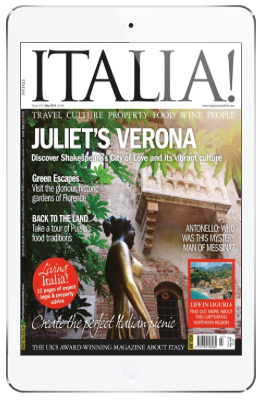 The Italia! digital edition allows you to enjoy all the exclusive content of the magazine on the go, wherever you are and whenever you want.
Available as a single issue, or as a digital subscription, the Italia! digital edition is the must-have app for anyone who is passionate about travel and Italy.
Available on iTunes, so it's never been easier to find a way to read Italia! magazine. Click here to see our latest digital subscription offer and save up to 35%.
How to download the Italia! app
Order from our digital partner, Pocketmags

Italia! app for iOS and Apple devices

Italia! app for Android devices via Google Play

About Italia! magazine
Love Italy or looking for amazing destinations to visit when you travel? Italia! magazine has you covered.
Italia! magazine takes you off the beaten track and helps you discover some of the hidden gems nestled in this wonderful country. No longer will you have to suffer through tourist traps, boring guided tours and hordes of eager tourists. Now you can explore the rich culture that only Italy can offer you.
Italia! helps you discover places you'll remember and make some truly great memories. The brilliant and passionate Italia! team personally explore Italy and do all the hard work for you, discover the gems and sharing all their top tips and travel advice plus stunning photography of all the locations.
Great reasons to subscribe to Italia! digital edition today!
Save 35% on the equivalent single issue price
Read your magazines on virtually any device at any time. Your subscription will allow you to read your magazines on your iPad, iPhone, Android device, Kindle Fire, PC and on Windows 10
Back issues are stored digitally, saving space, so can be taken with you anywhere at anytime on your favourite digital device
Just £30.99 for 12 issues per year (normally £59.88)
Not in the UK? Thats ok, get the same great deal when you subscribe to the app and pay in your local currency too!

€34.99 /
$49.99 /
$31.99
Want to get the print edition with collectable covers? Click here to check our Gluten-Free Heaven subscription offers