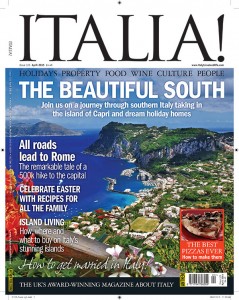 We are delighted to let you know that the new issue of Italia! is on sale now.
In our April issue 125, Fleur Kinson spends 48 hours in beautiful Capri. Discovering the island's best-kept secrets: Fleur explores Capri's wonderful walking routes with stunning natural beauty in every direction. At the other end of the walking scale – Lysa Walder embarks on a mammoth journey inspired by the life of Francis of Assisi, trekking more than 500 kilometers from Tuscany to Rome.
Also this issue, Italia! helps you plan your Italian Wedding – Freya Middleton got married in Italy, and is therefore well placed to advise any who might be thinking of doing likewise. We also have a very useful wedding directory, helping you find the perfect wedding planner.
Also in this issue we have Easter recipes, Four Takes on Pizza and taste seven stunning makes of Pino Grigio. All this and much, much more. Make sure you don't miss out on your copy – you can order online here or download the app for your Android or Apple device.