This month, we return to Umbria and discover some hidden gems despite the most recent, tragic earthquake…
The latest issue of Italia! is on sale now, available to buy online and from stores across the UK! You can also download the digital edition for Apple devices or online /Android/ Windows 8 devices.
We spoke to Umbrian tourism representative, Cathleen Fodaro, who inspired her with her outlook on the focus region of the months' issue, she said "Umbria is as welcoming as ever, and everything is working as usual so if people who love Italy and Umbria want to help, they should keep on travelling." If that doesn't encourage you to visit then perhaps take a look at Chris Allsop's Umbrian Travel Diary in this issue.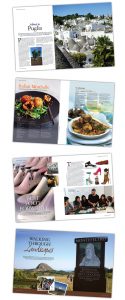 Not to mention, our pick of Italian cured meats and 4 Takes on Peas where you can get the perfect balance between lightness and hearty winter warmers.
We always love to hear about your trips to Italy and see your favourite snapshots so hashtag #ItaliaMoments or send us your photos on our Facebook page.
Don't miss out on your copy – you can order online here or download the app for your Apple or Android device.
We really hope you enjoy the latest issue of Italia!
Best Wishes
Amanda Robinson 
Editor, Italia! Magazine