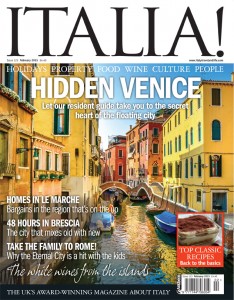 Start the New Year with a dose of all things Italian with the new issue of Italia!, on sale now.
Many consider the winter to be the best time to visit Venice; a time of year without the crowds and the humidity. In this new issue of Italia! we're guided around the city by resident Sara Reid, the perfect person to introduce newcomers to the city and to seasoned visitors alike. Knowing the floating city as well as she does, she's ideally placed to take us into 'hidden Venice' to discover the nooks and crannies off the beaten track.
Venice is a romantic city, for sure, but if you've got kids in tow then perhaps Rome is a better option? In the February edition of Italia! we join James Miller and his family as they visit the Eternal City for a long weekend, taking in the sights, soaking up the atmosphere and introducing a bit of recreational education for the little ones.
From Venice, to Rome and onto Florence! We take a step back in time with our first ever Past Italia! In Depth where we explore how the famous Medici family helped shape the Renaissance City.
Elsewhere in the new issue of Italia! we examine the property market in the ever-popular region of Le Marche, we have a collection of traditional Italian recipes, we take you to Brescia for 48 Hours and we have our usual mix of book reviews, chef's notes, news, wines and produce. Make sure you don't miss out on your copy!