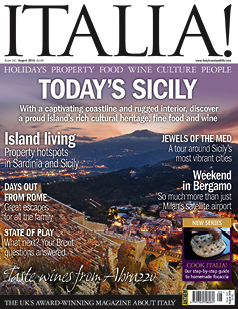 I'm pleased to announce that the latest issue of Italia! is on sale now, available to buy online and from stores across the UK! You can also download the digital edition for Apple devices or online /Android/ Windows 8 devices.
In our August Issue 141, we focus on a major change since the last issue. The UK's referendum on Europe has taken place and we provide some expert financial and legal advice on page 71 to help if you are affected by any of the perceived changes.
However, one thing remains: Italia! magazine will continue to celebrate the rich and diverse cultural heritage of Italy as it always has done!
This month we travel to Sicily, a place of vibrant contrast and with much to discover for the curious traveller. Also in this issue, 4 takes on Strawberries and of course the best strawberries are in the UK however we are sure the best recipes are from Italy!
Take the opportunity to learn some secrets by taking a bespoke cookery and wine holiday with La Cornucopia Italia, Ciao Laura and Ecco La Cucina. Join us for the first part in a series led by Giancarlo Caldesi, he teaches us how to make classic Italian dishes, this time it's Focaccia!
As always, all this and much, much more. Don't miss out on your copy – you can order online here or download the app for your Apple or Android device.
We really hope you enjoy the latest issue of Italia!
Best Wishes
Amanda Robinson 
Editor, Italia! Magazine