We are thrilled to let you know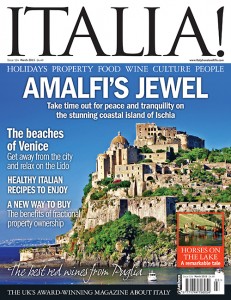 that the new issue of Italia! is on sale now.
In our March issue 124, Robin Crews explores the island of Ischia in a day. Any visit to Naples is enhanced by a trip to the islands, and Ischia is an easy hop over the water. Though the volcanic island is very small – less than 50 square kilometres – it is packed with must-see sights. From a great hike, to beautiful coastlines, an espresso tour, a relaxing spa or a visit to the lost Colosseum, Ischia certainly packs the punch in things to see and do.
Perhaps you prefer the tranquil setting of Lake Como. We learn about the Horses Of Como, their tragic history, and how locals and charities alike worked on saving the lovely blonde horses. With outstanding photography, this feature is a must read.
Our regular Gazetta columnist, Sebastian Cresswell-Turner discovers the best way to combine skiing with fantastic Italian food in the Dolmites and Adrian Mourby finds a much more relaxing way of Venetian life on the Lido.
Also in this issue we have recipes for healthy cooking, learn about Fractional Ownership and taste Puglia's fantastic reds. All this and much, much more. Make sure you don't miss out on your copy – you can order online here or download the app for your Android or Apple device.