Find some of the best places to stay, visit or eat while staying around Rimini with Abigail King's guide to the highlights of the area…
Images by Abigail King unless otherwise stated
What to see and do
Piazza Cavour, 22 
The Galli Theatre reopened in 2018 after a hiatus of 75 years, the consequence of heavy bombing in the Second World War. See a show, or just take a tour and stop for a coffee in the atmospheric café.
Castel Sismondo Piazza Malatesta Palazzo del Fulgor
Rimini celebrates the life of Federico Fellini in three areas across the city. Through letters, drawings, photos and scripts, the museum creates a multimedia experience to bring you closer to La Dolce Vita.
The Arch of Augustus
Corso d'Augusto
One of the oldest surviving Roman arches and one of the largest of its kind. The Arch of Augustus marks the end of the Via Flaminia from Rome and you can still read the Latin inscriptions that were placed here when it was built, in 27 BC.
Borgo san Giuliano
Look out for bright murals in eye-popping colours, and dine amid tumbling flowers, peeling paint and an unforgettable atmosphere of romance.
Corso d'Augusto, 162
Cinema Fulgor has been beautifully restored and screens movies on a regular schedule. Part of the new Fellini museum. Look out for additional exhibitions and displays.
Castel Sismondo, Piazza Malatesta
The outer walls and the moat may be gone, but the stocky walls of Castel Sismondo still make an impression. Built as a home and a fortress for a Renaissance-era mogul, today it houses art exhibitions, concerts and part of the Fellini museum.
Tempio Malatestiano
Via IV Novembre, 35
The unfinished cathedral church of Rimini stores a few surprises amid the muted frescoes and elegant stone sculptures.
Santarcangelo di Romagna 
Just 10km north of Rimini, Santarcangelo di Romagna makes a good destination for an afternoon visit by e-bike. Check out its Grotte Tufacee Comunali and the Marchi Artisan Printing House, a 300-year-old family business with a formidable original printing press.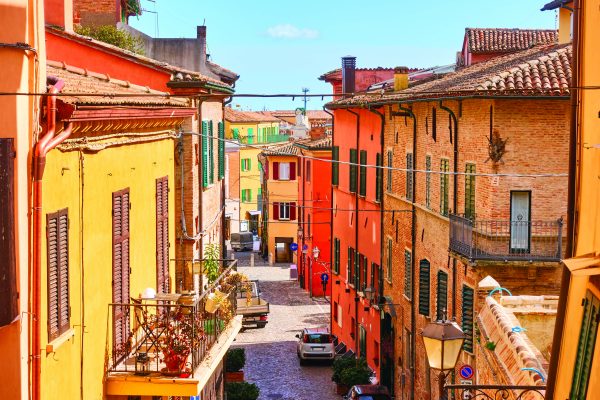 Where to stay
Lungomare Pinzon, 130 Bellaria Igea Marina
Lungomare Pinzon, 116 Bellaria Igea Marina
Right on the beachfront, two charming, family-run hotels with a Mediterranean atmosphere. Located in Bellaria Igea Marina, a seaside resort close to Rimini town, both hotels offer accommodation to suit every need, the perfect spot to relax for a few days.
Via Giordano Bruno, 28
Tucked away in the heart of the Old Town, the DuoMo Hotel is anything but old. Designed by Israeli architect Ron Arad, everything from the bar to the reception to the rooms challenges preconceptions. Bronze, teak and PVC curve and blend from floor to ceiling in the 43 rooms of this 4-star property.
Parco Federico Fellini, 1
The Grand Hotel certainly lives up to its name with a sweeping entrance, fountains and sense of Belle Epoque elegance with its Liberty-era façade. The hotel is set in a restful location right on the seafront and close to Rimini's historical centre. It has a large outdoor pool and terrace, free wifi , free parking on site, and a restaurant open all day with buffets available for breakfast and lunch.
Viale Regina Elena, 28
The iSuite Hotel is a business-class hotel with a focus on sleek white design. Set in an elegant environment overlooking the Adriatic Sea, it features 122 rooms, each with individually controlled air conditioning, LCD TV sets, free wifi and satellite TV channels.
Where to eat
Viale Tiberio, 19
This warm and friendly trattoria sits just over the ancient Tiberius Bridge in the romantic Borgo part of Rimini. It claims to be the oldest restaurant in the city, and you'll find fried fish and salted squid dishes along with fragrant piadina breads.
Parco Federico Fellini
The Belle Epoque atmosphere of the Grand Hotel complements the high quality food here, and together they create a remarkable sense of occasion. In between palms, pools and a Liberty façade, you can dine on organic produce by either joining a buffet in the ballroom or a picnic beneath the summer sky.
Viale Ortigara, 78-80 
Dine on the open sea in this intimate setting aboard a boat for just your own group. Chefs serve handmade ravioli stuffed with ricotta, along with hearty antipasti and a lightly sweet zuppa inglese.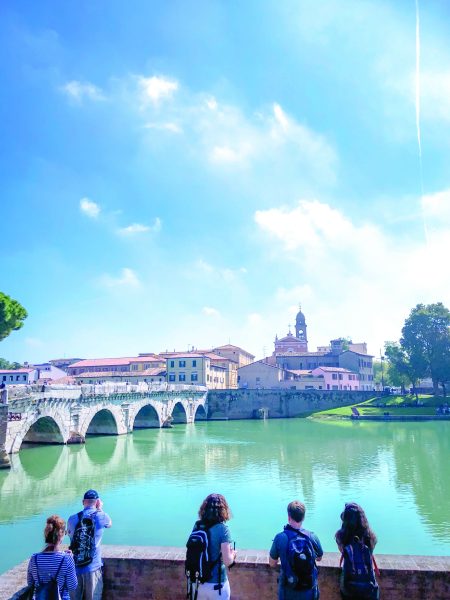 Getting there 
By plane: Rimini's closest airport is just a few miles away at Federico Fellini International Airport (RMI.) While transfers from RMI into Rimini's Old Town are quick and easy, many visitors find it easier to fly into a busier airport in Italy and then travel by train from there. Bologna is the closest big city and is well served from London. From Bologna, the train takes only one hour and costs around €9. Other options include flying into Venice, Rome, Florence or Pisa and taking advantage of the excellent rail connections from there.
By road or train: You can add Rimini to a road trip through Emilia-Romagna, while also stopping off at Ravenna, Forlimpopoli and San Marino. However, in Rimini itself, it's not useful to have your own wheels. Italy's rail service has excellent connections between Rimini and other main cities. Bologna is the closest point and trains travel regularly, taking only around an hour.
Getting around: You don't need any transport to travel around Rimini Old Town and into the Borgo: it's best enjoyed on foot. It's around half an hour to the coast but a wonderful way to get around is to hire a bicycle and cycle there or into the countryside instead.
Enjoyed this article? Find out more info about the area in our Rimini archive.