Today, we celebrate the birth of our great opera star Luciano Pavarotti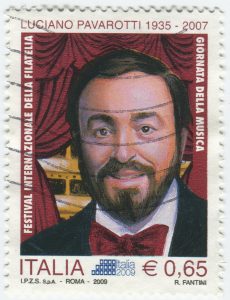 Born in Modena, Pavarotti first experienced the musical art form alongside his father in his city's chorus. He became increasingly famous over the 71 years of his fascinating life and will always be remembered for bringing opera to the people – he was rewarded for this over his life as he emerged into the most well known opera singer of all time.
His fame went worldwide when the BBC chose to feature his rendition of the aria Nessun Dorma from Giacomo Puccini's Turando as the theme tune to the coverage during the 1990 World Cup.
That beautiful piece featured during the tournament was thought to be extremely successful in bringing the sport to the attention of the masses, it helped by bringing interest to those who were not interested in football before.
Topping it off, the Pavarotti and 'Three Tenors' Placid Domingo and Jose Carreras, held a concert at Baths of Caracalla in Rome on the last night of the 1990 World Cup Final and they ended with a performance of Nessun Dorma. Billions watched and listened this song, some for the first time, the World Cup developed into something more than a popular worldwide tournament – it matured in to cultural phenomena.
Pavarotti was diagnosed with pancreatic cancer in 2006 and died in November 2007. He married twice, had four daughters and was and is admired by many musicians, fellow tenor Domingo told the BBC he had "always admired the God-given glory" of Pavarotti's voice, while Carreras called him "one of the most important tenors of all time".
Nessun Dorma was his final performance which took place at the Winter Olympics in February 2006.
Tags:
Culture
,
News
,
Opera
,
Pavarotti