Find some of the best places to stay, visit or eat while staying around Majella with Val Nicastro's guide to the highlights of the area…
What to see and do
Hike the spiritual trail
The Majella National Park offers visitors a vast network of fantastic hiking routes, including the fascinating Spiritual Trail, which runs for about 73km between the little village of Serramonacesca and the historic town of Sulmona. The path connects all the major places of worship that are peppered across the area and its silent woods, promising a fantastic adventure filled with natural wonders and deep spirituality.
Wolf encounters in Pretoro
The wolves are the iconic symbol of the Majella National Park and the Wolf Wildlife Area in Pretoro gives you the unique opportunity to observe these fascinating animals without being at all intrusive, and also without being in any danger yourself! Get in touch with Il Grande Faggio to learn more about wolf preservation and to book a guided tour.
Aritisanal shopping in Guardiagrele
Guardiagrele, one of Italy's most beautiful villages, is particularly renowned in the area not just for its attractiveness but also for its long-standing tradition of making excellent handicraft products, which makes this the perfect place to shop for unusual souvenirs of your visit. In August, the village also hosts the famous Market Fair of Abruzzese Craftswork.
The world capital of pasta
It is said that the pure waters of the Rio Verde, the Green River, are the secret ingredient behind the excellent pasta that is produced in Fara San Martino, a delightful village framed by the spectacular mountains of the Majella Park. Many iconic pasta factories are based here and the village's Pasta Festival in August is a worthy celebration of this iconic Italian food.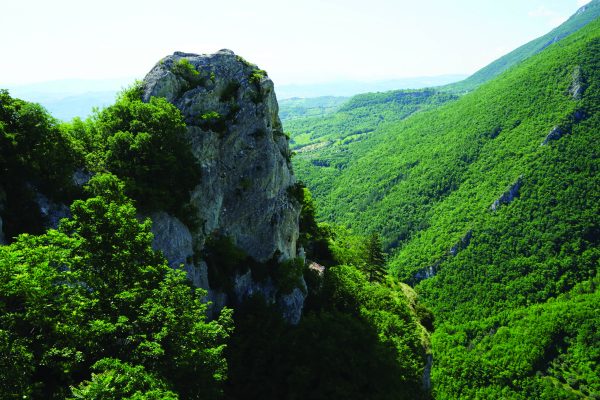 Where to stay
Contrada Macchiametola, Roccamorice
A beautiful glamping site immersed in 20,000 square metres of unspoiled woodland, offering furnished cabins and tents, traditional rooms, camping grounds equipped for campers and caravans, and also a restaurant honouring regional culinary traditions.
B&B Case Milà
6 Piazza Roma, Pretoro
A cosy bed & breakfast set in a renovated 18th-century house in the historical centre of Pretoro. There are four rooms here, all of which offer incredible views. Guests can dine in the old cellar, beautifully carved into the rock, on the delicious dishes of mamma Maria.
Via Maiella 151, Casalincontrada
A characterful bed & breakfast occupying one of the 800 earth houses that still exist in Abruzzo. Borgocapo serves a delightful breakfast of zero-kilometre products, with your choice of everything from grape juice to local cheese and honey.
Via Fontepalombo 36, Pretoro
A comfortable hostel in a panoramic position at the top of the medieval village of Pretoro. Beds are distributed over four rooms and the hosts serve traditional dishes in the porch overlooking the valley, or by the fi replace in winter.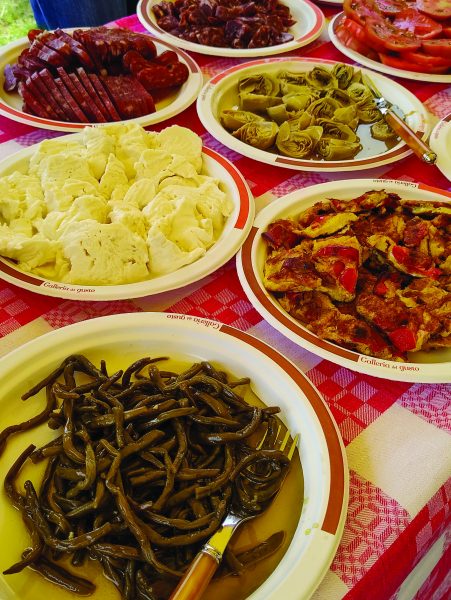 Where to eat
Decontra di Caramanico Terme
An organic farm amid nature, where Marisa and her family offer menus that delve into the roots of Abruzzo's culinary traditions. Dishes highlight greens and herbs grown in the farm's garden and there are ample supplies of house wine and sweet homemade liqueurs. Marisa also hosts fun cooking lessons for those keen to learn.
Località Collarso, Roccamorice
Tasty vegetable calzones, pallotte cace eove (cheese and egg balls) and parrozzo, a traditional cake. The owners produce most of the ingredients, including the grains to make pasta and bread and fresh milk used for cheeses. Many of their products are also available for purchase
Via Roma 10, Guardiagrele
Set in the historical centre of Guardiagrele, with splendid vaulted ceilings. It serves a rich menu of classic recipes with a gourmet twist, prepared using wild herbs that grow in the Majella Park.
Via Piana della Masseria, 2 Fara Filiorum Petri
A splendid stone farmhouse with a pool immersed in the greenery of the Majella Park. The owner likes to pamper his guests with excellent local dishes, fascinating tales and fun songs. The house speciality is asado-style grilling.
Vico Privato di Via San Rocco, Pennapiedimonte
A unique drinking hole housed in a 19th century oil mill. You'll find a great selection of beers accompanied by cold cuts, cheeses and traditional market cooking.
Getting there 
By plane: You can fly to Pescara direct from London Stansted with Ryanair, but the service ends in October. You can also fly from Milan Linate with the new ITA Airways and from Bergamo with Ryanair.
By train: You can get to Pescara Centrale using the Frecciargento trains from Milan (4½ hours) and the Regionale Veloce trains from Rome (3½ hours).
By bus: The journey to Pescara takes 2½ hours from Rome Tiburtina and about 7 hours from Milan with Flixbus.
While you are there: Once you reach Pescara, Val recommends renting a car for maximum flexibility.