The Italian Lake District is the perfect escape for those looking for a holiday in Italy full of relaxation, beauty and culture, amid a stunning natural backdrop. From the picturesque scenery to the delicious Italian food and charming town squares. With nearly 25 years' experience, Travel Department has become a specialist for Italian Lake District holidays, offering a range of guided tours to Lake Garda, Lake Como and Lake Maggiore. All you have to do is decide which lake you'd like to visit first! You'll never be bored on a trip to this stunning region of Italy, read on and discover the best Italian lakes.
Before we start…
Now that Covid vaccinations are progressing well the world is slowly starting to open again for some well-deserved travel experiences. Italia! have partnered with Travel Department to help you fall in love with Italy again in 2022.
We also have the exciting news that Travel Department are delighted to offer readers of Italia! an exclusive extra discount of £50pp* on any new 2022 Italy holidays of 7 nights or more by using the code: VP-ANTHEM50.
Travel with confidence:
Your holiday is a very special time, and Travel Department craft the itineraries to make sure that you get the most enjoyment. The world is continuously changing, and they have been adapting to make sure that they deliver the best experience for you. Their priority is to bring you a wonderful experience safely. So, when you book with Travel Department, you can do so in the knowledge they'll look after you every step of the way. More information can be found here and should you have any questions about a country's travel requirements, these can be found here.
Lake Garda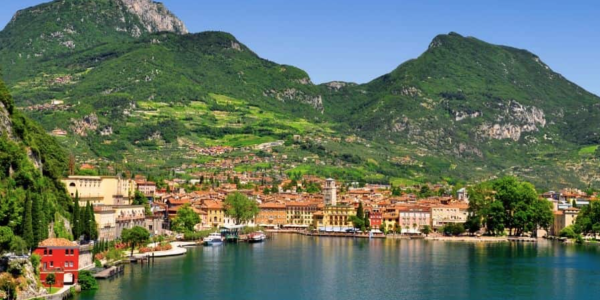 Lake Garda is surrounded by luscious green hills to the south and imposing mountains to the north. The landscape is dotted with beautiful lemon groves, vineyards and olive plantations – the perfect setting for a picturesque getaway! One of the highlights of Lake Garda is the unique opportunity to unwind and recuperate by the lake. There are so many charming little towns dotted along the waterfront that to take full advantage of the sightseeing opportunities, we would suggest taking a boat tour around Lake Garda. You can take in the quaint towns of Limone, Malcesine and Riva del Garda easily, giving you a real taste of life by the lakeside. Discover their guided Lake Garda holidays; a holiday in Lake Garda provides an opportunity to visit other iconic sights and cities in Italy, such as Venice and Verona.
Lake Como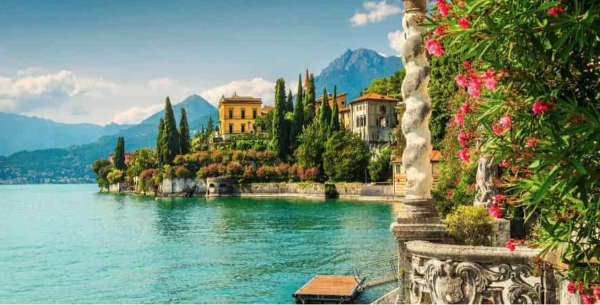 Similarly, you'll be bowled over by the natural beauty, ornamental gardens and tranquil atmosphere of Lake Como on a lakeside escape. Lake Como is the perfect location for a laid-back, relaxing retreat. Whether it be enjoying a day along a lakeside beach, exploring some of the region's stunning gardens or sitting back with a coffee in one of the area's beautiful cafés, you'll enjoy a therapeutic atmosphere with mesmerising views. If you wish to explore Lake Como by boat, we suggest you visit the town of Bellagio, the 'Pearl of Lake Como.' Enjoy a stroll through the old town centre, do some shopping and admire the villas overlooking the waterfront. As the streets are cobbled and there are some parts where you must walk uphill, so make sure to wear sensible shoes when you explore Bellagio. We also recommend taking a day trip from Lake Como to experience the Bernina Express, a UNESCO World Heritage Railway, which takes you through the Swiss Alps. Experience an escorted holiday in Lake Como and enjoy a relaxing Italian getaway.
Lake Maggiore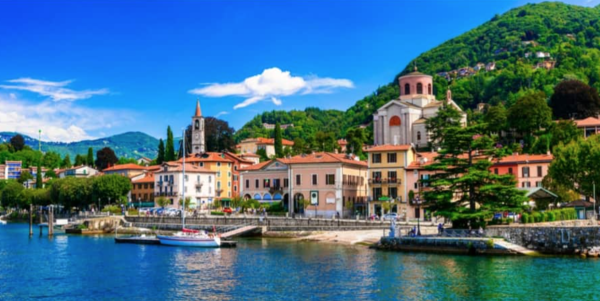 Thinking of a Jewels of Lake Maggiore Holiday, this lesser-known Italian gem is a haven of alpine landscapes embellished with lush gardens and sheltered villages, overlooking the shimmering blue waters of the lake. From beautiful scenery to impressive architecture and botanical gardens, there's no shortage of things to see and do in Lake Maggiore. It's also considered to be a playground for the rich and famous, so you can even keep an eye out for your favourite celebrity while enjoying an ice-cream by the waterfront. While you will undoubtedly be distracted by the magnificent landscape on these lakeside holidays, try to
make some time to enjoy the rich culture and intriguing history of the Italian Lake District. History enthusiasts will enjoy exploring quaint medieval villages and the region boasts many attractions of both historical and cultural significance. We suggest taking an excursion to the Borromean Islands, it's a wonderful boat trip and you can visit Isola Bella with its Baroque Palace and Gardens. If you need a break from sightseeing, then why not explore the quaint local shops that line the streets of the charming lakeside towns. The region is also renowned for its glorious food. Authentic Italian pasta, glossy home-grown olives, the freshest Alpine fish and mouth-watering desserts are just some of the dishes on offer.
Lake Orta
We believe a trip to Lake Orta is highly worth a visit. Lake Orta is considered a hidden gem and some of the locals believe it is more beautiful than Lake Maggiore and Lake Como; they even refer to it as "La Cenerentola" or Cinderella. Enjoy the scenic and enchanting town of Orta San Giulio, situated on the shores of Lake Orta. Take a stroll around the cobblestoned streets and relax with a gelato or coffee in the main square of Piazza Motta. You can enjoy a guided excursion to Lake Orta as part of a Jewels of Lake Maggiore holiday. 
Are you feeling inspired to explore the Italian Lake District? Find your perfect lakeside getaway, check out Travel Department's fantastic range of guided holidays to Italy. Their lakeside getaways include return flights, hotel accommodation, transfers and excursions. Their expert local guides will also be available to assist you throughout the tour with recommendations for what to see and do in your leisure time.
About Travel Department
Travel Department is one of Europe's leading escorted tour operators with over 25 years' experience of crafting beautifully curated, inspirational itineraries to worldwide destinations, all accompanied by expert local guides. They offer a wide range of guided group holidays from City Breaks to Solo Travel to active and adventure holidays (including Walking, Yoga and Photography holidays) with their sister brand, TD active Holidays.
With multiple departure airports across the UK, you can fly from from Aberdeen, Edinburgh and Glasgow in Scotland. In Northern Ireland they fly from Belfast (plus Dublin and Cork) and for passengers from the South they depart from Bristol and a range of London airports.
The mood is upbeat, friendly, and light-hearted with conversations, storytelling, and sometimes even a little singing and dancing extending late into the evening. It makes for a fun, inclusive group where everyone feels welcome.
Travel Department's escorted holidays typically include flights, accommodation, transfers and guided tours. They carefully plan your trip, so you experience the best holiday highlights accompanied by a friendly local guide. With Travel Department you see more!
Tempted? Get your exclusive Italia! reader discount of an exclusive extra discount of £50pp* on any new 2022 Italy holidays of 7 nights or more by using the code: VP-ANTHEM50.
Tags:
Holidays
,
Italia Magazine
,
Italian Lakes
,
Italy
,
Italy Travel
,
Travel