The birthplace of the Catholic friar St Francis remains a globally important site of Christian pilgrimage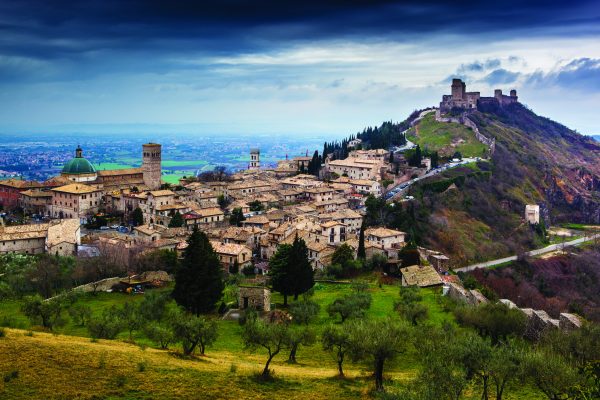 Assisi stands atop Mount Asio and is flanked by swathes of Umbria's undulating green pasture and the forests of Monte Subasio. At times it seems perched heaven-like, on a carpet of clouds. It is Roman in origin, yet a city belonging to its son, Saint Francis of Assisi, the 12th-century 'second Christ' and today's patron saint of animals and the environment.
The city's cobbled streets lead to the Basilica di San Francesco, the two-storeyed church built to honour the saint – a site still revered by pilgrims from around the world. Enshrined within its walls are 28 frescoes depicting Saint Francis's humble life. Their vibrant colours glow as if the brushstrokes placed by Giotto, Simone Martini, Lorenzetti and Cimabue dried just yesterday.
A further steep ascent finds the Rocca Maggiore fortress, which provided Assisi's ultimate line of defence. From here, the endless panoramic views over the Umbrian plains span out below. Before them the pink-striped Basilica di Santa Chiara, which houses the remains of Saint Clare, a contemporary of Saint Francis and founder of the Order of Poor Clares; and Santa Maria degli Angeli, the birthplace of the Franciscan Order and protector of the Porziuncola chapel, a church within a church, where Saint Francis drew his last breath.
UNESCO sites often preserve the physical. However, this city site is unique in its honouring of the intangible spirituality shaped by the Franciscan Order and its devotion to peace and tolerance – a universal message that traverses the centuries.
Enjoyed this article? Check out more Italia heritage articles here.