Are you looking for the perfect location to start a love affair with Italy? The Novel Traveller, Michelle Jackson, enjoys some enjoys some gems with Travel Department on a guided tour of Lake Garda, Verona and Venice.
Before we start…
Now that Covid vaccinations are progressing well the world is slowly starting to open again for some well-deserved travel experiences. Italia! have partnered with Travel Department to help you fall in love with Italy again in 2022.
We also have the exciting news that Travel Department are delighted to offer readers of Italia! an exclusive extra discount of £50pp* on any new 2022 Italy holidays of 7 nights or more by using the code: VP-ANTHEM50.
From the stunning Lakes of Garda, Como and Maggiore in the north to the beautiful scenery of Sicily in the south and taking in the rich cultural heritage and beautiful surroundings in between, there really is something for everyone in Italy.
Your holiday is a very special time, and Travel Department craft the itineraries to make sure that you get the most enjoyment. The world is continuously changing, and they have been adapting to make sure that they deliver the best experience for you. Their priority is to bring you a wonderful experience safely. So, when you book with Travel Department, you can do so in the knowledge they'll look after you every step of the way. More information can be found here and should you have any questions about a country's travel requirements, these can be found here.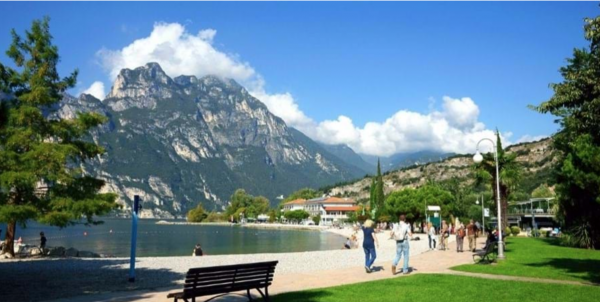 But soft, what light on yonder window breaks? My other half and I are brushing up on our Romeo and Juliet quotes. We have woken up in charming Riva del Garda and are already in love with our Italian Holiday. Lake Garda is the largest lake in Italy and set in the perfect location to explore some of its finest cities, most notably Venice and the home to Romeo and Juliet, Verona.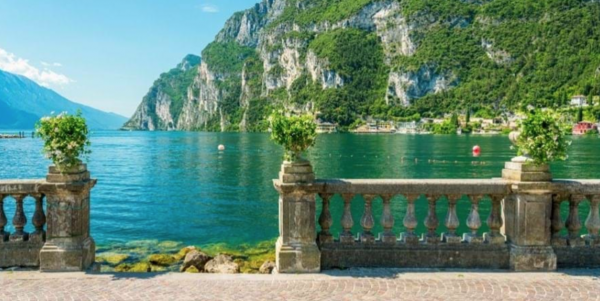 My first impression of Lake Garda was one of overwhelming beauty and I couldn't wait to take to the water and explore the pretty towns nestled under the gaze of the stunning mountains. This is exactly what happened when our guide Renata took us on a private boat tour of the Lake from Riva to Limone. Each town has its own quirky style with precious gifts and mementoes waiting to be bought in the shops and at the selection of market days to explore more. The towns boast plenty of chic cafes to enjoy a coffee or beer while soaking up the colourful architecture and shimmering reflections on the water. Our tour also brought us to Malcesine, home to a glorious thirteenth-century castle which is well worth checking out. There's no better way to enjoy the spectacular views down on to Lake Garda than from the top of the cable car at Monte Baldo. We were sorry we hadn't brought our hiking boots as this is the perfect scenery for hill-walking, something to remember for next time!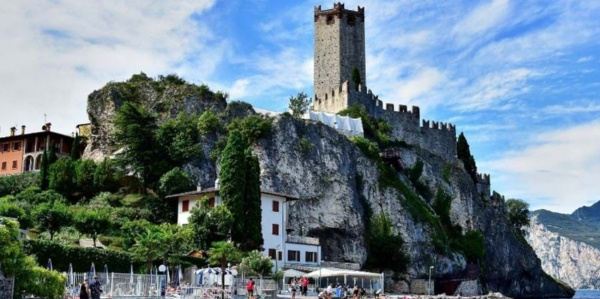 We were given the opportunity to really explore the majestic pre-alps next day on a tour of Bolzano but we decided instead to soak up the sunshine in Riva del Garda. The water taxis are cheap and there are so many towns to explore, or you can just walk the promenade and enjoy a delicious gelato. However, I did feel that we missed out when they told us about the scenery and the stunning Austrian architecture that runs all the way through the Dolomites to the neighbouring country. We had instead hit market day in the town of Bardolino and picked up some lovely leather presents and spent the afternoon drinking Limoncello. The lake is bountiful with sights to see and side-streets to explore and you will feel safe and secure wherever you go. Another town that merits exploring is Sirmione. With thermal springs and shallow beaches, it's a great spot to spend one of your free days on your Lake Garda holiday.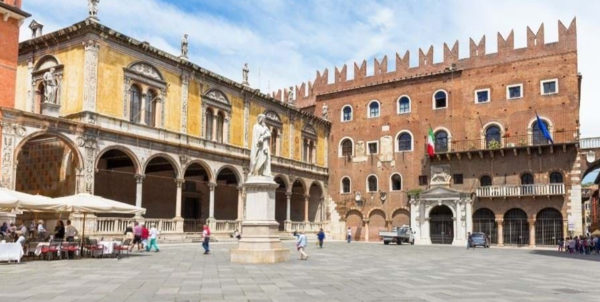 Next day Romeo and I were ready for another tour, and I was excited about my first visit to Verona. Verona's Roman amphitheatre plays host to operas and concerts in summer during the famous Verona Opera Festival that leave the most ardent music lover spellbound. We hadn't arranged to go to a performance, but it was lovely to see the setting and plan for the next time we return. Verona is home to Shakespeare's Romeo and Juliet and one of the highlights on our guided tour in this historic town, is a visit to Juliet's balcony where love reigns supreme. Being a romantic novelist, I was excited to leave a note under Juliet's balcony, but I won't reveal what I posted. I've noticed on tours with the Travel Department that some guests may arrive solo at the airport but during the tour formed wonderful friendships. And I'll let you into a secret – some have even found romance but that's another story.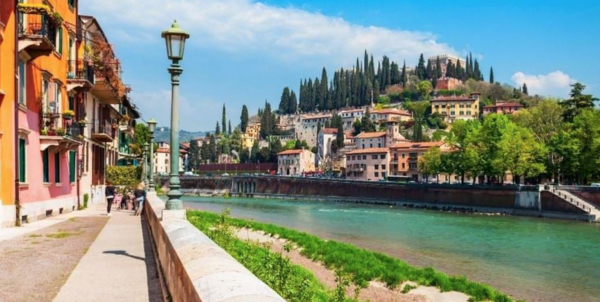 Venice is a stone's throw from Lake Garda, well, a little over two hours on a comfortable coach. With hassle free entrance and smooth excursion around the canals, we really felt the benefit of Travel Department's experienced guided tour of Venice. I had been stung on my first visit many years ago paying over the odds for my cappuccino from a café in St Mark's Square. If it's your first time in Venice then you must take a ride along the canals in a gondola, there's no need to queue or haggle over prices either because our gondola ride was organised by our guide Renata. She knew all the tricks to make our day trip to one of the busiest cities in the world as smooth and relaxing as possible. We were given plenty of free time as always to slip away and find our own corner of Venice to make precious memories to take back home. This is one of the nicest parts of being part of a group tour, enjoying freedom but having all the planning taken care of with excellent use of time on excursions.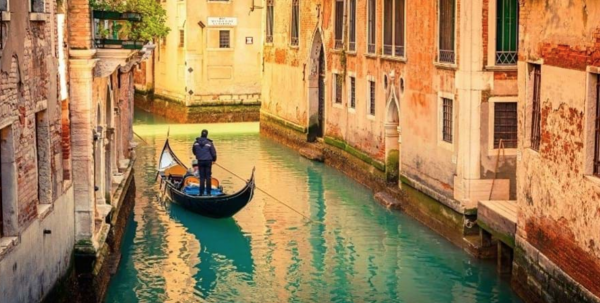 A holiday on Lake Garda is a cornucopia of experiences and feast for the eyes and soul. It can be as active or relaxed as you want it to be and with an abundance of glorious pasta and risotto dishes made using the local olive oils, the tastebuds won't be disappointed either. We leave Lake Garda and a wonderful holiday as we began, with more words of wisdom from the Bard himself – Parting is such sweet sorrow, that I shall say goodnight till it be morro.
Travel Department is one of Europe's leading escorted tour operators with over 25 years' experience of crafting beautifully curated, inspirational itineraries to worldwide destinations, all accompanied by expert local guides. They offer a wide range of guided group holidays from City Breaks to Solo Travel to active and adventure holidays (including Walking, Yoga and Photography holidays) with their sister brand, TD active Holidays.
With multiple departure airports across the UK, you can fly from from Aberdeen, Edinburgh and Glasgow in Scotland. In Northern Ireland they fly from Belfast (plus Dublin and Cork) and for passengers from the South they depart from Bristol and a range of London airports.
The mood is upbeat, friendly, and light-hearted with conversations, storytelling, and sometimes even a little singing and dancing extending late into the evening. It makes for a fun, inclusive group where everyone feels welcome.
Travel Department's escorted holidays typically include flights, accommodation, transfers and guided tours. They carefully plan your trip, so you experience the best holiday highlights accompanied by a friendly local guide. With Travel Department you see more!
Tempted? Get your exclusive Italia! reader discount of an exclusive extra discount of £50pp* on any new 2022 Italy holidays of 7 nights or more by using the code: VP-ANTHEM50.
Tags:
Holidays
,
Italy
,
Italy Travel
,
Lake Garda
,
Travel