Thermal pools and lush foliage make some parts of the island of Ischia, the Green Island, a veritable Eden. Hannah Bellis shares the best places to restore yourself…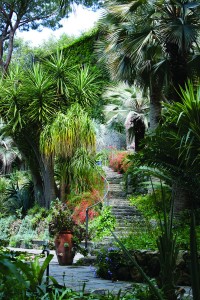 Ischia. The 'green island' in the Bay of Naples. You would be forgiven for thinking it's nickname comes from the lush vegetation, and that is certainly part of what makes this such a special place to visit. But it is actually the green tufa stone that gives it the name – there is no volcanic black rock here, the beaches are white and clean and surrounded by the crystal blue waters of the Tyrrhenian Sea. Instead, its volcanic past has gifted it with abundant thermal springs, making it the ultimate natural spa. You can still see the remains of thermal baths from the 1500s at Lacco Ameno, so the healing power of the water is old news. But our understanding of it is new – or at least newer.
It's a pleasure to bathe in hot springs. It soothes the muscles and relaxes the body. But I believe you gain a sense of wellness that you don't get from a soak in a hot bath. The reason for this was explained by Marie Curie – and you can probably guess what it is. She visited Ischia in 1918 and pronounced that the waters were radioactive – but only a little bit! It's the radon gas dissolved in the water that adds the therapeutic element. This produces alpha radiation, the biggest, slowest and least penetrating radiation, with a half life of less than four days. That's why these waters can't be shipped elsewhere for use – every four days half of their goodness disappears. But bathing in the waters does stimulate the endocrine system, giving you a short term immunity boost. At these doses the radiation is nothing to worry about – that would negate the healing effect! But these waters do bring you something beyond pure muscle relaxation.
THE PERFECT PLACE TO STAY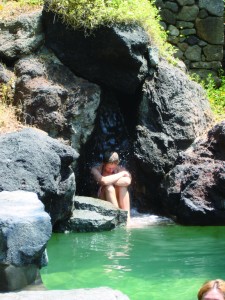 Ischia has made a business of its abundant thermal waters, and the island is packed with spas and resorts where you can take them. But to enjoy both water and green gardens together, without any need to wander further than 15 minutes on foot, head to Monte Vico in Forio. It's a mountain right next to sea, on an island – you can't ask for better than that! The Ischia Garden and Villas resort there is made up of nine typically Ischian villas set amid three hectares of lush gardens. It's a place that feels more outside than in. The rooms are decorated in a comfortable and natural way, each with its own terrace; and all the communal spaces, like the pool, restaurant and reading lounge, are open-plan with large open doorways and light, airy spaces. In the evenings, the gardens are full of flashing fireflies between the pools of light from the lanterns that illuminate the pathways.
As well as natural open spaces, you can enjoy natural caves too, with the bar and the sauna being built into them. It is quite an unusual feeling to be sitting in a Turkish bath surrounded by natural rock glimpsed through thick steam. The thermal waters can be enjoyed in the thermal pool inside the spa complex, available to all guests, or partly in the outdoor pool, which uses some thermal water to keep a temperature of around 28 degrees centigrade. Swimming here, surrounded by the gardens, you can feel your troubles melt away. You can also indulge in a range of spa treatments at the wellness centre.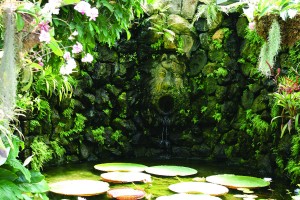 Another benefit of being based here is that you are right next door to Negombo Park, Ischia's best thermal park, and you can walk to Negombo beach from Ischia Garden and Villas resort in less than ten minutes. Within Negombo's thermal park there are more than 12 water features and pools set amid gardens, and with a spectacular view looking out across the Bay of San Montano. It costs €25 to visit in peak season, though there are reductions and offers available out of season. You will need to bring your own towel as they are not included in the price and are expensive to hire on site. You can visit Negombo beach from Negombo park, or from Ischia Garden and Villas resort. Incidentally, the Bay of San Montano is thought to have been the place the Etruscans first set food in Italy in 770 BC. It's a romantic thought, and with a romantic sea view to match.
ISCHIA'S GARDEN OF EDEN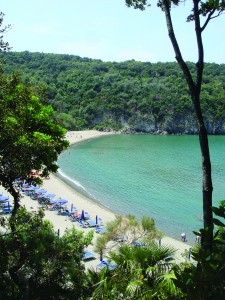 Walk away from the coast towards Forio to reach the paradise gardens of La Mortella. You may have heard of this place. The Telegraph described it as "one of the greatest gardens in the world," while The Mail called it "The Garden of Eden". I had read the reviews, so I was expecting it to be heaving, but the gardens have been so well designed that you still get a real feeling of intimacy and privacy. And they have a special story too… This is where the composer Sir William Walton lived with his second wife, Susana, until his death in 1983. Susana was Argentinian; they met while she was working for the British Council in Buenos Aires when she was assigned to look after Walton on a visit. He told her he would marry her the day they met, and repeated his offer every day for the next fortnight – until one day he didn't. When she asked him why, he told her that it was because he had taken her refusals to heart, so she asked him to ask her one more time. Two months later they were married.
The gardens at La Mortella were Susana's creation – William knew that if she did not have a project to keep her busy when they moved there from London she would become bored. The first parts of the park you see on entering were built in a former rock qua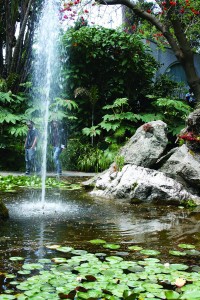 rry and designed by Russell Page. The quarry means there are lots of terraces in the garden, which provide shelter and warmth, which is why you'll see such an abundance of tropical plants here. The garden is dense with bright blooms and thick foliage which part to reveal water features and ponds.
William's dying wish was that the gardens would survive and that young musicians could be assisted, so Susana opened the garden and started a charity to help young musicians – frequently you'll hear then performing in the museum's concert hall as you explore the gardens near the house. Lady Walton died in 2010, but thanks to her Sir Walton's wishes were realised, and the gardens of La Mortella survive them both as one of the most intimate and romantic locations on Ischia. It costs €12 to visit, which includes entry to the gardens, museum and concert hall. Look out for the open air concerts in summer evenings too.
Staying at the Garden and Villas resort lets you enjoy their own gardens and waters, or venture to nearby Negombo or La Mortella to enjoy waters and gardens on an epic scale. You won't need a car, everywhere can be reached on foot, and you can soak up the sun and the thermal waters to your hearts content. That is what I consider a real holiday break.
Images © Hannah Bellis
Tags:
Gardens
,
Holidays
,
Ischia
,
Waters