Liz Harper takes her eight-year-old daughter to Venice for her first experience of the Serenissima and finds plenty for kids to enjoy in the city…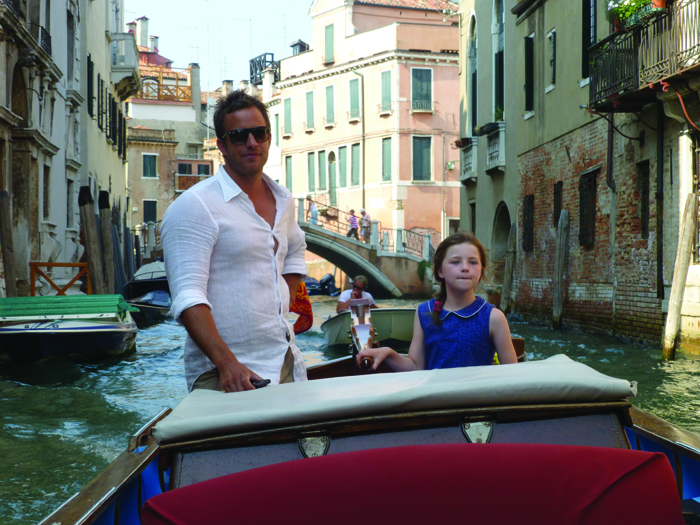 "Wow mum, look at that!" my daughter giggled, pointing at a large wooden boat that had arrived alongside our kayak on the Grand Canal. A well-dressed couple, sipping espressos, were perched elegantly on their sofa, amid an eclectic range of furniture and dozens of cardboard boxes. They raised their cups in polite greeting as they passed. Well, how else do you move house in a city where the streets are full of water?
I'd last visited in winter, when temperatures were low and tourists few, but as we stepped off our water bus at St Mark's Square, it was a completely different experience. This was summer. It was a humid 31 degrees, and a barricade of people and suitcases stood between us and the strip of dodgy souvenir stalls in front of the Palazzo Reale. It took nearly 10 minutes to move the 150 yards to the launch pier for the hotel's water taxi service. I was starting to have doubts over whether a city break to Venice at the height of summer with my eight-year-old in tow was such a great idea after all.
Arriving at the Cipriani, just minutes later, any reservations I'd had instantly disappeared. Located on Giudecca Island, opposite San Giorgio Island, the hotel is just a five minute boat ride from St Mark's Square, and yet sits in a tranquil spot amid beautiful gardens, seemingly worlds away from the tourist throngs.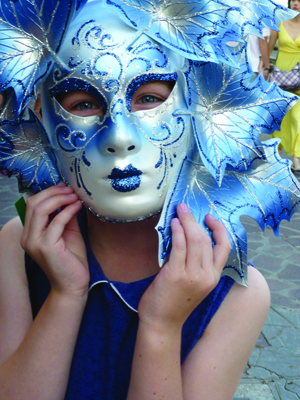 Having done all the tourist hotspots on previous visits – and given myself blisters in the process! – this trip was about giving daughter Molly a flavour of this unique city, rather than a complete immersion: a little culture and a lot of fun.
On our first evening, when the temperature had dropped and the tourists had thinned out, we took a boat back across to St Mark's Square. It's top of every tourist's must-visit list, a meeting place for locals, and a design showcase for Venetian architecture and aristocracy alike. For us, it was also a place to stop for a drink and watch the world go by.
After a quick bite in Aciugheta, a highly recommended pizzeria, we headed back towards the waterfront. The pink marble Gothic structure of Palzzo Ducale was spectacularly lit up at night: the stone loggias and arches elevating this former home of Venetian rulers – quite spectacular.
Touring by Kayak
The next morning, it was time for an altogether different tour of Venice: a three-hour kayak ride. With my daughter taking the front seat, I settled in behind her, and we headed off alongside guide, Rene. Heading round Giudecca Island, Mols and I worked on coordinating our paddling (a challenge in itself at times!) before cutting through the Rio del Ponte Lungo towards the main Giudecca Canal, which separates Giudecca from Venice. This 320 metre wide canal is a pretty busy thoroughfare and I wasn't sure how I rated our chances against the cruise liners, passenger boats and freight vessels.
What we lacked in size however, we more than made up for in momentum – it's amazing what fear will do for you! – and it wasn't long before we were ducking under the first of many bridges of the day and paddling down Rio della Fornasa towards Venice's most famous waterway, the Grand Canal.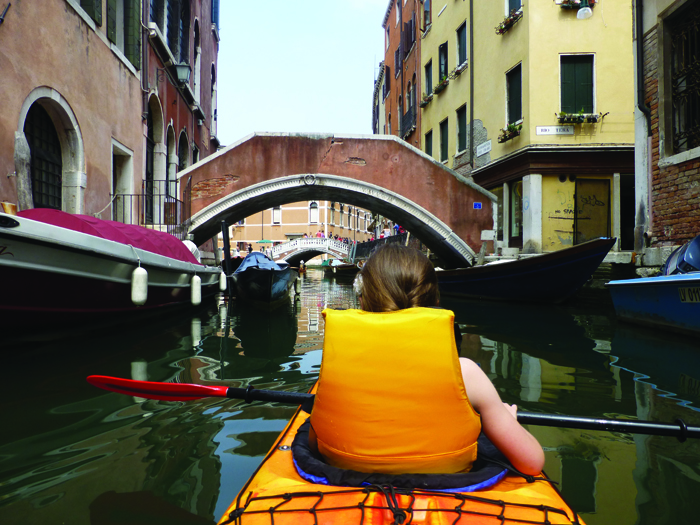 It's many years since I did a gondola ride, but I remember being very disappointed by the whole experience. I know it's a "must do" on a trip to Venice but I found it all a little lacking (you pay for a boat ride, not a guided tour) and, er, well, a bit embarrassing if I'm brutally honest.
I also found that the other 499 gondolas touring the same patch devalued the experience a little. Maybe that's just me. The kayaks, on the other hand, were a whole different ball game.
As we criss-crossed the Grand Canal, taking in all the sights along the way – including the beautifully ornate palaces and the Rialto Bridge – it was intriguing to see the same traffic issues as at home, despite lack of roads. Water buses and taxis, delivery boats, water ambulances and removal companies, all vying for position alongside the gondolas and private boats going about their business. Luckily, despite having got ourselves into a pretty impressive paddling groove, we fell way under the 7km per hour speed limit and weren't pulled over by the police – unlike the water taxi in front of us!
Venetian Masks
That afternoon Molly joined Verena and Amanda in the Smile Club of the hotel and spent the afternoon getting craft-tastic – and of course there's only one thing to make in Venice: a Venetian mask. Two hours, a lot of giggling, and one paint, feathers, stickers, glitter and pen explosion later, and Molly had her very own custom-made mask (see the image above!). She was pretty impressed with her creation, until we ventured out later that night and checked out the shops around St Mark's Square: her mask definitely had a minimalist look to it in comparison to the extravagant and ornate models on show in town.
The next day the hotel's local guide, Stefano, took us out on a beautiful wooden bragozzo boat. Venetian through and through, and one of ten children, Stefano entertained us with stories of life in Venice. "The kids play ball games in the piazza or campi and it's not uncommon to hear a shriek and splash as an enthusiastic football player chases the ball into the canal," he laughed. "We keep an eye on the kids when they play. For a city with more than 170 canals, it's surprising how many locals can't swim."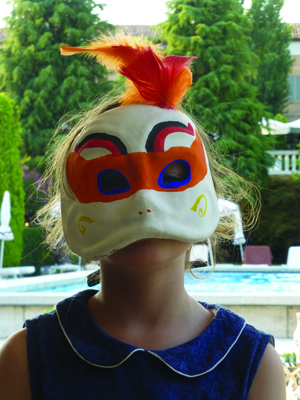 With 'first mate' Molly at the helm, Stefano led us out towards Sant'Erasmo, the largest island in the Venetian lagoon. Referred to as 'the Garden of Venice', Sant'Erasmo is Venice's agricultural heartland: sparsely populated but producing much of the city's fresh produce. We weren't there to check out the islands fruit and veg output however: we were there to play, Venetian style. Mooring up in waters to the east of Sant'Erasmo, Stefano explained: "This is where we come at weekends, it's a great spot to escape the tourists and the heat. Sometimes it's hard to find a spot to moor up it's so busy, but we love it out here." With relatively clear blue and shallow water it was clear to see why.
"The locals call this area Baccan," said Stefano. "We swim, play ball games, paddle board and chill out on the beach at Sant'Erasmo." Not far from us a father and son were playing with bats and balls, seemingly walking on water. "It's just a couple of inches deep there," Stefano said. "That's what makes it so safe for families: there's a massive area of shallow water." This was not a part of Venice I'd experienced before, and it seemed a million miles from the sweltering crowds of the city. For an eight-year-old, it was pure heaven.
Later that day we had a tour of the glass workshop and Bisanzio Gallery on Murano. Glass master Stefano Serto talked us through the glass-making process, and then we witnessed a 1,100 degree raw material mix being transformed into an exquisite horse – in less than five minutes – in front of our eyes.
"Of course that's just to show you the process," Stefano advised. "It's very rough, very poor." Molly thought it was beautiful and was mortified to learn that it would be scrapped. "Glass masters will not let anything leave that isn't perfect," we were told. "Their name sits on every piece and they will only sign perfection." It seems my daughter's idea of perfection and that of a glass master varied considerably.
"It takes 15-20 years to become a glass master," Stefano told us. "But even then lots of people don't make it. It's not just time, there has to be some raw talent there to start with." There was little doubt of the talent on show at the Bisanzio Gallery; the pieces were stunningly beautiful. The price tags were also stunningly large and my daughter had a backpack on… It was a nerve-wracking hour!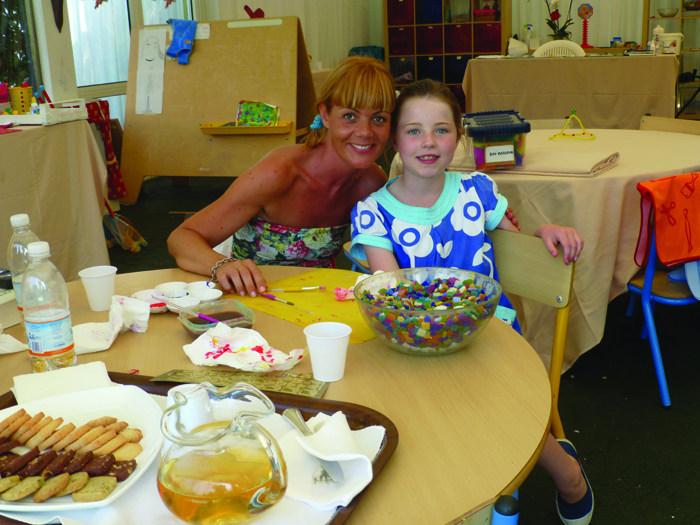 Our last few hours were spent in the hotel pool – perhaps not the best use of time in a city we'd barely scratched the surface of, but the perfect end to the day for Molly, made even more perfect by the complimentary delivery of little cups of sorbet brought to our lounger. The Cipriani Hotel is a timeless beauty in an age of contemporary and minimalist chic. It doesn't compare with the new kids on the block, and it doesn't try to. I'd wondered whether it was a good choice of accommodation when travelling with a child, but actually we couldn't have picked better. I had concerns that it might be a bit stuffy and pretentious but it couldn't have been less so. Staff were friendly, helpful and engaging and have managed to create a fabulously laid-back feel – it had one of the nicest vibes of any hotel I've stayed in, and my daughter and I both loved every minute.
Asked about the highlights of her trip once back in the UK she said, "Kayaking past the palaces and under the Rialto Bridge, driving the boat with Stefano and jumping off into the water, the big St Mark's Square, my lovely room, making a mask and playing with Verena and Amanda in The Smile Club. Pasta… Oh, and seeing that man and lady on their removal boat!" She's keen to go back. In my view, that's a successful trip.
Tags:
Holidays
,
Summer Holidays
,
Venice
,
Venice for Kids
,
Venice with children