Rachael Martin explores the best places to eat and stay in this peaceful corner of northern Italy, tucked away among the mountains of the Valle d'Aosta…
Photos by Rachael Martin unless otherwise stated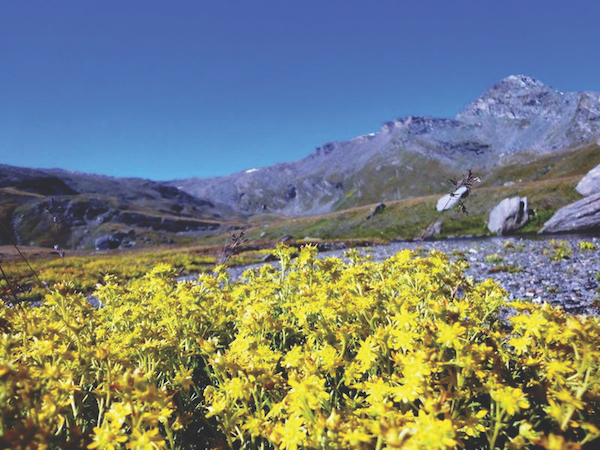 Where to eat and stay
Prosciutteria Sous Le Pont de Bosses
An excellent bar, restaurant and prosciutteria – that is, a place where you can buy some of the famous Jamon de Bosses to bring home. Well worth a stop if you're staying in Valle di Gran San Bernardo!
Località Predumaz Falcoz
11010 Saint-Rhémy-en-Bosses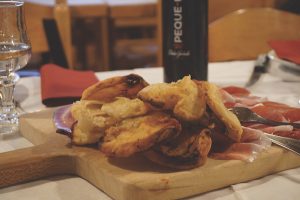 Bar Ristorante Arp du Jeu
If you want to really try the best typical food from the area, a visit to this place is a must. Go especially for the cold meats, including Jamon de Bosses and Lardo d'Arnad, as well as the polenta, the cheeses and the most delicious apple fritters (left). 
Località Arp du Jeu, 3
11010 Saint-Rhémy-en-Bosses
Nuit à Pleiney
Characteristic eco-friendly accommodation with plenty of opportunities for forest bathing, picnics, yoga days and evenings around the firepit. See below for more on this excellent B&B.
Hameau Pleiney, 4,
11010 Saint-Rhémy-en-Bosses
Grand Golliat
A well-maintained pensione situated in a lovely mountainside position in Valle di Gran San Bernardo, with beautiful rooms to let, a bar, a restaurant, and some fantastic mountain views.
Arp du Jeu, 1
11010 Saint-Rhémy-en-Bosses

Suisse Hotel 
A characteristic hotel with an excellent restaurant up in the charming hamlet of Saint-Rhémy-Bourg. A great place to stay if you really want to start exploring the mountains on foot.
Frazione Saint-Rhémy-Bourg, 26
11010 Saint-Rhémy-en-Bosses
Nuit à Pleiney – Last stop before the Pass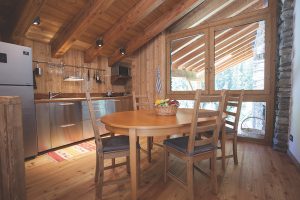 Sara Clerici runs the bed and breakfast Nuit à Pleiney with her husband Marco Bianchi in Saint-Rhémy-en-Bosses, the last village before the Great St Bernard Pass and Switzerland. Nuit à Pleiney is a magical place in the middle of the woods where guests are encouraged to engage directly with an authentic mountain experience, though chances are you'll barely be aware of this. It really is that relaxed. 
Tourist facilities have remained small-scale, and it's this that gives the B&B its authenticity. That's not to say you'll be left sitting there twiddling your thumbs. On the contrary, there's plenty to do and see, but the emphasis is definitely on a slow tourism, one that fits in with and respects its surroundings. Sounds clichéd? Possibly, but it's something many of us often feel a need for. 
Sara and Marco are both originally from Milan. I ask Sara why they chose Saint-Rhémy-en-Bosses and what it means to live in the mountains, in a place that's still off the tourist track. 
"We started to come here as tourists," she tells me. "We fell in love with the nature here. My husband tells me I change when I'm here – I'm nicer! There's this close relationship with nature and with the people here, who are so friendly, and that helps you. It's a different world; it gives you a sense of really being here as a person.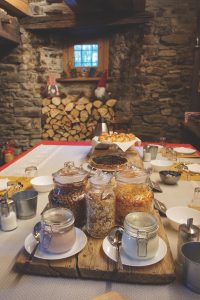 "I'm creative, and here I discovered a completely different side of myself, such as the ability to give new life to things. We did up the house with what was already here, re-using what we found. It's all part of this past culture that I don't think we should forget. When we remember it, we give it value." 
I ask Sara how they're trying to encourage a more respectful and authentic form of tourism. "Apart from the fact that we've based the whole bed and breakfast on being eco-friendly in every way we can, we're trying to bring across the idea that you don't need to go off in your car for miles when you get here. We have the most beautiful walks right here on our doorstep. 
"Our idea is to encourage people to live according to the rhythms of the mountains themselves. So that might mean going off for walk with a sandwich, coming back, going in the sauna, reading, relaxing – or just being outside as much as possible. Marco and I try to share with our guests what we enjoy ourselves, and if there's a particular walk or a place we love, we'll tell our guests about it. Nowadays there's a lot of talk of burnout. You come here and you find yourself again. It's nature's complete remedy." 
For more about the Valle di Gran San Bernardo area, see Rachael's article Slow travel in the Valle d'Aosta