With no children in tow, Jon Bickley and his wife headed off to southern Tuscany for a tranquil luxury break at Punta Ala in the beautiful Maremma area
Photos by Baglioni Hotels unless otherwise stated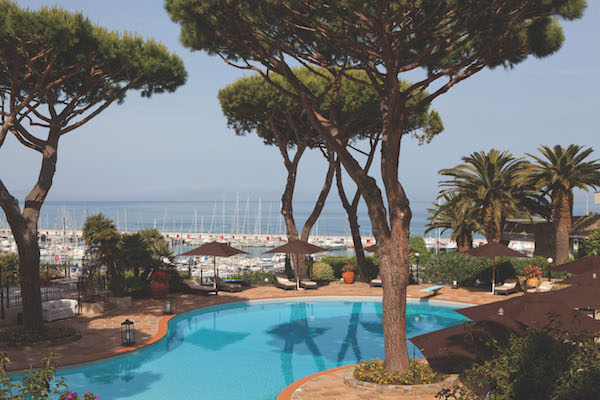 September, and summer is officially over. Prices near enough halve, children disappear and the Italian tourist trade begins to hibernate. Empty nesters have long enjoyed the luxury of off-peak prices with near-peak weather and an absence of bedlam in those early autumn weeks. But for Cath and me, with our children hitting 18 and 16, we're not yet suffering withdrawal symptoms from their absence, but know that they can quite happily put up with our departure for a few days while they get on with growing up fast!
So our thoughts turned to a spot of pampering, relaxation and maybe some sunshine. Southern Tuscany beckoned in the form of the Baglioni Cala del Porto in Punta Ala, the birthplace of the Baglioni family of luxury hotels. Our flight into Pisa meant a relatively short 100-minute drive down the autostrada and secondary roads and, since this was something of a midlife trip, what better way to travel than in a convertible?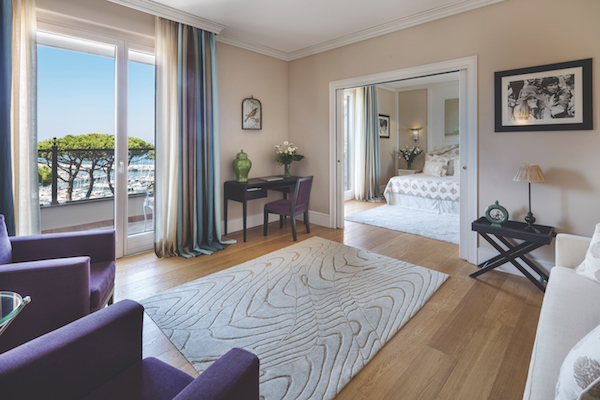 After wending our way through small towns and pine copses, we arrived at this corner of the Maremman coast to find a smartly presented, modest-sized hotel with a friendly greeting. No check-in counters here, just likeable staff at a desk who personally guide you to your room and are on hand to help organise the day and suggest excursions. Our well-appointed suite was pleasing enough, but stepping onto the balcony provided the real highlight, offering a view straight onto the hotel's signature kidney-shaped pool and onwards to a sparkling marina. The weather forecast suggested that the start of the holiday promised the best weather, so we dropped our bags and headed smartly poolside.
Situated at the end of a headland, Punta Ala is a yachty resort in the Maremma facing straight out towards Napoleon's one-time home of Elba. The island only seems a stone's throw away and it's little wonder he found it easy enough to pop back with war on his mind. We ambled down to the waterside that first evening with little more than supper on our agenda. While the jetties were chock-full of moored yachts, you had the sense that their owners were busy in Florence or Rome rather than lining the coffers of the local restaurateurs. We alighted on the affable-looking Buba dal 1974 pizzeria and soon got talking to the eponymous owner – easily recognisable from the life-size cutout of him at the entrance. The food was good, honest and reasonably priced ristorante fare, while Sig. Buba himself was rather more quixotic.

Castiglione della Pescaia
Morning came and the road called to our cabriolet. We jumped in, pressed the button to open the roof and nearly lost it as the retracting sections clipped the sun shelter overhead. Phew!
With the roof safely down we sped off to the ancient seaside town of Castiglione della Pescaia – Castiglione to its friends, who total some 1.3m visitors a year, making it the fourth most popular tourist hotspot in Tuscany.
This pristine resort boasts both an inviting beach with award-winning limpid waters and a medieval hilltop fort. We chose to hike upwards through steep, narrow lanes towards the latter and enjoyed the warm glow of the sun on typically Tuscan-coloured walls and cobbles. The peak provided panoramic views but no rewarding access to the fort, which appeared to be a private residence. As we ambled back down to town we felt the low-season effects with attractive looking cafés operating only half-open schedules. There were plenty more options for refreshment in town, but the view up the coast had given us a taste for exploration, and we were soon well rewarded.
Following our noses back northwards, we soon found ourselves on a single-track road with occasional campsites to the right and the sea beckoning to the left. Spotting a beach café sign, we pulled into the snug carpark and jumped out, ready for some late lunch. After picking our way along the sandy path we emerged blinking onto a miles-long undeveloped beach with the Encanto White beach club ready to feed and water us. A well-chilled beer and glass of prosecco were much more in order, given the cool, relaxed vibe, and we were happy to feast on ciabatta, olives and prosciutto from the café, while they readied the restaurant for a fast-approaching wedding reception.
This delightful spot is equidistant between Castiglione and Punta Ala, at the end of the Spiaggia delle Rocchette, and just before the headland. There's a resort adjacent and a lifeguard on hand, but the lack of buildings and cars gives it the air of your own little Mediterranean beach paradise. Tumbling in the waves and basking in the sun on the still scorching sand was the perfect way to round off what had been an enchanting afternoon.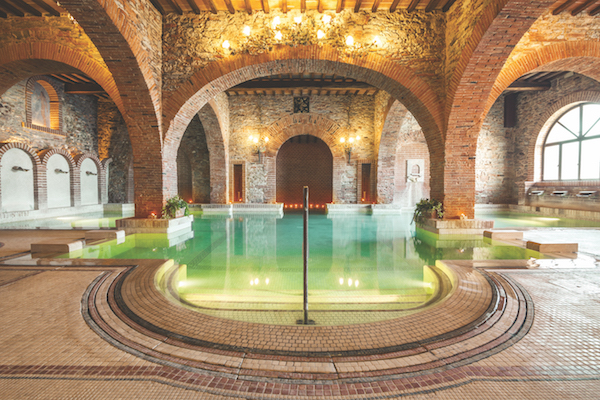 Calidario Terme Etrusche
Back at the Baglioni, our hosts had recommended a trip to the Calidario Terme Etrusche and, with an unwelcome wind bringing rain overnight, we concluded we were as well off spending our second day in hot thermal springs as just getting wet in the rain. Improbably located among suburban housing a half-hour drive from the hotel, the spa features artefacts dating back to Roman times and, of course, the Etruscans. The site is a hotel resort itself, but you can book a two-hour visit to the 3,000 sqm naturally warmed lake and the atmospheric, vaulted buildings with a variety of spa treatments, all for a very reasonable €29 – but do remember your own gown and slippers! We sampled the Laconicum, Caldarium, Frigidarium and Tepidarium before exhausting our Latin and settling down for a well-earned massage. This really is a special place and, even grabbing a bite to eat in the Aqvolina restaurant afterwards, we felt a world away from any stresses or worries; a visit is highly recommended whatever the weather.
Our stay was drawing to a close, so we took a chance to explore the Punta Ala resort a little further on our return. Although we'd spent plenty of time lazing by the hotel pool, we'd been puzzled by mention of the private beach. There was nothing in sight and we hadn't got round to asking, but as we neared home, we noticed a familiar Baglioni sign and turned off early to discover a sweet, secluded beach. Just like at Encanto White, the staff were preparing to host a wedding, but we had time to wander among the palm-roofed beach huts and onto the inviting sands, musing that with just a bit more time and imagination, we'd have made the most of this extra feature just fifteen minutes walk or a short shuttle ride from the hotel.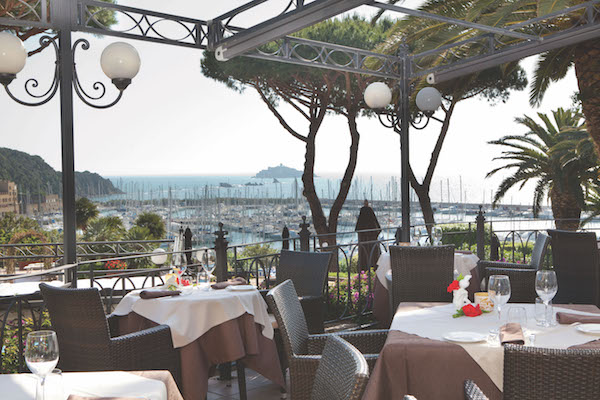 Come the evening we traced what were now familiar steps down to the pool bar for a healthy, vitamin-packed caipirinha. All right, it's a Brazilian cocktail, but it's Latin, and our Pugliese barman seemed to be an expert at making them. The bar was a seductive spot, with the glistening pool to the front, the soft clinking of yacht masts to the rear and the temptation of just one more aperitivo making a siren call, but we were keen to sample what the Belvedere Restaurant had to offer on the opposite side of the pool and made our way resolutely back inside. Of course we weren't to be disappointed. Everything at the hotel is done with an unshowy charm and quality, and we were soon indulging in a delicious feast of freshly caught seafood and local produce expertly prepared and beautifully presented. Antipasti of scampi tartare with avocado and scallops was followed by rabbit tortelle and crispy beef cheeks, rounded off with a dark chocolate and cream pudding, all accompanied by carefully recommended wines. Late to arrive, we were the last to leave, swapping stories with the ever amiable waiters and maitre d'.
It was with something of wrench that we woke the next morning knowing it was time to wave goodbye to this unique corner of Tuscany. Yes, it had the touch of autumn, with some restaurants closed and others half empty. We'd felt the lash of wind and rain and had to sidestep a couple of weddings, but we'd had time to explore, space to relax and beautiful spots to discover. The Baglioni Cala del Porto is understated and luxurious, and sits on the doorstep of some fascinating destinations. We headed back to Pisa with the roof retracted, replaying our experiences and relishing every last second of our soggiorno a settembre.
Baglioni Resort Cala del Porto,
Via del Pozzo, 58043 Punta Ala, Grosseto
Rooms available from €315 per night on B&B basis, including VAT. 2018 season opens 27 April. For bookings and information, visit www.baglionihotels.com or call +39 0564 1900397
What to see and do
Castiglione della Pescaia
58043 Grosseto
A charming medieval town built around a coastal fort, the Castello. Tremendous sea views and lots of flora and fauna to look out for, too. A very popular destination in summer, but quieter off-season.
Calidario Terme Etrusche
Via di Caldana 6, Venturina Terme, Campiglia Marittima
+39 0565 853411 calidario@calidario.it
Historic thermal spa open all year-round, except during an annual closure for maintenance in January and February.
Spiaggia delle Rochette
Long, unspoilt beach between Castiglione della Pescaia (8km) and Punta Ala (18km). One of the best beaches in the Maremma.
Where to eat
Belvedere Ristorante 
Baglioni Resort Cala del Porto, Punta Ala
The Baglioni Resort's indoor restaurant offers a sunset terrace overlooking the marina where you can enjoy the evening light as well as Chef Giuseppe Angelucci's typical Tuscan land and sea flavours.
Buba dal 1974
Località Il Porto 27, Punta Ala, +39 0564 922285
Fun, local, quayside eatery owned and run by the genial Buba. The perfect place for a good, honest, and well-priced beer and pizza lunch.
Encanto White
Località Le Rocchette, Castiglione della Pescaia  +39 333 688 0864
Relaxed beachfront café and restaurant with a friendly atmosphere and an unrivalled location.
Getting there
There are regular flights into Pisa from UK airports all year round. Baglioni Resort Cala del Porto in Punta Ala is about 1 hour and 40 minutes away by car. Alternatively, there is an hourly train service from Pisa to Follonica (see www.trenitalia.com) and then a 25-minute bus journey to Punta Ala Pozzino. For bus timetables, check with www.tiemmespa.it