Tuscany's largest island is a paradise of white beaches and clear waters, with some fabulous walking routes thrown in. It can be packed-out in summer, so Fleur Kinson nips over nice and early…
In travel as in life, journeys should be as interesting as destinations. And my long, convoluted voyage to Elba – a plane, three trains and a ship – is never short on stimulation. That's the thing with islands. They require commitment to reach, and make you see so much else on the way. Then when at last you find yourself on their private sea-girt world, nowhere else seems to matter.
As my plane comes in to land, the leaning tower of Pisa pokes its cheeky white diagonal over surrounding buildings to welcome me to Tuscany. It's April, the very start of the visitor season, and I shall be among the first foreign guests of the year on Elba. A train carries me toward the port town of Piombino through a rolling Arcadian landscape dressed in bright spring greens and fizzing with pink blossom. Piombino arrives as an arresting tangle of steelworks and hellfire, with chimneys belching smoke over a landscape of gantries, pylons and rusting iron. It's so extreme it's beautiful.
I step from the tiny ferry-port station into dazzling sea-light and all the typical colours of ships – white, orange, dark blue. Cars and snarling packs of mopeds wait to board the next ferry to Elba. It's Italy's usual ordered chaos. Elderly men stand chatting between the vehicles, and excited children run rings around buses. In the front seat of one of the cars, a man has impossibly squeezed a gigantic Newfoundland dog onto his lap. And then we're all crossing the sun-dazzled sea. Elba slowly rises its tall, mountainous silhouette higher and higher in front of us. And suddenly a castle swings past, and harbour walls, and fruit-coloured townhouses. And we're here.
BACKWATER TO BEACH RETREAT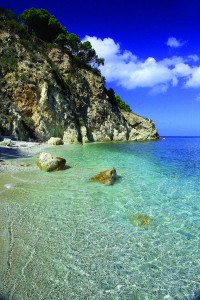 The third largest island in Italy, Elba lies less than ten miles off the coast of Tuscany, but it has always been very far removed from the mainstream of Italian history. Essentially, nothing has ever happened here. Except for Napoleon's brief banishment to the island in 1814, of course. (Never one to sit still, the diminutive French emperor did an awful lot for Elba in the ten months he was confined here – building roads, streamlining the economy, and improving law and education.) Elba was sometimes referred to by the Romans as 'the island of good wines'. But from ancient times until the 20th century's start of package tourism, Elba was above all just a place to be mined for its minerals. The name of the island's main town, Portoferraio – 'ironworker port' – tells you everything about Elba's chief usefulness to the outside world.
It might have been a do-nothing backwater for most of its life, but Elba unexpectedly helped create some of Italy's greatest cultural masterpieces. Ochre pigment from the island's super-rich soil went into the paintings of Michelangelo. And high up in Elba's mountains you can still see the holes where the columns for Rome's Pantheon were quarried. Indeed, some half-hewn old columns are still lying about up there. Today, the island's mining industry has been vigorously supplanted by tourism. Crystalline seawater, pale sandy beaches, charming little towns – its visitor appeal can make Elba crowded in the summertime. Which is why I'm coming here at the comparatively empty start of the year. Plus I want to relish the island's hiking routes in spring's floral glory.
LOCAL LIFE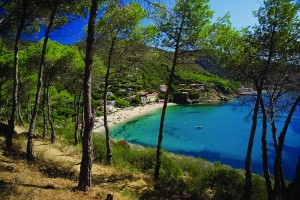 On my first day, I set out for the seaside town of Marciana Marina. A charming taxi driver named Angelo takes me there, and we chat away in his weak English and my weak Italian. "You are from Elba?" I ask him brightly. "Si, sono Elbano," he tells me with obvious pride. Well-dressed and dignified, Angelo tells me of his deep love for the island, especially its quiet villages. "Troppo tourists sulla spiaggia in July and August," he laments as we swing round a steep headland with a view across umbrella pines down to the cobalt sea. "I do not like Firenze. I do not like big cities," he confesses with a smile, and admits he rarely visits the mainland unless he has to. I grin and nod, surveying the pretty homes and trees passing by and understanding why one might never feel the need to leave this place.Suddenly Angelo slows the car and points eagerly to the woods at the side of the road. "Look! See! Is… mufloni! Come si dice in inglese? Moufflon!" I can't believe I've just heard him say the word moufflon. I've always wanted to see one of these rare wild antelope-like sheep with their magnificent curling horns. They only live in very few places in Europe, and I didn't know that Elba – like its neighbour Corsica – was one of them.
I peer excitedly between the trees and indeed there are the robust haunches of several large ginger-brown beasts, who hesitate for a moment then spring away in magnificent leaps. I am overcome. Angelo and I drive onward in joyous silence, then he tells me that on early morning journeys he often sees small groups of wild boar grazing at the side of the road. "Sempre I drive zlowly in the morning," he says. And then quietly and with feeling, "I love the animal." "Oh, I love them all too!" I say emphatically.
Marciana Marina is a radiant seaside resort, but also a real town with thriving local life – especially at this point in the year before the summer hordes arrive. A pretty marina bobs with tidy boats and yachts, water slapping their sides and wind pinging ropes against their masts. I wander the seafront, soaking up the sun and the affluent calm all around. Prams are pushed through a leafy park, elderly people sit chatting on the harbour wall. It is a vision of ideal community. What a perfect life can be lived in Marciana Marina.
WALK IN THE WOODS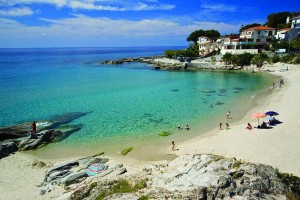 I travel inland to see the hill village of Poggio, famed for its mineral water and its pretty streets. In the main piazza, two teenage boys are playing football, alternately cheered and chided by a trio of plump matriarchs watching from a sunlit bench. There are colourful flowers tumbling from every corner. I have a superb lunch at Poggio's swanky Publius restaurant, with vertiginous views down to the sea, then travel onward to the little village of Marciana, which claims to be the oldest settlement on Elba. It's a charming place, a delirium of stepped alleys and belvederes, but it's the village's easy access to hiking trails that I've really come for.
Elba's walking routes are among the island's best features. But they're often overlooked by visitors, who can't bear to tear themselves away – quite understandably – from the beautiful beaches. The walks range from hearty treks to piece-of-cake strolls, all on well-marked paths that snake around the coast, wriggle across stout peninsulas or plunge off into the mountains. I climb a footway to a hillside where spring flowers smile shyly and giant granite boulders lie weathered by the winds into smooth, eerie sculptures. The views down to the coast and across the island are breathtaking. As I stand there, I realise that the black, magnetic lump of land lining the western horizon is Corsica, and happily trace the island's silhouetted geography.
Evening sees me in the chic coastal village of Sant' Andrea, just in time to hear the nightingales tuning up for the coming twilight performance.
I take a pre-dinner stroll along the lanes, past lemon groves and pines all glowing in the hot orange light of sundown. I turn down a footpath and emerge at a deserted crescent of sand hugged by two sculpted stone headlands. It is one of the most perfect beaches I've ever seen. More a stage set than a piece
of real geography. No wonder so many people are drawn to Elba, I sigh with a smile.