Penny Wainwright shares some of her highlights from travelling around the very southern tip of Puglia in Italy's heel…
Photos by Penny Wainwright

What to see & do
Fiera and Festa di San Marco
The Fiera and Festa di San Marco takes place every year in April. San Marco has been celebrated since the 12th century with a traditional fair taking place. This is the largest and most important spring fair and market in the lower Salento area. This year the Festa was combined with that of the Madonna on the 24th and 25th of April. On the first evening, music and dancing takes place in the square, with the procession of the statues having passed through Ruffano during the evening of the 25th.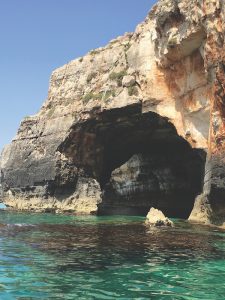 Visiting the caves from Santa Maria Di Leuca
Salento's Adriatic and Ionian coasts are home to many caves (right) with evidence of Neolithic settlements, including the Grotta del Gigante, the Grotta del Diavolo, the Grotta del Bambino, where an ancient baby's tooth was found, and the Grotta Cipollina, where prehistoric utensils were found. Cave excursions can be booked at the Marina di Leuca. Several companies offer excursions including Byron Sea, Consorzio Mari d'Oriente, Piccola Nautica and Porto Turistico.
Bike ride from Salve to the coast
Contact Melissa Caló or Marco Cavalera at L'Associazione Cuturale Archès.

 +39 340 589 7632

Cammini in Salento
There are three walks to the west of Ruffano on the Serre Salentine 'In Cammino con Maria', as well as three routes of the Via Francigena. They are from Brindisi to Santa Maria di Leuca on the Via Francigena del Sud; from Lecce to Leuca on the Via Leucadense and from Taranto to Leuca along the Via Sallentina.
Getting around by car
There are some wonderful small beaches and harbours to explore, most of them hidden from the road. Porto Badisco has a beautiful natural bay and a beach used by the locals. The old town of Castro overlooks the bay, while the newer town of Castro Marina is on the coast with a harbour of small boats. At Marina Serra there is a natural swimming pool surrounded by volcanic rocks. The shallow waters and glimpses of the sea through the rocks are enticing. At Ponte Ciolo the coast road crosses a deep ravine. Climbing down rock steps reveals a tiny beach with boat ramps and turquoise water.
Where to stay
Masseria Saietti
Prices range from £82 to £204 per night. There are six rooms, a swimming pool, parking and wifi.
Strada Comunale Saietti, 3 – 73049 Ruffano

 +39 342 594 6210
info@masseriasaietti.it
Manfio's
Agriturismo at Contrada Manfio, eight kilometres from Ruffano. There are four rooms here costing between £75 and £187 per night.
Contrada Manfio, 73049 Ruffano

 +39 388 877 8374
info@manfios.com
Santa Maria Di Leuca
Parking, wifi, next to the sea. Six rooms costing between £56 and £136 per night.
Via Fabio Filzi 36, 73040 Marina di Leuca

 +39 347 753 1381
beb.leuca@libero.it
Messapia Hotel and Resort
Four-star hotel with 110 rooms costing between £61 and £214 per night.
Contrada Masseria Li Turchi, 73040 Marina di Leuca

 +39 083 375 0027
info@messapia.com
B&B Anticadimora del Pepe
Five rooms costing between £60 and £131 per night.
Piazza Della Repubblica, 41 – 73050 Salve

 +39 320 448 4183
info@anticadimorapepe.it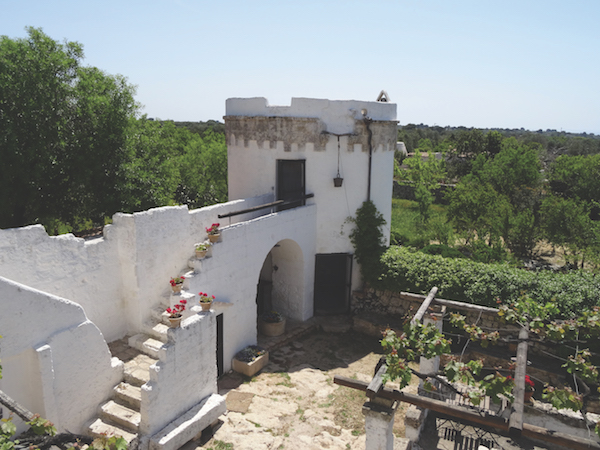 Where to eat
Wine Bar Trattoria Bortone
Serves traditional and local dishes at around £6 or £7 a plate. Open from 08.30 to 22.00 daily. Very popular with the locals, which is always a good sign.
Piazza Nazario Sauro – 73049 Ruffano

 +39 328 013 6458
Farmacia dei Sani
Modern décor using traditional materials. The chef's international and Mediterranean dishes cost from £8-£14, with a £31 tasting menu. Open every day from 19.30 to 23.00 for drinks and food. Booking is advised.
Piazza del Popolo, 14 – 73049 Ruffano

 +39 339 833 2514
Trattoria il Borghetto
Serves local and Mediterranean food. I enjoyed sitting for lunch in the courtyard trying several tasty foods and wines from the menu.
Via Persico, 14 – 73050 Salve

 +39 339 469 9399
borghettosalve@gmail.com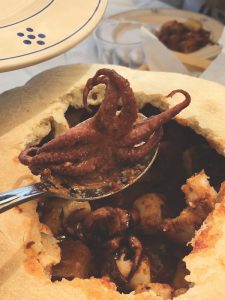 Relax Leuca
Has a lido and restaurant looking out onto the sea. Open daily from 09.00 to midnight. Seafood dishes a speciality.
Via Fabio Filzi, Lungomare – 73040 Santa Maria di Leuca

+39 392 486 9105
info@relaxleuca.it
Grotta del Conte
Serves seafood and Mediterranean dishes overlooking the sea. Open daily for lunch (12.30-15.30) and dinner (19.00-23.00). They are also more than happy to cater for parties and weddings.
Via Duca del Mare – 73030 Castro

 +39 083 694 3349
info@grottadelconte.it
Masseria Le Stanzie
Serves local Italian foods and also has old oil mills to explore before or after your meal. Open for lunch and dinner.
Strada Comunale Pagliare – 73040 Supersano

+39 833 632 438
info@lestanzie.com 
Getting there
By plane

Brindisi is the closest airport for exploring the most southerly tip of Puglia. You can fly from the UK to Brindisi via easyJet from Bristol and London Gatwick. BA also operates flights from London Heathrow, and Ryanair from Manchester.

Look out for Penny's Meet the Makers article for more on this part of Italy. For even more Puglia travel advice, you'll find plenty of inspiration here.