The Great St Bernard Valley in the Valle d'Aosta links Italy with Switzerland. Rachael Martin discovers why it's the ideal place to unwind…
Photos by Rachael Martin unless otherwise stated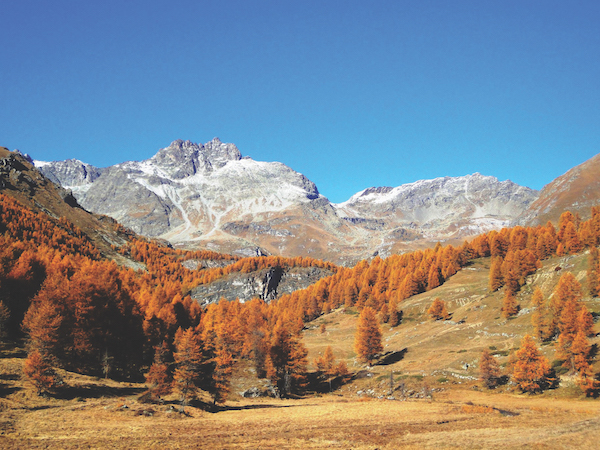 The Valle di Gran San Bernardo, or Great St Bernard Valley, with its high mountain peaks and characteristic villages such as Saint-Rhémy-en-Bosses and Étroubles, lies to the north of Valle D'Aosta and leads into Switzerland via the Great St Bernard Pass up at 2,469 metres above sea level. The pass remains closed for most of the year, and only opens in late May or even early June, when the snow ploughs are finally able to make their way through, leaving in their wake huge walls of snow on either side of the road. 
Snowfalls here can reach up to 20 metres and the winds are pretty much incessant. This is a place that is always very much ruled by the elements. For the tourist, it's one of Italy's lesser-known destinations, and because of this it's the perfect place to switch off, slow down and get back nature, all within an environment that encourages a more respectful form of tourism.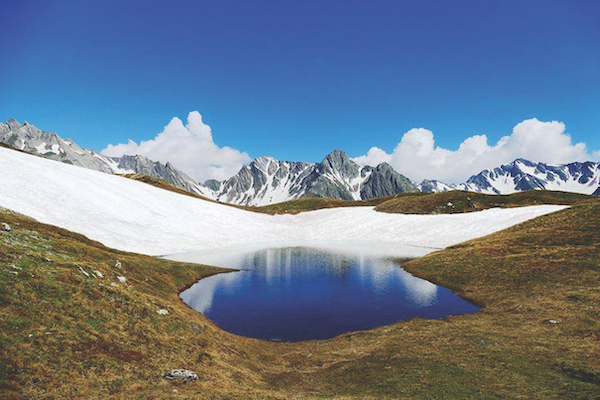 Important route
It's also rich in history. The pass has always been an important route that links Italy with the rest of Europe. In Roman times, a temple was built and dedicated to Jupiter, the remains of which are there today. This is the pass that Napoleon came over with his soldiers to take Italian territory back from the Austrians in the spring of 1800, a moment that's immortalised in Jean-Louis David's painting.
Just over the border into Switzerland, there's the hospice. The original hospice was built by Saint Bernard of Menton around 1049 and provided hospitality for pilgrims walking the Via Francigena, the Medieval route that connected Canterbury to Jerusalem.
Nowadays, it's a stop-off point for both hiking and ski mountaineering, and is famous also for the large dogs that from the 16th century were originally bred and used for rescue and to guard the hospice, and who in the 18th century became known as the St Bernard dogs.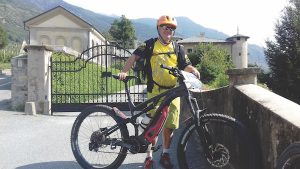 Hiking and biking in the mountains
Flavio Dalle is a nature and hiking guide who lives in Étroubles and is one of six international mountain leaders in Valle D'Aosta who belong to the Union of International Mountain Leaders Associations (UIMLA) that represents the profession internationally and seeks to encourage equal standards of excellence throughout the world. He's also a mountain bike and e-bike guide, orienteering instructor and a specialist from the Italian Orienteering Federation. The Italians love their mountains, both for walking in summer and skiing and other sports in winter. Mountain tourism has a place in many people's lives, in spite of the current climate changes faced. If there's no snow in winter, this ultimately impacts on people's livelihoods, which means that new ways need to be found to still give opportunities for people to enjoy the mountains, and for the people who live there to keep their communities going.
Flavio explains that the Valle D'Aosta is special as it encompasses various altitudes that create different environments, thus offering opportunities for year-round tourism. At lower altitudes there are vineyards, chestnut groves and castles, and then you gradually move up into the higher mountains. The valley is bordered to the north by the Grand Combin massif, with its highest peak of 4,314 metres, to the northwest by the Mont Blanc massif (4,810 metres) and northeastwards by the Great St Bernard Pass. All this provides plenty of opportunities for orienteering, hiking, trekking and mountain biking – and also e-biking, which offers mountain access to those who may not want the full-on mountain bike experience. Flavio also organises other outdoor activities such as local tours, Nordic walking, photo safaris, trips along the valley of the river Dora Baltea to visit castles and more. (For more information, see his website.)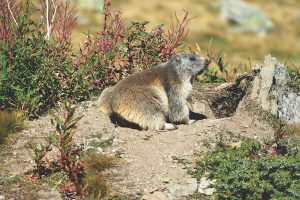 I ask Flavio what the mountains mean to him. "It's the rich natural environment in which I was born, a place to visit respectfully and safely. There's no stress, there's no traffic, none of the frenzy that's associated with the city. It's that feeling of being in the middle of nature, the silence, that of being at peace with yourself, these feelings of wellbeing. Of course we still need to see people and it all depends on what you're doing on a daily basis, but the mountains have a different rhythm." 
He tells me how his job enables him to really experience nature and help people to live what he lives. "I can smell the mountains. I go into the woods and I can smell it and feel it. I can feel the wind. And this is what my job's about: conveying this sensory experience to the people I take out. It's this deep internalisation between person and place that characterises this type of job. If I don't know this place, I can't convey it to someone else. It's an experiential type of tourism that aims to bring people close to nature and to help them grow as people, too." When people go home having had the same experience as Flavio, it's this that gives him his greatest job satisfaction.
Local festivals
The food festival Percorso in Rosso takes place in the hamlet of Saint-Léonard in Saint-Rhémy-en-Bosses. The theme of the festival is rosso, the colour red, so it includes a variety of local food products from the DOP Jamon de Bosses to rhododendron honey and, naturally, the region's wine. It is held in August. For further details of next year's event, bookmark www.comune.saintrhemyenbosses.ao.it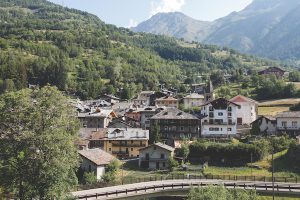 The Veillà d'Etroubles festival, also held in August, revives the traditions of the comune of Étroubles in terms of the jobs that used to be commonplace here in the worlds of artisanry and agriculture. There's also live music, food, and a procession of the masks of the Coumba Freida, the historic Carnival procession that takes place at Carnival time.
Discover some of the best places to eat in the area with Rachael Martin's Valle di Gran San Bernardo travel guide
For more on travel in the Valle d'Aosta, there's lots of info at their official tourism site