Marina Spironetti explores the most beautiful seaside locations in eastern Liguria, while learning how to become an old salt…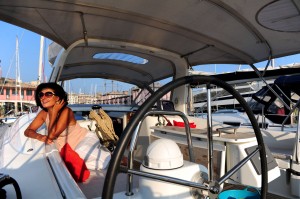 How do you say lupo di mare?"
"Hmm… salty sea dog," Kate answered.
"Oh well, I think I am more of an unsalted land bear."
"So am I," exclaimed my friend Silvana.
Aside from a few customary boat trips to Sardinia
and the equally unmissable ferry journey to Capri, I was not accustomed to life at sea. And yet there I was at the port of Genoa, about to spend the next three days on
a stylish Beneteau Oceanic 50 yacht, sailing off the coast
of eastern Liguria. Kate and Phil, our hosts, laughed.
I am sure they had seen that before.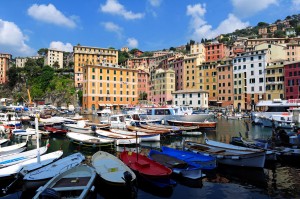 My mild fear of waves would not have kept me from exploring the Italian Riviera by water, though. I had been to the region several times, but always by land. I felt like I was missing out. That mountainous strip of land that hugs the Ligurian sea linking the Cote d'Azur to Tuscany – almost a rugged rainbow of coast – is covered in rocky wooded slopes dramatically stretching down to the sea. The view of the small towns and villages dotting the coastline is therefore more spectacular from the water. In addition to that, some places can only be reached by boat, unless you are willing to hike up some pretty strenuous mountain trails.
Kate started to go through the r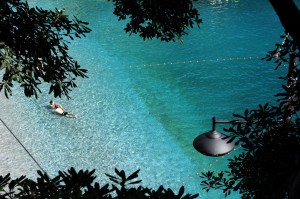 esorts we would  visit and this is when I realised what her daily schedule was like: one day in Portofino, the next one in Cannes; and the week after off to the Canary islands perhaps. What to me was the equivalent of a stylish hotel on water was home to her and Phil.
For someone like me, who has always been allergic to the nine-to-five routine, their lifestyle was a dream come true. They met in Antigua, where they were both working for a sailing company, and soon they started their adventure together, with Kate as the skipper and Phil as the operation manager. They talked enthusiastically about life on board – only their forthcoming wedding back in Chester could get them more excited.
THE LAST DAYS OF SUMMER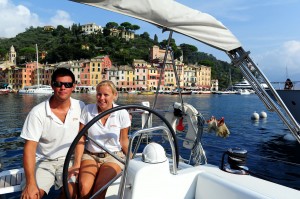 Our first evening on board was spent getting to know each other over dinner. I was still to experience Kate's great boating skills, but I had already found out she was an accomplished cook: the baked figs and the tarte au citron were especially delicious. She was also willing to share her recipes with us – quite unusual to me, being accustomed to the mystery some Italian women want to maintain  when it comes to cooking.
The following morning we departed – waving goodbye to the city of Columbus and rolling along the waves to the tiny fishing village of San Fruttuoso. To my relief, it was one of those beautiful last days of summer – no wind and a glassy sea. Aside from its crystal-clear waters, the village itself was a very pleasant surprise: a medieval monastery (which has been anything from a fishermen's abode to a den of pirates) and a maze of paths going up to the mountains. Our next stop was the town of Santa Margherita Ligure, where we enjoyed a pleasant stroll along its palm-lined waterfront. On one side of us ran a string of colourful houses, on the other a series of marinas and pebbly beaches, where a few tourists were still enjoying their last days of holiday. So similar to the resorts of the French Riviera and yet so different – less glitzy and much more relax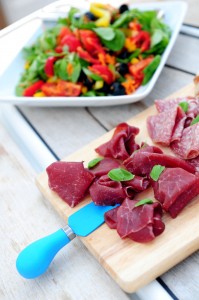 ed.
Whenever we were not enjoying Kate's food, we had fun trying to single out the best eateries. While in Santa Margherita, we decided to avoid all those places that seemed too touristy – and ended up at Alfredo's, a no-frill, family-run restaurant. To our surprise, there was no Alfredo anymore, but owner Salvatore proved to be a very entertaining host. Once the last few customers left the place, he brought out his treasured bottle of mirto (a home-made liqueur made in Sardinia) and delighted us with his wonderful anecdotes.
The following day brought a gentle breeze, so Phil got the sails up and we enjoyed a trip around the bay, making the most of the on board facilities. The spacious cockpit became our open-air living room, good for anything from reading a book to having a siesta, while the foredeck was perfect for sunbathing. After a lunch stop in Paraggi, a very deep spot in the Gulf of Paradise (the name says it all), we headed to Portofino, Liguria's most famous resort. Seeing its semicircle of tall coloured houses arranged around the small port is absolutely breathtaking. Sadly, our view from the quay was blocked by a large boat called Bistango. With a little help from Google, we found out that, should you fancy a week on board there, it would cost you a mere €350,000. Good news, though: you can enjoy of a range of facilities from a Turkish spa to a gym, and you can split the costs between up to 12 guests, which makes it look like a better deal. Long-gone are the days when Portofino was a small fishing village. It is now one of the most exclusive resorts of the country. Be prepared – an aperitivo with the glitterati might cost you a lot more that you budgeted for.
CITY OF A THOUSAND SAILS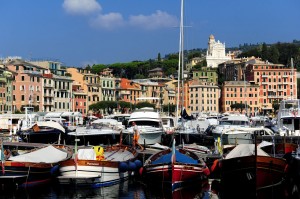 Camogli, on the other hand, was a more relaxed stop, perfect to end our little holiday at sea. A charming crescent of sand, pastel-coloured buildings and boats, which is a favourite with the Milanese crowds. Its name comes from casa mogli, 'houses of wives', as the menfolk were always at sea. Predictably, it now lives mainly from tourism. In the past it was a considerable seaport, known as 'the city of a thousand white sails' due to housing much of Napoleon's fleet.
After spending a little time ashore, we had a bumpy ride back in the dinghy over a few waves that the wind had picked up. Genoa was our final destination – as we got there, massive dark clouds were gathering over our heads. And yes, the ground beneath our feet felt like it was moving for a while after we got off the yacht. Maybe it's a sign I am finally becoming a salty sea dog?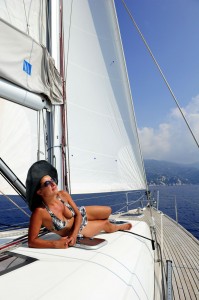 FACT FILE
➤ Marina Spironetti was hosted by Essential Sailing  (0845 653 0126, www.essentialsailing.com). A one-week fully-crewed, private and luxury sailing holiday along Italy's Ligurian coast costs from £1,349 per person (six sharing) in low-season and includes chauffeur-driven airport transfers, seven nights on-board accommodation, daily breakfast and lunch, two dinners and all drinks served with meals. Flights excluded. Holidays along the French Riviera and the Canary Islands are also available.
Tags:
Holidays
,
Liguria
,
Sailing