Fifteen years since he lasted visited, Jon Bickley returns to Puglia for a short stay with his wife and friends. Photos by Jon Bickley, unless otherwise stated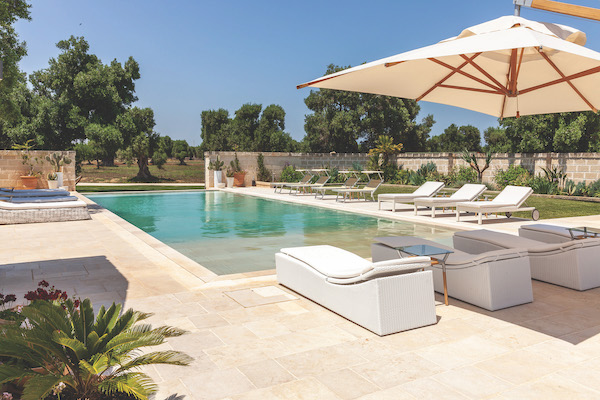 I've been privileged to have been involved with Italia! magazine for some 15 years, since we first launched in 2004. During that time I've visited a variety of Italian destinations, but it was to Puglia that I made my very first trip, to the Masseria Torre Coccaro, in spring 2005. At the time I was new to Italy and like to think I brought a fresh eye to the scene, but Puglia presented something of a surprise. Quiet and arid, with more reserved, undemonstrative natives, it was far from the stereotypes I'd expected. So how would the heel of Italy seem to my more experienced eye in 2019, and has it changed?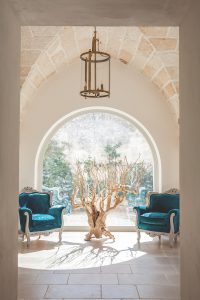 Palombara Piccola
Setting out with my wife, Cath, and Australian friends Mandy and Chris, we were excited to be headed for Palombara Piccola near Ostuni. This six-bedroom luxury villa, available through The Thinking Traveller, has only come onto the holiday rental market in the past year after being renovated by its British restaurateur owners.
After driving through a gnarled olive grove we arrived at a breath-taking property. Huge wooden doors opened onto a beautifully tiled hallway and into the beautifully designed living spaces. But it's perhaps beyond the main accommodation that the wow factor kicks in. Outside, the infinity pool opens out (via electrically controlled doors) to the beautiful olive grove beyond. The view can be enjoyed from a choice of lounging and dining areas around the pool, on the roof terrace and on top of the turret. Stepping downstairs we found the den, complete with home cinema, pool table, wine cellar and cocktail bar. It was clear that part of the challenge of the trip would be to actually leave the villa.
Lecce
The first full day of the trip saw us rise to a delightful breakfast prepared by the housekeeper, who visited every morning to keep everything spick and span, and ensure we never left the house hungry. Suitably fed, we headed south to sample the Baroque architecture of Lecce.
The city was quiet for our Sunday arrival and it didn't take us long to find the city square that frames the Roman amphitheatre. We explored the remains and ambled through the streets around them, but it was a quick visit to the tourist office that made the day, as we discovered that a touring immersive Van Gogh exhibition was in town – just the event that our culture-hungry travelling companions had been planning to see at some point on its European circuit. 
Almost guiltily we whiled away a virtual reality hour in reimagined hayfields, harbours and star-filled skies, before emerging to a city transformed. Where previously had been sleepy streets with a smattering of tourists, now the entire place was in full flow of the passeggiata – the Italian evening promenade of seeing and being seen.
But we weren't to be detained by the hubbub of the crowd as we had to be home for our visiting chef. Our first proper meal of the trip was a specially prepared Puglian dinner served in our own dining room. Impepata di cozze (stuffed mussels) was followed by Gamberoni al forno (oven-roasted king prawns) and rounded off with a one-sided pool tournament downstairs (England beating Australia in a portent of the Cricket World Cup still to come that summer).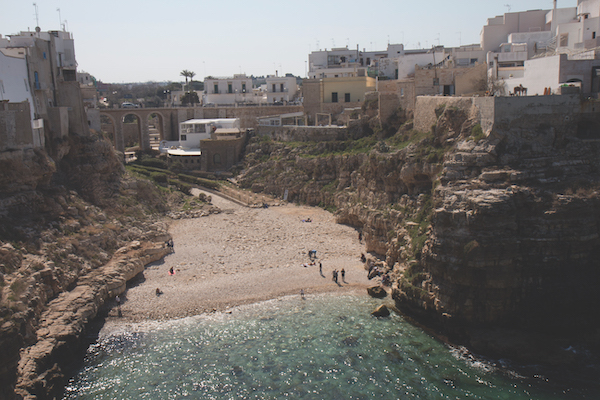 Polignano a Mare and Ostuni
Day two brought a happy surprise. Though we had ventured to the coast on our last visit, we'd somehow missed Polignano a Mare. Polignano is a fantastic seashore town with a bohemian vibe and seductive charm. I often dream of taking a lengthy sabbatical in Italy, and I very quickly placed myself waking up to a coffee in Piazza Vittorio Emanuele II, a stroll down to the pebble beach, perhaps bit of fishing from the clifftops and then lunch overlooking the waves. I'd certainly recommend Polignano for a relaxing mini-break, with a good variety of dining options, including the Antiche Mura where we found ourselves for lunch. This distinctive restaurant is formed by the town's two perimeter walls and roof, and features a generous display of the day's seafood and live lobsters as you enter. 
Lunch was delicious and the ambience dangerously soporific, but we had more places to be, with a tour of the white city, Ostuni, next on the agenda. Our host Emilio met us back at the villa along with English guide David, and they whisked us a few kilometres inland before we decanted into two waiting tuk-tuks. This was a new one on me in Italy, but the little Piaggios were perfect for scurrying up the narrow, hilly streets for a whistle-stop tour. Nicely oriented, we relaxed on foot to browse the gift shops and cathedral, and to capture shots of the city at sunset with orange hues playing on the whitewashed buildings, before a well-earned sundowner glass of wine on the edge of the Piazza della Libertà. Emilio took the chance to impress us with his passion for Puglia and what he saw as its unique hospitality, unrivalled around the country. He truly loves the region, and you can easily see why.

Locorotondo and Alberobello
There really was so much more to do in Puglia, with "the beautiful city" Gallipoli and the cave-dwellings of Matera beyond our reach this time, but for our last full day we had to take first-timers Chris and Mandy inland to see the trulli.
Very quickly you start to see the curious white stone structures at the roadside, but there were stranger sights to come when we made our first stop in Locorotondo. Strange witch-like figures suspended over the street clutching bottles and bread. Were they warning signs or hangovers from Halloween? It transpired they were symbols of Lent and were hung there to remind residents of the temptations they had to avoid for forty days and nights. With a wink, the tourist officer told us that locals "used to" shoot them down on Easter Sunday.
There had been a suggestion that, with time scarce, we might consider skipping the World Heritage site of Alberobello to avoid the crowds. But it has Heritage status for a reason and, even on Cath's and my second viewing, it's such a striking sight. We parked surprisingly close to the centre before ambling up the iconic via Monte Sabotino and poking our heads into souvenir and craft shops.
Lunch was in another distinctive location – this time the Ristorante Trullo D'Oro. Across the river, where you find the best views of the town, and tucked up a side street, the 'Golden Trullo' was a delightful find and its tasting menu even more satisfying. Even if you skipped the main drag, heading straight here for the lunch and views would be reason enough to stop in Alberobello.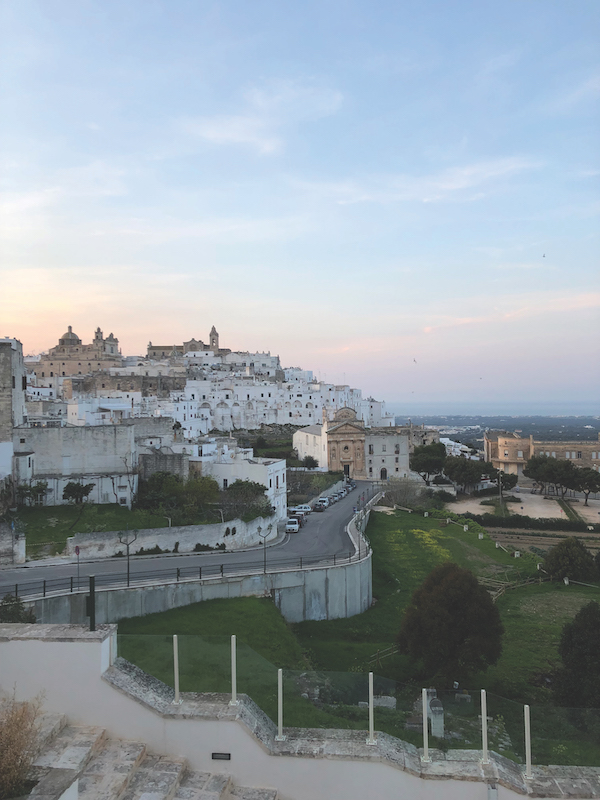 The last night
Our co-travellers jumped on their earlier plane home and Cath and I were left to noodle around the immediate vicinity of the villa and enjoy the location for one more night. Nearby Villanova offered a marina and café looking out over the bay, but Palombara Piccola held enough charms for the rest of our trip. A simple dinner on the roof terrace was a perfect prelude to a guilty pleasure – a private screening of Pretty Woman in the basement cinema accompanied by one of the cellar's finer wines.
Breakfasting in the turret, we reflected on Puglia 15 years on. The region feels just as spacious and charming, but with an understated sophistication wherever you want to find it. We're more adventurous travellers, but that curiosity was rewarded at every turn with still distinctive architecture and landscapes coupled with excellent hospitality and cultural opportunities. Our appetite is whetted, it won't be 15 years before our next trip, and we may just start that sabbatical in Polignano a Mare. 
More information
Jon and guests stayed at Palombara Piccola near Ostuni, a luxury villa available to rent exclusively through The Thinking Traveller. Rental prices start from £4,697 per week (sleeping 6), or from £6,278 per week (sleeping 12, full occupancy).

 

The Thinking Traveller organised the following Think Experiences (others are available for villa guests): an in-villa cook service, €120 for the service plus the cost of ingredients; a guided tour of Valle d'Itria's towns, €173 per person (based on a group of 4); a case of wine.
The Thinking Traveller offers exceptional villas in Sicily, Puglia, Greece and Corsica – backed by local knowledge and personal service. All villas are exclusive to The Thinking Traveller and Think Experiences, and on-the-ground support can be found in all locations. For bookings or for further information, please visit their website.
For more on Jon's travels isn Puglia, see his Ostuni dining guide