Our experts are here to help with all your questions about Italy. This week, taking an early summer holiday in Puglia.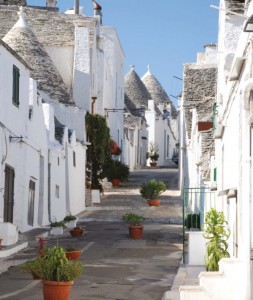 Question:
We are planning to rent a family villa in Puglia this year, probably in May. We all like cycling, so are there any rural locations you would recommend? Does Puglia have a cycle route network? We also planning to hire a car, so we'd like to be an easy drive away from local places of interest as well. Any thoughts on where we should go would be very welcome.
Tony Stokes, Leicester
Answer:
For your holiday we would recommend that you select a countryside villa or trullo in the Valle d'Itria area, as its central location means that you are ideally situated for exploring the many of the famous towns and also the Adriatic and Ionian coastlines.
The Valle d'Itria has one of the most beautiful landscapes in Puglia and is bordered by the medieval hilltop towns of Locorotondo, Martina Franca and Cisternino; and many of the ancient networks of country roads, paths and mule tracks that connect these towns are still used today. Walkers and cyclists using these well-trodden routes can take in some of the distinctive sights of Puglia: the cone-shaped houses known as trulli, unique to Puglia, the masserie farmhouses with their extensive dry-stone walls, olive groves, vineyards, and flora and fauna. Part of the Puglian Aqueduct that runs through the Valle d'Itria also has a cycle path that offers you fabulous views of the surrounding landscape.
With a car, your Puglian experience becomes even more inspiring. You can drive to either the Adriatic or Ionian coasts, where in addition to sandy beaches you can find an abundance of seafood restaurants, gelaterias, boat trips and scuba diving; a visit to Lecce, sometimes called the 'Florence of the South', is definitely worth a visit, as are the UNESCO World Heritage sites of Alberobello, Castel del Monte, and the Sassi of Matera. These should be within a 30- to 90-minute drive from the Valle d'Itria.
May is a lovely time to come to Puglia: warm sunshine, lush green scenery and excellent prices. Bear in mind the evenings can sometimes be cool, so do rent a property with some form of heating.
Jackie Lear, Director of Puglia Holiday Rentals Ltd
Puglia Holiday Rentals Ltd, established in 2009, was borne out many years of visiting this region. Jackie Lear, Director, is passionate that clients have the right holiday rental for a perfect stay.
Visit the website for more information: www.pugliaholidayrentals.com
Tags:
Holidays
,
Puglia