Penny Wainwright shares some of the best places to eat and stay, and explores some of the Po Delta's top sights and attractions
Photos by Penny Wainwright
What to see & do
MyFeCard
A MyFeCard gives over-18s free entry to many of Ferrara's museums. A two-day card costs £10.50, a three-day card is £12.50. The card can be bought at some museum ticket offices or online.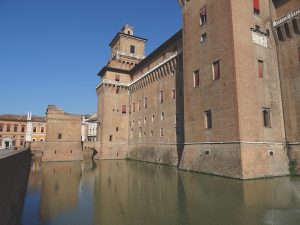 Castello Estense
The castle (right) is open daily, except on Mondays from October to December. Tickets cost £7 for an adult, plus £1.80 for Torre Leone. A guided tour is £3.50 extra.
Largo Castello, 1 – Ferrara

 +39 0532 299338
Palazzo Schifanoia
Palazzo Schifanoia was built in 1385 in the countryside near the River Po as one of the delizie estense. A must-see are the frescoes in the Sala dei Mesi, the Room of the Months. Currently closed for renovation, it is usually open daily from 09.30 to 18.00.
Via Scandiana, 23 – Ferrara

 +39 0532 244949
Palazzo dei Diamanti
An art gallery named after its 8,500 diamond-shaped marble blocks. Open every day from 09.30 to 17.30, an adult ticket costs £11.50.
Corso Ercole I d'Este, 21 – Ferrara

 +39 0532 244949
Comacchio Museum Pass
£15 for adults. Children up to 10 enter free. The pass gives free entry to Museo Delta Antico, La Manifattura dei Marinati, Casa Museo Remo Brindisi and lagoon boat rides.
For lagoon trips 
+39 340 2534267
Museum pass
 +39 08533 81303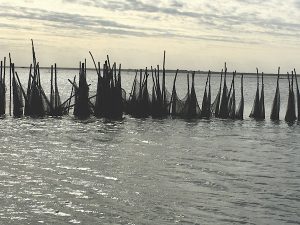 La Manifattura dei Marinati
This interesting museum tells the story of fishing in the region (such as the canes and nets used for catching seabass, pictured left). It is open at the same times and days as the Museo Delta Antico. Tickets cost £2.60 for adults.
Corso Giuseppe Mazzini, 200 – Comacchio

+39 0533 81742
manifatturadeimarinati@parcodeltapo.it
Museo Delta Antico
Created inside an 18th-century hospital along a canal. There are five sections revealing the history of the Po Delta. Open Tuesday to Sunday from 09.30 to 13.00, 15.00 to 18.30. Adult tickets cost £5.30.
Via Agatopisto, Comacchio

+39 0533 311316
Lidi di Comacchio beaches
If you fancy a spot of beach time, here's our guide to help you discover some of the best…
Lido degli Estensi is perfect for shopping and nightlife.
Lido degli Scacchi is popular with families with lifeguards on duty and a gentle sloping sea.
Lido delle Nazioni has water sports both in the sea and on a lake. The placid Delta-Camargue white horses are based here for horse riding.
Lido di Spina is surrounded by a pine forest with elegant villas set out on a semi-circular street plan.
Lido di Pomposa is also a family resort with lifeguards and a beach safe for children.
Lido di Volano, which is named after a branch of the Po, has a marina and is the most unspoilt resort set next a forest. Look out for Enrico Menegatti's driftwood sculptures on the beach (also outside Pomposa Abbey) which he call Natedalmare or 'Born from the sea'. Enrico collects the wood he uses from the beach and makes wonderful sculptures of animals
Porto Garibaldi is a fishing village with a harbour. Boat and fishing trips can be booked from the harbour.
Where to stay
Hotel Astra
A four-star hotel only five minutes' walk from the castle and medieval centre. The hotel has 70 rooms set over four floors and offers free parking and wi-fi. The restaurant serves local produce and dishes at breakfast and dinner, such as cappellacci di zucca, pumpkin-filled pasta, a notable local dish. Rooms cost between £70 to £145 per night, including breakfast.
Via Cavour, 55 – Ferrara

 +39 0532 206088
Hotel Il Duca D'Este
Four-star hotel about a ten-minute drive, or 30-minute walk, from the castle and city centre. It has 73 rooms set over four floors, parking, free wi-fi and a bar. Rooms cost between £65 and £80 for a standard double room, including breakfast.
Via Bologna, 258 – Ferrara

+39 0532 977676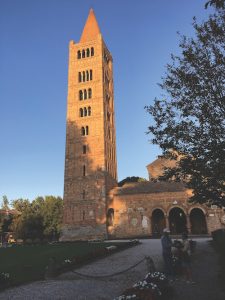 Resort Oasi Bianca
Set in a peaceful location close to Pomposa Abbey (pictured right). Nine rooms and 12 two-bedroom apartments in a range of buildings. There is an outdoor swimming pool, a bar, parking, wi-fi and a spa. The restaurant Il Pentagramma serves traditional local recipes. Cooking lessons and bike hire can be arranged. Rooms cost from £66 to £85 depending on season plus £17 per person for dinner. Weekend offer: Sunday night is free for Friday to Sunday stays including breakfast. One special offer includes a two night stay with breakfasts, one night's dinner and a picnic, plus a boat ride for £120 per person. Offers subject to change.
Località Pomposa Sud, 38 – Codigoro

+39 0533 719019
Hotel Rurale Cannevié
This three-star hotel is set in restored 18th-century buildings near Volano. There are 17 rooms, a bar, restaurant and parking. Bikes can be hired and there are walking trails and bird watching huts nearby. Rooms cost from £22 to £115 per night.
Via per Volano, 45 – Codigoro

 +39 0533 71901405
Locanda La Comacina
Three-star accommodation in Comacchio located alongside one of the canals near Trepponti. It has a trattoria on a boat moored outside on the canal. The rooms are traditional style and cost from £75 to £135 per night.
Sede legale: Via E. Fogli, 17-19 – Comacchio

 +39 0533 311547
Where to eat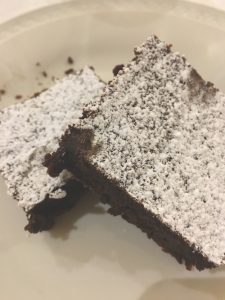 Caffetteria Castello Estense
The caffetteria at the Castello Estense in Ferrara is set right inside the castle and is a magnificent place to dine, with a frescoed ceiling and windows looking out onto the town. I imagine that this would be a spectacular setting to eat during the Palio, as the parade comes along the street outside towards the castle. Delicious Ferranese dishes are served here, including a rich but light chocolate cake called tenerina (left) that you should try while you're in the region. Open Friday to Sunday evenings and during the daytime Monday to Thursday.
Largo Castello, 1 – Ferrara

 +39 347 224 9037

 +39 0533 299338
Cucina Bacilieri
The Cucina Bacilieri restaurant is close to the centre of Ferrara and all the main attractions in the city. It serves quality food and is especially known for its local dishes and seafood. It is open from 12.00 to 15.00 and 19.30 to 22.30 daily but is closed every Tuesday and on Sunday evenings.
Via Terranuova, 60 – Ferrara

 +39 0532 243206
Trattoria Le Gresine
This trattoria is located adjacent to a small canal in the town, alongside other restaurants. There are tables inside and outside, serving local dishes. Eels are a speciality. It is open from 12.00 to 15.00 and 19.00 to 22.00 every day of the week except Wednesday.
Via L.A. Muratori, 51 – Comacchio

 +39 0533 81511
Osteria del Delta Torre Abate 
The Osteria del Delta Torre Abate serves home-made dishes using locally sourced ingredients. They also sell sauces and jams made in their kitchens that you can take away with you. Open Monday to Sunday from 11.30 to 14.30. At the weekend it is also open from 19.30 to 22.30. Closed on Wednesdays. Accommodation is also available here and guests can arrange bike hire.
Via Boschetto, 17, Loc. Santa Giustina, Mesola

 +39 0533 993568
Don't miss
Sagra dell'Anguilla: The eel festival in Comacchio takes places each weekend from the end of September to mid-October near Palazzo Bellini and the Trepponti Bridge. Around 48 traditional eel and fish dishes are cooked and tasted during the festival (
 +39 0533 314154)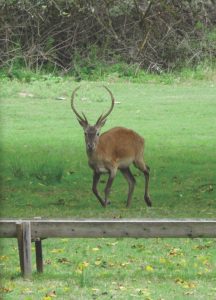 The Po Delta: Take part in the outdoor activities that can be arranged through Po Delta Tourism (
 +39 0533 81302). A two-hour clam-fishing trip in Sacca di Goro costs £15 (June-August). Boat trips from Gorino cost from £9 for 1½ hours; from Comacchio £11 for 1¾ hours. A 1½ hour minibus tour from Comacchio to see the flamingos costs £13. Cycle tours of Mesola forest costs £5 for 2 hours. Visiting the Mesola deer by minibus costs £9. Horse riding is available at Lido delle Nazioni for £20 per hour (ages 9 and over). 
Il Palio di San Giorgio: The Palio takes place every year in Ferrara in May. It claims to be the oldest palio in the world, having begun in 1254. Flag throwing takes place in Piazza Municipio and the horse race runs through the city centre and Piazza Ariostea. The city and Castello Estense are decorated in the colours of the contrade. In 2019 the final race day will be the 26th of May (
 +39 0532 751263).
Getting there
By plane
Bologna is the closest major international airport to Ferrara, but you could also approach the Po Delta from Venice in the north, or fly to Verona and follow the river as it makes its gentle way to the sea. 
By car
From Ferrara take the RA8 east towards the coast, then turn left onto the SS309, which crosses the Delta. Alternatively, approach from Chioggia in the north.
Penny's 48 hours in the Po Delta article has even more travel inspiration for the area
Tags:
Ferrara
,
Holidays
,
Italian Holiday
,
Italy Travel
,
Po Delta
,
Travel