Southern Piedmont is the rich agricultural powerhouse of Italy.
In part 1, we explored Turin, the Alps and Lake Maggiore. Part 2 of this Piedmont region guide focuses in on Asti and Alba where the truffle fairs attract a global audience. In the mountainous north, the climate is distinctly continental; the southern region is just 30 miles from the Ligurian coast and consequently much milder.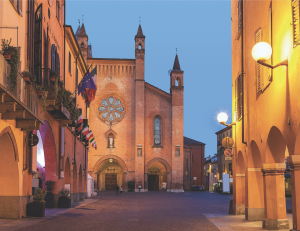 The province of Cuneo lies here between the Alps, the source of the River Po and the low hills known as Le Langhe. Rice is cultivated in the paddy fields on the fertile plains and, unsurprisingly, risotto is a favoured local speciality. Further south, the hills of Le Langhe that rise above the flat valley provide microclimates that have been used to cultivate the fruit of the vine for more than 2,000 years. The fine wines produced in the area, notably the Nebbiolo-based Barolo and Barbaresco, are renowned throughout the world.
The fortified hill-towns scattered here are evidence of the region's turbulent past, with castles dotted along the skyline. The area is a paradise for foodies with locally produced delights in every town and excellent restaurants ranging from the simple trattoria to Michelin-starred elegance. Cuneo and Bra merit the visitor's attention while one of the most famous towns is Alba, mecca to the celebrated white truffle. The annual truffle festival runs for five weeks every autumn, where these precious fungi change hands for extraordinary amounts of money.
Italy also has some glorious coastal areas and chief among these is the region of Liguria
Travelling north from Le Langhe to the Monferrato hills, the elegant city of Asti is also a haven for gastronomes. Its eponymous sparkling wine might be the first thing that comes to mind, but the city itself has more to offer, with a well-preserved centro storico and a palio that takes place every September and is older than that of Siena by more than 400 years.
Tags:
Guides
,
Holidays
,
Italia
,
Region Guide