There isn't much of Italy you could describe as 'undiscovered', but Rebecca Ford finds something close – and just an hour from Rome. The Sabine Hills…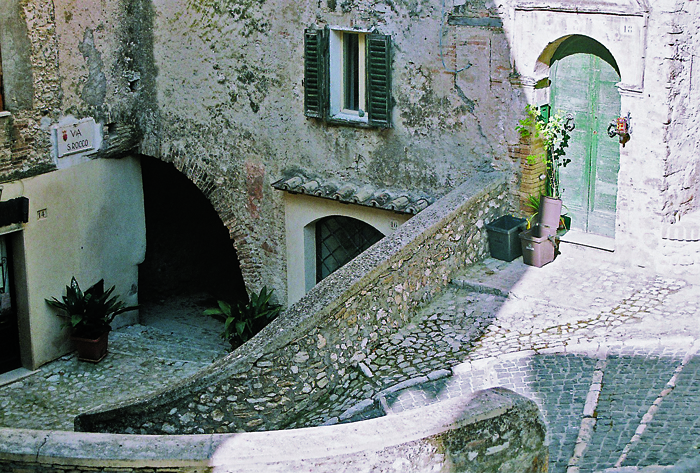 We had been walking for a couple of hours when we came to the little meadow. It was early summer and the poppies were in bloom. Some farmers were hard at work haymaking: one man driving a tractor, another standing on the back and heaving great forkfuls of hay into a baler. It was hot work and he had to stop every so often to wipe his forehead. Bundles of golden hay soon lay scattered across the field, filling the air with their delicate scent. The men stopped, chatted and took a drink. I felt as if I had been transported to the 1950s, yet this peaceful rural scene was unfolding in 21st-century Italy – and just an hour's drive from Rome.
You might think it's impossible to find anywhere 'undiscovered' in Italy today – certainly not within easy reach of a tourist hotspot. However I think I might just have managed it. We were in Sabina, a region of densely wooded slopes, sleepy hilltowns and olive groves that sits to the north-east of Rome, lodged between the Tiber plain and the Apennine peaks. It's an area that doesn't boast about its treasures, but lets you discover them for yourself. Since relatively few visitors make it out this way, the roads are quiet and the footpaths quieter still, making it an ideal place for a walking holiday. We had travelled with On Foot Holidays, who have pioneered self-guided hiking trips in this area. They book your accommodation, transfer your luggage, and provide detailed written instructions and route maps – all you have to do is walk and enjoy the scenery.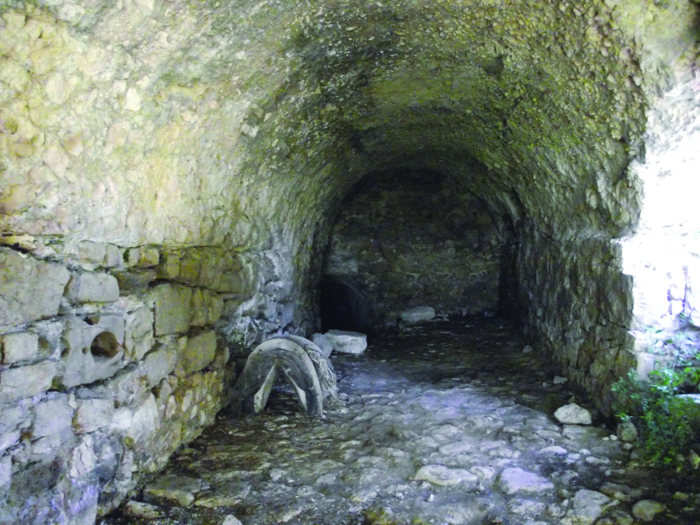 It may be little visited today, but Sabina has a rich history that stretches back thousands of years – traces of settlement have been found from the Palaeolithic era. It was around the 9th century BC that the Sabini, a tribe from the Adriatic, arrived. They gave the area its name ('Sabinium' in Latin), founded cities, and established a powerbase that stretched as far south as Campania. Eventually their territories were absorbed by Rome and these verdant hills became home to wealthy Romans who built lavish villas, planted vineyards and grew olives.
Our first base was Contigliano, a medieval hilltown that was once a place of pilgrimage. We arrived to find an unexpected traffic jam: it was the feast of Santa Rita, 'the patron saint of cars', and drivers were queuing in the narrow streets so their vehicles could receive a blessing from the priest. He stood white-robed outside the church, cheerfully flicking holy water on the passing bonnets. The owners acknowledged his attentions by noisily parping their horns. It was wonderfully Italian. After checking into our B&B, we went for a stroll. The cars had already disappeared and the cobbled streets were empty, save for a few snoozing cats. Several of the picturesque stone buildings seemed lifeless and neglected, suggesting an element of benign decay. I couldn't help feeling that this was how much of Tuscany was before it 'boomed'. We made our way to dinner. Viviana, our host, had booked us a table in the local restaurant: homemade gnocchi with gorgonzola for him, fresh saffron ravioli with spinach for me. I had a glass of red wine. Just the one. I didn't fancy hiking with a hangover.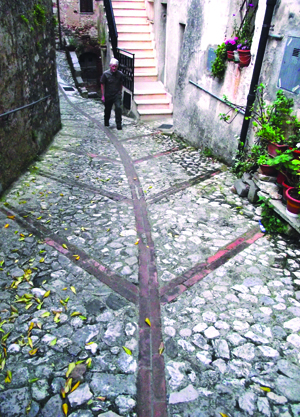 We set off early next morning armed with a packed lunch, map, route notes and small rucksacks crammed with the assorted paraphernalia a long walk demands – plasters, spare laces, waterproofs, a compass… I applied lashings of sunscreen. Within minutes the heavens opened and the waterproofs were pressed into service. This first day's walk was to be an 11km (6.8 mile) hike to the neighbouring hilltown of Cottanello, famed for the stunning medieval refuge dedicated to St Cataldo which is carved into a roadside rock. The first section was accurately billed as 'hard' and led us on narrow tracks up the steep sides of the wooded Capoconate valley. The rain, coupled with fallen leaves and mosses, made it slippery underfoot and I was relieved that I'd followed the joining instructions and packed walking poles. Eventually, after much cursing on my part, we reached a rocky outcrop. Beside a cave was a plaque: 'A te che tra queste montagne,' it began. Our notes helpfully translated: 'To you who have lived and suffered in these mountains / To you who have taught me to walk the footpaths of life. Augusto Donati 1913-1997'. Here was one, I felt, who had also slithered up the hillside in the rain.
From this point the walking became easier, the rain stopped and the sun came out. We crossed a wildflower meadow, startling a herd of goats that looked astonished to see humans in such remote country, and eventually reached a stone water trough we identified from our notes as Fonte Lallo. We took lunch by the spring, enthusiastically serenaded by a cuckoo, before continuing to follow red and white waymarkers up sheep tracks, past a reservoir and through a wood. The walk seemed longer than expected but it was only when we passed the reservoir again and reached Fonte Lallo again that we suspected we might just have gone wrong somewhere. It was time to put On Foot Holidays' support system to the test. I called Viviana. Thankfully this was one place that could be reached by car and soon Roberto drove into view. "You went in a circle?' he grinned. "You're the only people who have ever done that." Reading over the notes later, I realised we'd taken a wrong turn just moments before the end.
Roberto drove us to our accommodation in Casperia, a picturesque village one day's walk past Cottanello, the usual overnight stop. Soon we were seated on the terrace of La Torretta, our handsome B&B. We sipped tea, feasted on the view and watched swallows swoop from the eaves. The day's exercise made dinner that night all the more enjoyable. Frittata, asparagus risotto, ravioli with sage – the courses kept coming, all accompanied by fine red wine and olive oil. Sabina was the first region in Europe to be awarded an EU PDO ('Protected Designation of Origin') stamp for its oil, in recognition of its distinctive qualities. Deep green, with a lovely peppery tang, it's well worth bringing home.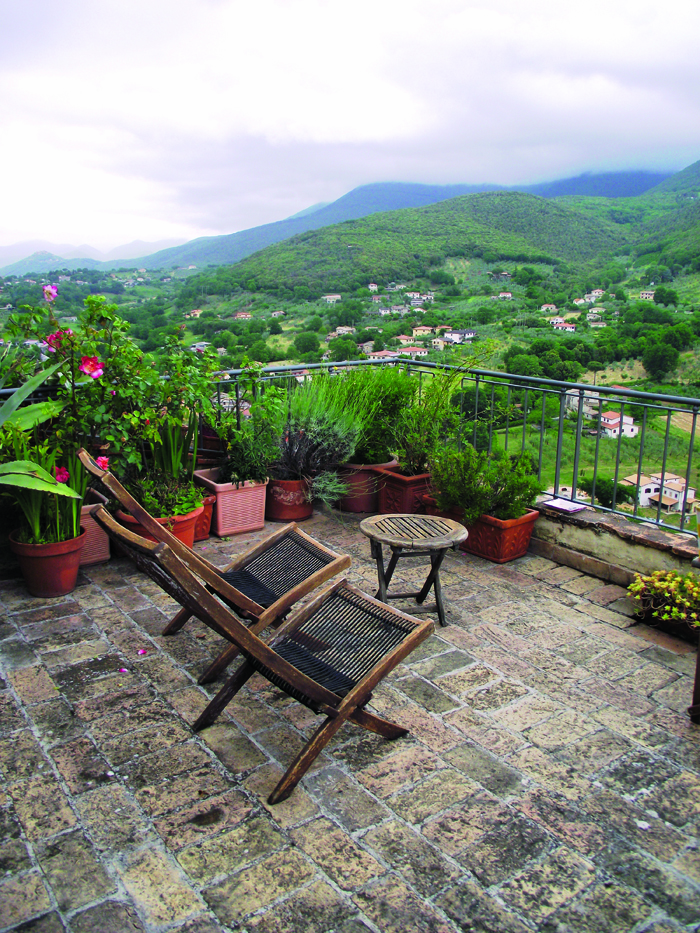 The Sabine Hills may now be celebrated for their oil but, like most people I guess, it was for a notorious event in their history that I best knew them. 'The Rape of the Sabine Women' has been much depicted, with celebrated interpretations by artists such as Giambologna, Pietro da Cortona and Poussin. It occurred soon after the foundation of Rome when the Sabine rulers refused to give Romulus and his followers permission to marry their daughters. The Romans simply abducted them instead. When the Sabine army later retaliated and attacked Rome, the women, by now married and with children, intervened – bravely putting themselves between both sides and begging for peace. For some years afterwards a Sabine king, Titus Tatius, ruled jointly with Romulus.
The joy of walking is that you get an immersive experience of the landscape and our next route exemplified this to perfection. For hours we followed stony upland tracks and only heard the sound of birdsong and the buzzing of bees. Loveliest of all were the wild flowers, more than I have ever seen, in colours ranging from hot pink and magenta to buttery yellow and palest cream. At one point we passed a sign pointing to the Grotta di San Michele Arcangelo, a chapel cave hidden in the trees. Our notes informed us that it had once been dedicated to Vacuna, Sabine goddess of the woods and waters. We picnicked by a river, found wild orchids and aromatic herbs, and then picked our way down sheep tracks to our agriturismo, the Fienile di Orazio. That night, after a succession of delicious home-cooked dishes, we stood in the garden and watched the fireflies light the darkness like earthbound stars.
Our walks continued in the same vein: meadows and wild flowers, cuckoo calls and gorgeous views. One day we made a detour for ice-cream in the hilltown of Salisano; another we paid a visit to Farfa Abbey, founded in the 6th century by the Benedictines and once enormously powerful. A path on a hill high above offered rewarding views over the plain to Rome – the dome of St Peter's a distant speck on the horizon.
Our final agriturismo was the Mole sul Farfa, belonging to the route advisor Stefano Fassone and his wife Elisabeth. He took us on a tour of the farm: to the Farfa river, to the remains of a 9th-century watermill, and into the labyrinth of Roman rooms that he had discovered beneath his house. In one were three stone troughs, a legacy of the original owners who had used them to process olive oil. Finally he led us to his olive groves, where donkeys grazed beneath the branches of 1,000 year old trees. We sat under their silvery leaves and watched the sun set slowly over the Sabine hills. Rome seemed very far away.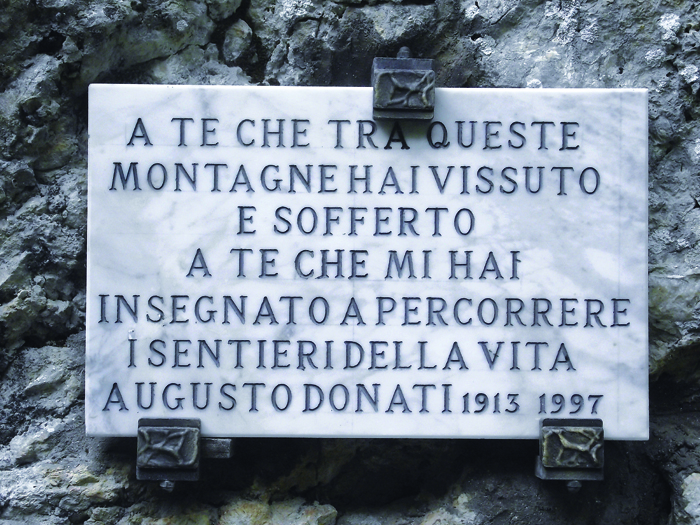 FACT FILE
➤ On Foot Holidays' Walking tours of the Sabine Hills cost £710 per person, includes 7 nights in double/twin room, 4 evening meals, all breakfasts, 2 picnics, all walking-route transfers, luggage moving. Flights to Italy not included. Extra nights and shorter options available.
01722 322652
www.onfootholidays.co.uk
Tags:
Casperia
,
Holidays
,
Sabina
,
Sabine Hills
,
Tours
,
Undiscovered Italy
,
Walking Holidays