Valentina Nicastro brings us some of her favourite places to stay, eat and visit in Molise – a little-known region of Italy that deserves to be better known…
Where to eat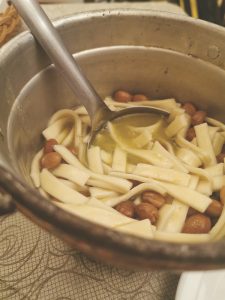 Osteria Paradiso
An institution in Isernia, serving excellent homemade food from the Molise area. Top dishes include sagne with fagioli (left) – hand-made pasta with beans served in a copper pot with a dash of fresh chilli pepper and salted codfish, all washed down with some good house wine.
Piazza Andrea d'Isernia, 86170 Isernia

 +39 0865 414847
Ristorante Da Nicolino
One of the best restaurants in Termoli, serving exquisite seafood dishes since 1975. It is particularly famous for its brodetto (also known as u'bredette), a fish stew typical of this stretch of coast.
Via Roma, 11/13 – 86039 Termoli
Trattoria La Grotta da Concetta
An informal and friendly eatery serving delicious plates inspired by local tradition where you can get a real flavour of the region. The menu includes dishes like pasta with cauliflower, grilled scamorza cheese and meatballs.
Via Larino, 7 – 86100 Campobasso

 +39 0874 311378
Dolciaria Carosella
An historic pastry shop in the centre of Agnone, the bell-making capital, serving sinful sugary pleasures since 1839. A must-try are the ostie, thin wafers filled with a mixture of walnuts, almonds, honey and dark chocolate.
Corso Vittorio Emanuele, 235 – 86081 Agnone
Osteria P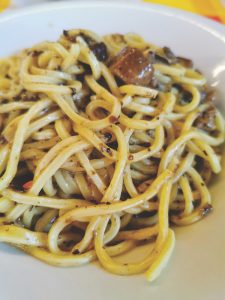 orta Tammaro
A classic Italian family-run trattoria right at the entrance to the Altilia archeological park, with a lovely outdoor area for summer dining. The menu changes daily but one of their seasonal specialities is pasta with mushrooms and truffles (right), which is served in generous portions.
Localita' Altilia, 86017 Sepino

 +39 328 5874181
Where to stay
Locanda Alfieri
Right in the heart of the historical centre of the coastal resort of Termoli, and just a 10-minute walk to the arrival and departure point for ferries for the Tremiti islands (if you feel like extending your visit to the area) this hotel offers elegant rooms decorated with a delightful mix of rustic features and designer furnishings. A breakfast of homemade cakes and savoury treats is served in a cosy dining room.
Via Duomo, 39 – 86039 Termoli
B&B Gli Orti
A quiet and friendly bed & breakfast at the entrance to Isernia's wonderful historical centre offering a couple of really lovely rooms. Lidia, the owner, is a thoughtful host and will gladly share with you lots of tips and information about the area. Guests can also use the kitchen, where a typical Italian-style self-service breakfast is available every morning.
Via Kennedy, 2a – 86170 Isernia

B&B La Terrazza
La Terrazza is a brand new bed & breakfast in Campobasso just steps from the cathedral, offering spacious rooms and comfortable beds at a great price. The room to book, if it is available, is the suite, which is arranged over two floors and comes complete with kitchen, lounge area, two bathrooms, a jacuzzi bath and a fantastic terrace overlooking the castle where you can spend time just enjoying the view.
Via Ferrari, 72 – 86100 Campobasso

Borgotufi
Delightful accommodation in a rural hamlet in upper Molise, offering cosy cottages with rustic charm and sweeping views over the mountains and the surrounding valley. To complete the sense of being in a rural retreat, there is also a wellness centre with swimming pool available to guests for a small fee.
Via Borgo Tufi, 86080 Castel del Giudice
Dimora Monsignore
Dimora Monsignore is a refined bed & breakfast offering three bright and spacious rooms about 100 metres from the central Sant'Antonio beach. The owners are very attentive and pay great attention to detail, starting with the breakfast buffet, which always features the very best local homemade cakes and sweet treats like freshly picked figs.
Via Leopoldo Pilla, 16/b – 86039 Termoli
What to see and do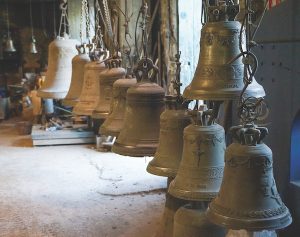 Antica Fonderia Marinelli
The historic bell foundry (left) of the Marinelli family is Agnone's most fascinating attraction and a must-see on any tour of Molise. Guided tours take place twice a day (there are four in the month of August).
Via Felice d'Onofrio, 14 – 86081 Agnone
Rocco Petrunti
This shop in the heart of Frosolone, the town of knife-makers, is a treasure trove of stunning handmade knives, including antique pieces created by the owner's great-great grandfather.
Via Colozza, 13 – 86095 Frosolone
Scapoli
When touring the area around Isernia, Scapoli would make for a delightful detour. The village is renowned for the manufacturing of bagpipes, with lots of workshops dotting the centre. There is also an international bagpipe festival taking place every year in July.
I Viaggi dell'Origano
A local tour operator that organizes experiential travels that allow participants to immerse themselves in the region's culture and traditions through a wide range of activities, including cycling and equestrian tours, trekking along the old pastoral routes, cooking classes and cheese-making workshops.
Piazza Municipio, 85 – 86041 Bonefro
Don't miss
Procession of the Mysteries
One of Molise's most important and fascinating events, taking place in Campobasso on the day of the Corpus Domini in June. It's a parade with a series of structures carried on shoulder by locals and featuring living representations of Biblical scenes with children and adults dressed up in saints, angels and demons.
Cvtà Street Fest
The Street Art Festival of Civitacampomarano also takes place in June. Now up to its fourth edition, this annual street art festival brings international artists to the tiny hamlet of Civitacampomarano to create beautiful murals on the walls of local homes. There are live DJ sets, workshops and lots of delicious street food.

'Ndocciata of Agnone
A major event in Molise's winter calendar, this is a spectacular parade of huge torches ('ndocce) carried by men dressed in black cloaks, whose origins date back to old pagan rituals of the Samnites tribes that originally inhabited this land. The procession ends with a bonfire in the central piazza. December.
Getting there
By plane
There are no international airports in Molise; the nearest is Pescara, which is about an hour's drive away to the north. 
By train
Molise is generally quite hilly and underdeveloped. You can get to the main towns fairly easily by train, but beyond that, unless you really want an adventure, a car would be useful. 
By car
If you are arriving by road you need to make a decision at Rome about whether you want to enter Molise from the mountainous west (via Frosinone) or the coastal east (via Pescara).
For more on Molise, see Valentina's article about the area here