Even here at Italia! we have rarely featured Molise, yet this unsung destination is deserving of your attention. Words and pictures by Valentina Nicastro
You're going where?" This is what friends kept asking me when I proudly announced my decision to visit Molise. Why? Because this small region overshadowed by neighbouring Puglia, Campania, Lazio and Abruzzo is often neglected by Italians, who will sometimes joke that il Molise non esiste (Molise doesn't exist). 
Molise is the youngest region in the country – it was founded in 1963 after its separation from Abruzzo. It is, after Val d'Aosta, also the smallest region in Italy; and it is sparsely populated, with little more than 300,000 inhabitants. However, Italy's greatest unsung destination has it all: historical treasures, a lovely coastline with picturesque towns, a great outdoors and delightful villages full of personality and living culture. 
Determined to find out what hides behind its borders, I set off on a three-day road trip around the region in search of sights, culture and cuisine…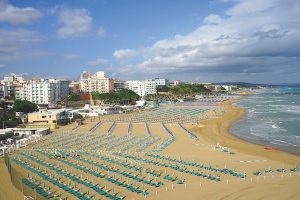 Day 1: Seascapes, murals and knives
The starting point of my tour is Termoli (1), Molise's major beach resort, where I arrive after a pleasant one-hour drive along the coast from Pescara, the nearest airport. Termoli's old town is a gem wrapped around old defensive walls and guarded by a magnificent 13th-century castle. A maze of picturesque lanes leads past rows of colourful homes and to the tiny piazza, lined with a string of lovely cafés and eateries. I try to do some sightseeing by visiting the cathedral, which is the final resting place of the local patron saint, San Basso, but the call of the sea is just too strong. I head to Sant'Antonio beach at the foot of the castle to sink my toes in the soft sand and take in the beautiful views of the sea and a trabucco, an old wooden fishing machine. The sea here has been awarded a prestigious Blue Flag, but unfortunately I don't have time to take a dip because lots of other places await me, so I grab a fish sandwich and I'm back on the road. 
Forty-five minutes and a few hairpin turns later, I arrive in Civitacampomarano (2), drawn by stories of how local depopulation is being fought with brushstrokes and spray cans. As soon as I step out of the car I'm approached by a local named Vittorio, who, I learn later, is the village's "unofficial" tour guide. He shows me every one of the 47 murals, from tiny sketches to Lego compositions and large-scale images. These have been made by international artists who gather here every June to commemorate local history through street art in an effort to draw in tourists and fight abandonment. At the end of my visit I feel like I'm part of the community, with nonnas waving from the windows and the baker offering me a taste of ciell, the traditional biscuits stuffed with chocolate and grape must.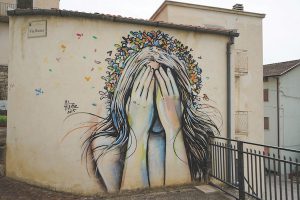 Before reaching Campobasso for the night, I take a detour up to Frosolone (3), a delightful village perched up in the Apennines, renowned for being a major rock climbing site, as well as being home to incredibly talented knife-makers. One of them is Rocco Petrunti, who I have the pleasure to meet in his workshop just outside the city centre. Watching him forge blades while listening to the story of his five-generation knife business is truly fascinating.
Come dusk, I make my way to Campobasso (4), Molise's capital, where I feast on local delicacies at Trattoria La Grotta da Concetta before spending the rest of the evening taking in the stunning night views from the terrace of La Terrazza bed & breakfast.
Day 2: Castles, archeological sites and lakes
I set off for an early morning walk to watch the town slowly wake up. Campobasso features a number of interesting sights that are testament to its glorious past, one being the massive 14th-century Monforte Castle that sits on the highest point of the city. Along the way, I pass the 10th-century Church of San Giorgio and the Terzano Tower, where according to the legend a tragic love story that echoes Romeo and Juliet took place.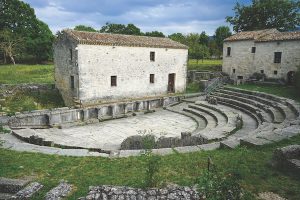 After enjoying a hearty breakfast in the shade of the majestic Cathedral of the Holy Trinity, I drive south for around 20 minutes to reach the famous archeological site of Altilia (5), one of Molise's hidden treasures. This place used to be an important trading centre back in Roman times and today it's an incredible historical site where visitors can freely roam around the remains of the old Forum, the Basilica that housed the administrative offices, and the stunning amphitheatre. 
I'm surprised to see that there's no entry ticket and quite shocked at the thought that such a precious historical site is rarely listed among top Italian attractions – not to mention that it could easily rival Pompeii with a little bit more maintenance. Altilia's allure continues at Porta Tammaro, an unpretentious trattoria near one of the old gates, where I discover that truffles are a big thing in Molise, as proved by the most delicious bowl of pasta with mushrooms and truffles I've ever had. 
Next stop on today's itinerary is Venafro (6), about a one-hour drive away along a scenic road that offers some great views of the Sanctuary of Our Lady of Sorrow, a splendid neo-gothic building in Castelpetroso, standing high on the site where a series of Marian apparitions took place in 1888. Venafro is a charming town of ancient Samnite and Roman origins, as seen in the local Archaeological Museum, which displays a series of precious archeological finds, including a beautiful statue of Venus and a splendid 10th-century chess set made of carved bones. 
Another must-see in Venafro is the Pandone Castle, which stands out among Italian fortifications for a unique fresco cycle: the life-size portraits of the owner's favourite horses. The castle is charming, but the story of Enrico Pandone, Count of Venafro, and his love for horses is just as fascinating. I also manage to see the Church of the Annunciation, which is considered to be one of the most beautiful religious buildings in the region owing to its stunning Baroque interiors. Apparently I'm very lucky to find it open as the church is often closed, something I often see in small Italian towns, sadly mainly due to staff shortages.
From Venafro it's roughly a 30-minute drive to reach my final destination for the day, Isernia (7), where I arrive perfectly on schedule: just in time for a heavenly dinner at Osteria Paradiso.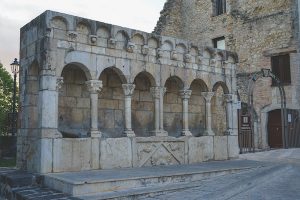 Day 3: bobbin laces, bells and more historical sites
My final day in Molise begins in Isernia, in the central Piazza Carducci to admire the beautiful Fontana Fraterna, an elegant 19th-century public fountain made of ancient Roman stones; and the symbol of Isernia. I take a stroll around the atmospheric alleys of the historical centre, with its pastel-coloured façades and clothes hanging out to dry, and I suddenly stumble upon two ladies making bobbin lace, an art that has been handed down from generation to generation here since the 15th century. They are sitting outside their house to make the most of the fresh morning air and I join them for a few minutes to be completely enchanted by their dexterity – they talk to me without even looking at what their hands are doing! The conversation quickly shifts towards local recipes and I could easily spend a whole day there taking notes of their precious culinary tricks, but there's another special place I have to see while I'm here, so I wave goodbye and get back in the car to go to Pietrabbondante (8).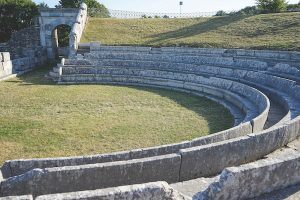 The main draw of this mountain village in upper Molise is an archeological area featuring a stunning amphitheatre built by the Samnites in the 2nd century BC. It could host about 2,500 spectators and the ingenious constructors of that time even created ergonomic stone seatbacks for the first rows, reserved for nobility and authorities. Remains of a grandiose temple have also been found in the area.
On the way back to the airport I make a final stop in Agnone (9), a delightful mountain village with a long-standing history of smelting metals and of supplying bells to churches around the world. It is home to Antica Fonderia Marinelli, a bell-making factory that has been making bells by hand since the year 1000 – which makes it one of the world's oldest operating businesses. Clients include the Vatican, which even granted them the use of the pontifical coat of arms in their production. There are guides that walk visitors through the International Bell Museum and the foundry, the beating heart of the business. From there it's a fifteen-minute stroll to reach the central Piazza Plebiscito, passing beautiful churches (there are no fewer than 19!), ancient palaces and other interesting workshops. 
As I return the car and get ready to board my flight, I cannot but smile at the thought of the look on my friends' faces when I'll tell them that Molise really does exist after all, and that there really is an awful lot to see here…
For more on Molise, see Valentina's travel guide or check out our archive