Penny Wainwright explores the villages at the southern tip of Puglia, in search of traditional artisan crafts, underground tunnels and ancient local festivals…
Photos by Penny Wainwright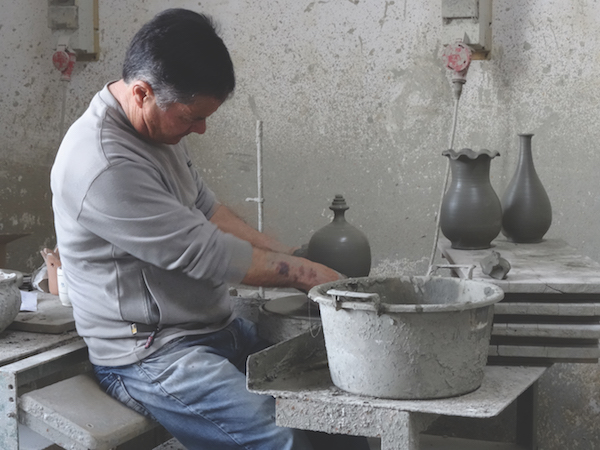 The sunshine welcomed me as I arrived in Ruffano to join the Fiesta and Fiera di San Marco, to celebrate St Mark the Evangelist's feast day on 25 April. This small market town is about 60 miles south of Brindisi and 30 miles from the capital of the region, Lecce, and though it was early in the day, stalls were already selling domestic animals, clothes, household items, antiques, plants and foods. At one, passers-by were being encouraged to try a traditional dish, scapece (small fish marinated in vinegar then fried). 
You'll find many traditional artisanal crafts here – it's fascinating to watch the masters at work and many of them were already set up and hard at work…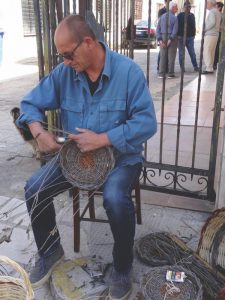 Patrizio Siciliano (left) creates handwoven baskets made from reed, willow and olive twigs. By his side was a bundle of twigs, some still bearing the dried olive leaves. As he threaded the olive branches in and out, he seemed almost unaware of the people in the market. His craft is a tradition handed down through his family, using materials from the land around him. His baskets come from "the sun, the wind, the earth of Salento" and are part of who he is.
Patrizio Siciliano is based at Via Leonardo da Vinci, 55 – 73040 Acquarica del Capo.
Facebook: Patrizio Siciliano Arte

 +39 349 296 3706;
siciliano.patrizio@libero.it

Rocco Luca (right) is an expert tambourine maker from Ruffano, and also a very accomplished player. His band, Tamburellisti di Torrepaduli, has played traditional music all over the world. Rocco demonstrated the stages of making a tambourine using beech or olive wood and young goat skins. Experience tells him how much to stretch the softened skin and what sound it will make when it is dried. Finally, bells are added to complete the instrument. A display on one wall shows the tambourines he created for Dolce and Gabbana. One tambourine had a spider design on the skin, which relates to the story of the women bitten by spiders and the healing dance of la pizzica played by the musicians. Ruffano claims to be the centre of la pizzica, which is part of the larger family of tarantella dances, and the town holds a pizzica festival every August.
Rocco Luca works at 'Il Tamburello di Torrepaduli', in Via Rocco Scotellaro, Torrepaduli, 73049 Ruffano.

+39 338 133 8353
info@iltamburelloditorrepaduli.it
Fernando Falcone is a potter in Ruffano who creates pots on his wheel that are then painted, glazed or enamelled before being fired at 200º for 12 hours, during which Fernando must wait to see if his creations are perfect. I watched him create three different styles of handmade vases on the wheel. In the shop are many fine examples of his work, from plates to pots. One traditional piece enamelled with liquid glass is a pumo, a flower bud surrounded by acanthus leaves. This is the symbol of Salento, and it is placed on the balcony for good luck.
Fernando Falcone has his shop and workshop, 'Terrecotte e Ceramiche Fernando Falcone' in Via Santa Maria Di Leuca, 271, Ruffano. It is open daily 09.00 to 13.00 and 16.09 to 19.45.

+39 0833 692290 
info@terrecottefernandofalcone.it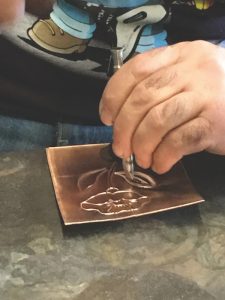 Paolo Davide's copper workshop, Pappadà, has been handed down through the family for generations. Individual handcrafted items are made for customers, while Paolo is also an expert restorer of antique objects. As Paolo worked on the base of a copper pot, there was a rhythm to his work. The hammer made three taps – bam, bam, bam – followed by two firmer bangs that made the traditional circular dimple. Paolo adds designs to objects freehand. He took a piece of copper sheet and, using a small punch with a hammer, outlined the shape of the flower (left), adding further detail to the front and decorations around the edges. He had created a simple yet beautiful poppy design.
Paolo Davide is at 'Pappadà' in Via Santa Maria di Leuca, 259 – 73049 Ruffano. His shop and workshop is open Monday to Saturday from 08.30 to 13.00; 15.30 to 20.00.

+39 0833 691250
ramerossapappada@gmail.com
Artisan craftsmen in Ruffano
Other artisanal makers in the Ruffano area include Franco Masciullo (mosaics), Marcello Melissano, Riccardo Massari, Antonello and Marcello Manco (terracotta potters). Further details on these and others can be found at Vivi Ruffano (in Italian).
Further explorations…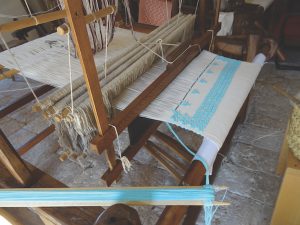 From the small town of Salve, I joined a bike ride to the seaside town of Pescoluse. I had time to look at the wild flowers and stones laying in the fields as I rode along. Arriving at the sea, there were freshwater rockpools with the spring water bubbling up next to seawater. Walking along the promenade, I reached the sandy beach with shallow waters lapping the sand. This is known as the 'Maldives of Salento', with its fine sand and almost Caribbean coloured sea set against the blue sky. 
Melissa, my guide in Salve, told me about her passion for weaving using antique looms. At one time there were more than 8,000 looms in this area, with every family having their own loom. She has been weaving for the last three years and mainly uses cotton and wool on her loom. Each loom has a name and Melissa's is called 'Callisto', meaning the best. In Salve, two types of weaving are created, appunto and affiocco, which means 'in relief' and is used to make carpets. 
A chapel carved in rock
Back in Ruffano, I visited the Cripta di San Marco Evangelista, a small chapel carved in rock under the church of Madonna del Carmine. The crypt was built in the 11th century and is almost circular with Byzantine frescoes of the saints on the walls. A few years ago corridors under the church connected to an oil-press were discovered. There may well be an ancient city underground, waiting to be discovered.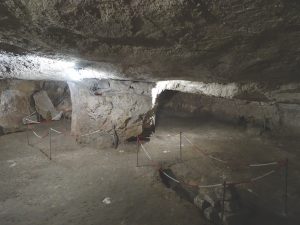 Dotted around the region are other crypts with Byzantine paintings, hidden under town squares or churches. I ate one evening at Masseria 'La Stanzie' in Supersano, where there is an underground oil mill, a crypt and rock carved stables which were used by the Basilian monks. The monks shared their knowledge of oil and agricultural production and the underground oil mill, frantoio ipogeo, is one of the oldest in the area. 
Underground chambers
Going into the underground chambers, the space opens up and tunnels can be seen leading away into the distance. The tunnels are still being excavated but legends say they go to Santa Maria di Leuca and Gallipoli, seventy kilometres away, and that hidden villages may be found. With 60 million olive trees in Puglia, many small towns and villages have underground oil mills like this which maintain a constant cool temperature.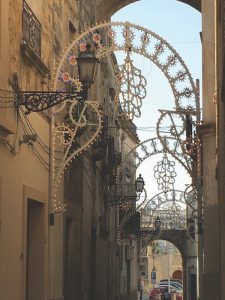 The next evening I spent following the religious procession through the town, behind the statues of San Marco and the Madonna. People showed their respect while watching outside
their homes, with candles on the balconies lighting the way. A moving experience, which was followed by entertainment and fireworks in the town square.
Venturing south to the end of the heel of Italy has provided a fascinating insight into the region. I have been excited by underground tunnels and towns yet to be excavated, enjoyed many wonderful foods and have a deeper understanding of the traditional ways of life and artisan craftsmen who continue to make simple but beautiful objects. 
For more travel inspiration for this area, check out our southern Puglia travel guide