Sara Scarpa explores some of the best things to see and do – plus top places to eat and stay – in the atmospheric southern city of Matera in Basilicata
Photos by Iain Reid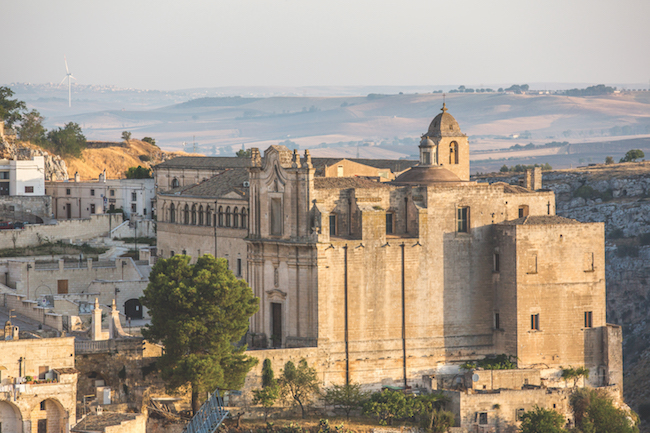 What to see and do
Discover Matera Underground at Ipogeo Materasum
Book a guided tour at Ipogeo Materasum, an underground environment excavated in tufaceous rock. Over its 1,200 square metres you will discover the story of ancient Matera. This "underground city" comprises houses, roads, cisterns, trades and worship places carefully restored.
Recinto XX Settembre, 7
+39 331 105403
Casa Noha
Discover the heritage of Matera with a self-guided tour of Casa Noha. Located in a 16th-century building, Casa Noha offers exhibitions and multimedia presentations telling the history of Matera. It is a journey encompassing everything from architecture and history of art to archaeology and the history of cinema.
Recinto Cavone, 9
+39 0835 335452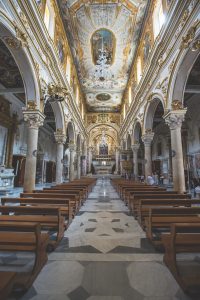 Matera Cathedral
The cathedral is located in the Civita, in the highest and most prominent part of Matera, from where you can enjoy a fantastic view of the Sassi Barisano. Dating back to 1270, this beautiful Apulian Romanesque-style building is dedicated to the Madonna della Bruna and Sant'Eustachio, protectors of the city. It officially reopened for worship in 2016 after 13 years of delicate restoration (following its collapse in 2003) which have brought to light two magnificent frescoed crypts dating back to the 12th century.
Piazza Duomo
+39 0835 332908
The Rupestrian Churches
The Rupestrian churches in Matera, dating back mostly to the Middle Ages, are dug into the rock and have beautiful frescoes in Byzantine style. There are almost 150 churches in the Matera area so you will spoiled for choice. Try and visit at least a few. I would recommend San Pietro Barisano, Santa Lucia alle Malve and Santa Maria de Idris.
Storica Casagrotto di Vico Solitario
Located in Sasso Caveoso and inhabited until 1957 by a family of 11, this typical cave dwelling with furniture and tools of the time will give you a better understanding of how family life was organised in the Sassi.
Rioni Sassi, Vico Solitario, 11
+39 0835 310118
DON'T MISS!
Sleeping in a cave: though it does generally cost a little more than a hotel in the new city, it is worth spending a bit more to stay overnight in the old part of the city, in the heart of i Sassi, for an exclusive and unforgettable experience.
Parco della Murgia Materana Murgia: Materana Park lies to the southeast of the city and features churches carved out of caves, some with extraordinary 8th-century frescoes. A guided tour will help you get the most from the trip – and ensure that you don't lose your way.
The local specialities: The authentic local food combines simple ingredients in a cuisine of great flavours. Try pane di Matera IGP, peperoni cruschi, lucanica sausages, cialledda, pignata and crapiata, washed down with the local wines such as Aglianico, Primitivo, Sangiovese and Matera Greco.
Where to eat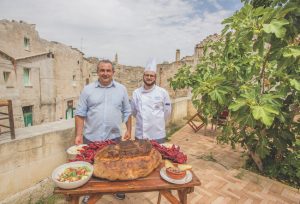 Pane & Pomodoro
Delicious authentic local food and the best service from owner Silvio and his team. Set in a great location, it also offers a pretty terrace where you can enjoy homemade Materan dishes in a relaxed atmosphere. And they make their own beer, an ingenious brew called Mathera.
Via Bruno Buozzi, 24 bis
+39 340 054 1179
Trattoria del Caveoso
Just a few steps from Pane & Pomodoro, the Trattoria del Caveoso also offers great local dishes. Make sure you try the orecchiette alla materana (pasta with tomatoes, pork sausage and cordoncelli mushrooms) and the salsiccia alla brace con cime di rapa (grilled pork sausage with turnip tops).
Via Bruno Buozzi, 21
+39 0835 312374
Baccanti
Try the ricotta cheese cooked in the oven with cannellini beans cream, pepper fillets and fig sauce and the calzoncelli di ricotta with codfish and a pesto of dried figs. There is also a menu dedicated to desserts accompanied by great wines.
Via Sant'Angelo, 58-61
+39 0835 333704
Ristorante Francesca
Also in the Sassi Caveoso, this elegant cave restaurant offers an enchanting setting and great traditional cuisine and a great selection of wines. Try the sformati di verdure miste, the salsiccia pezzente con finocchietti e cardoncelli and the delicious homemade desserts.
Vico Bruno Buozzi, 9
+39 0835 310443
Alle Fornaci
Located near Piazza Vittorio Veneto, this elegant modern restaurant offers great genuine dishes and guarantees fresh and carefully chosen ingredients that are sourced directly from local companies. This is a great choice for a special night out, especially if you fancy dining on fish. Remember to try the baccalà con arancia e peperoni cruschi.
Piazza Cesare Firrao, 7
+39 0835 335037
Where to stay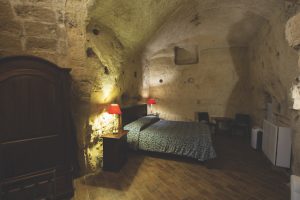 Hotel Caveoso
A small and pretty hotel located in the heart of the Sassi, within the Caveoso area, which offers nice rooms and a communal outside area ideal for sitting and enjoying dramatic views of the caves. They also serve a great breakfast with freshly made bread and pastries.
Rione Pianelle, 26 (Piazza San Pietro Caveoso)
+39 0835 310931
B&B La Corte dei Pastori
This beautiful B&B, also located within the Caveoso area of the Sassi, is run by lovely Mimmo and Tiziana. Great rooms carved into the rock with all the modern comforts you would expect. And there is an unforgettable panoramic view to be had from the terrace.
Piazza San Pietro Caveoso
+39 329 253 3981
+39 0835 330580
Sextantio le Grotte della Civita
This luxury albergo diffuso is located in the oldest part of the Sassi, the Civita, facing the fantastic Murgia Park. It comprises 18 unique and elegant rooms – 18 caves which have been beautifully restored, maintaining the original features and materials – and an ancient deconsecrated church which is now used as a communal area for the guests. Here you can dine upon request – or even take cooking courses with an expert chef.
Via Civita, 28, (Sasso Barisano)
+39 0835 332744
Il Palazzotto Residence & Winery 
Located in the heart of the Sassi Barisano, just a few steps from the Cathedral and a five-minute walk from the centre of town, il Palazzotto offers 10 unique residences, each quite distinct in style and character. There is also a lounge and winery that serves for breakfast and, later in the day, for tasting the best wines that the region has to offer.
Via Sette Dolori, 39
+39 392 6921486
Sant'Angelo Luxury Resort
Located in Piazza San Pietro Caveoso, a beautiful square in the heart of the old city, this elegant four-star resort occupies various buildings and caves – including the cave church of Sant'Angelo, from which it takes its name – which have been carefully restored to their former glory.
Piazza San Pietro Caveoso
+39 0835 314010
Getting there
By plane
Although Bari is in Puglia and Matera in is Basilicata, it isn't far over the Puglian border and Bari is your nearest airport. The alternative would be Brindisi.
By Train
Ferrovie Appulo Lucane (FAL) runs trains from Bari to Matera every hour, except on Sundays. The journey typically takes about 1 hour 40 minutes.
By road
From Bari, take the SS96 then the SS99. From Martina Franca, take the SP581 then the SS7.
Get more Matera travel inspiration and advice here.