For some people, there has only ever been one 'City of Romance'
Many towns are called the 'City of Love' – Rome, Verona and Paris, to name but three. For Sara Scarpa, however, none can match the claims of her native Venice, home to Casanova, Byron, Carnival, and countless secret little places where lovers have found the privacy they seek…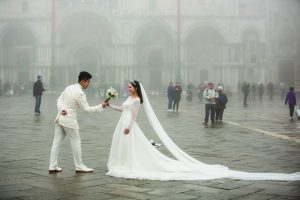 Often during a brisk walk through the centre of Venice, slaloming amongst crowds of tourists, I stop for a couple of minutes in Piazzetta San Marco to look up and admire the love story of an unknown couple. Their tale is represented in the bas-reliefs of the capital of one of the columns of the lower storey of the Doge's Palace. I walk in an anti-clockwise circle with my head up to follow the plot.
A young woman with long hair looks out of her window at a young man in the street. The two converse, they have a date, they exchange gifts and become lovers. They kiss and make love, and the fruit of their
love is a baby boy.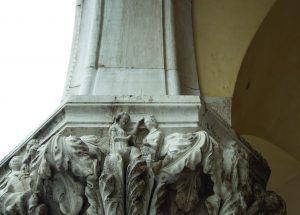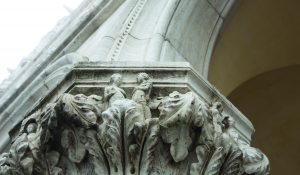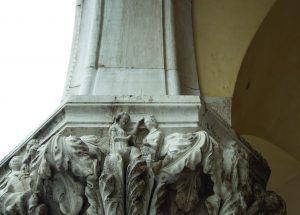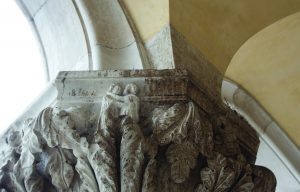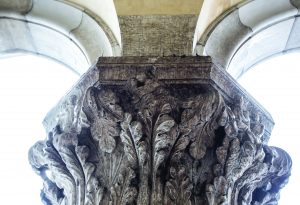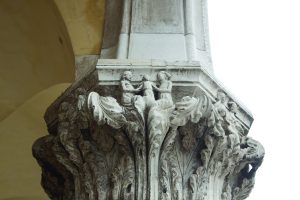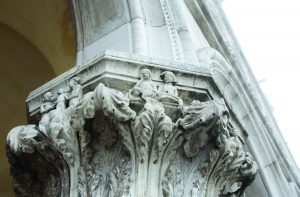 It is telling that even here, right in the heart of Venice, on this imposing palace overlooking one of the most famous squares in the world, amore is portrayed so vividly, with the couple making love in their bed before everybody's eyes!
The child grows up and the couple look after him. But, as so often happens with famous love stories – from Antony and Cleopatra to Romeo and Juliet, and in this instance with the couple here – it all ends in misery. The last scene is a tragic one as the young boy harrowingly dies and his parents, overcome with grief, are depicted next to his coffin.
I imagine very few tourists will notice the family – indeed, many Venetians are unaware of the story as most are distracted by the many surrounding and more prominent beautiful sights, such as the domes of Saint Mark's Basilica, and the iconic Campanile. Yet, here it is, right in the very heart of Venice.
The object of love
Venice itself is not only the perfect background for love, it is also the object of love: that love for the place that for centuries has been attracting millions of visitors who have fallen for this beautiful 'decadent woman'.
Certainly many cities could hold claim to the title of 'City of Love' – Paris with its strolls along the River Seine and the view from the Eiffel Tower; Rome, the Eternal City, with its ancient ruins and spectacular view from the Gianicolo; and Verona, home to Romeo and Juliet, the most famous love story of all time. However, for me, and for many others, Venice is the most romantic city of all.
Holding hands
Love seems to permeate the city – sweethearts walk holding hands under the arcades of the Procuratie in Saint Mark's Square, stealing a kiss at the end of a dark calle or admiring the moonlight reflection across the lagoon while listening to a serenade on a gondola.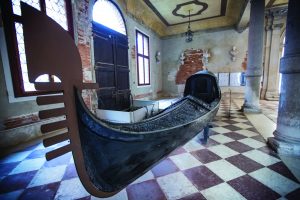 Venice's beauty is enhanced by its reflection on the water – the city is like Narcissus, a beautiful being in love with its own stunning image reflected on water and unable to leave the beauty of that reflection.
The city is like Narcissus, a beautiful being in love with its own stunning image
It is like being in the movie Venice, the Moon and You, with Alberto Sordi seducing women by singing and rowing his gondola… Or, even better, in Summertime, with the lonely spinster Katharine Hepburn finally finding romance with a handsome Venetian.
Love is everywhere: it is in the city's sculptures, paintings, music and poetry; in the beauty of the palaces and their images reflected on the canals like ever-changing watercolours; in the absence of cars and the lullaby of the water… All come together to create the perfect backdrop for romance. The city has been the setting of many love stories, and also home to many famous lovers – Casanova, Lord Byron, George Sand and Gabriele D'Annunzio to name but a few.
Lord Byron spent most of his time in Venice with his many lovers in the Mocenigo Palace
"To live in Venice or even to visit it means that you fall in love with the city itself. There is nothing left over in your heart for anyone else." This is Peggy Guggenheim's view on Venice, although, like many others in love with the city, she still managed to find room in her heart to squeeze in quite a few lovers…
Symbolic marriage
"We wed thee, sea, as a sign of true and everlasting domination." With these words, annually on Ascension Day, La Festa della Sensa, the 24th of May, the Doge would toss a blessed ring into the lagoon in front of San Nicolò as a symbolic marriage between La Serenissima and the sea, a symbol of Venetian dependence on the sea but, at the same time, also of its dominance of the seas. The 1,000-year-old celebration still takes place. Venice and the sea have been 'married' for centuries and they renew their vows every year as they are indissolubly one.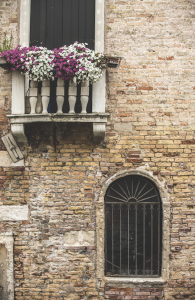 Love in Venice is everywhere and has been for centuries. Carnival used to last for many months and people wore masks on several occasions; by hiding their identities they were free to have numerous love affairs. Throughout the centuries, love was omnipresent as lovers could find intimacy in many places: masked parties, ridotti and covered gondolas. These flats-bottomed boats used to have a felze, a wooden cabin sheltering the passengers, the pretty furnished interior of which was complete with shutters that allowed intrigues and libertine love. (You can still view a rare example of this style of gondola in the entrance hall of Ca' Rezzonico.)
In the 18th century, Venice was the city of Casanova. The legendary lover was born here in 1725 and despite travelling to many places and spending little of his adult life in Venice, he is inseparable from this city as it was always his home. His love conquests and the tales of his experiences are captivating.
It is incredible to know that I drink at Cantina Do Spade near Rialto (San Polo 859) – the same osteria where he seduced women, and sit in the same church where he smuggled love letters to his nun lover. At that time convents were, indeed, places of love and lust… I strongly recommend his autobiography, The Story of My Life, which paints an extraordinary picture of Venice and Europe in all its infamous indulgence of the time.
Aura of romanticism
Venice was the place for pleasure seekers, especially in the 18th century, when British noblemen who were undertaking a Grand Tour of the Bel Paese would stop here to spend some time in amusement and indulgence. In that century of decay, La Serenissima would forget its status of commercial and political power to become the centre for romance.
Many British artists contributed to create this aura of romanticism, Lord Byron above all. He lived in Venice for three years (1816-1819) and spent most of his time with his many lovers in the Mocenigo Palace on the Grand Canal. They say its palace had two different entrances: one for his women coming from Castello and the other for the ones coming from Cannaregio! He had more than 200 lovers, all of different social status, and some even courtesans. One of his lovers, Margherita Cogni, was so inconsolably hurt by him that she threw herself from Palazzo Mocenigo into the Canal Grande.
Unfortunately, she was only one of the many women who suffered because of love in Venice. At the end of the same century, the famous actress Eleonora Duse had a tormented long love story with the poet, soldier and seducer Gabriele D'Annunzio. She wrote him nearly 1,500 letters full of love but D'Annunzio was too busy flirting with Sarah Bernhardt, Duse's rival, not only in love but also on the world's theatrical stage. Two of D'Annunzio's lovers also tried to kill themselves and another was apparently driven insane.
Nowadays while you wander in the city, instead of falling upon Casanova flirting with a girl you are more likely to fall upon a couple of teenagers kissing passionately or sometimes, sadly, chaining a love lock to a bridge. I can picture a saddened Casanova looking at them from the foot of the bridge shaking his head in disapproval.
This image of 'chained love' could not be any more distant from his ideal of man as a 'free agent' who loves unreservedly. As occurs on the Ponte Milvio in Rome, the brass-bound locks are chopped off by the local authorities – but are soon replaced with others.
Putting thousands of locks on historical bridges is to my mind just a trivial act that has nothing to do with love, nor any symbol of unbreakable bond which the locks are supposedly meant to convey, but it does seem that many people here, in Rome, and Florence, and indeed all across Europe, disagree with me. What are your thoughts?
Tags:
Venice