Penny Wainwright brings us some highlights from off-the-beaten-track destinations in deepest Lazio and rural Abruzzo – from food & drink to great places to stay and things to see and do…
Photos by Penny Wainwright
What to see & do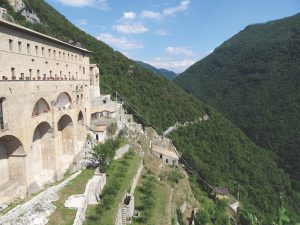 The Monastery at Subiaco (Lazio)
The monastery of Santa Scolastica was one of 12 created by St Benedict and is the only surviving monastery. The façade was rebuilt after the Second World War, but behind this are Renaissance, Gothic and 13th-century cloisters. The bell tower dates from the 12th century. There is a library containing an important collection of early Italian books. It is free to visit and is open daily from 9.00 to 12.30 and 15.30 to 19.00. Also check out Ethea for more info.
Piazza Santa Scolastica, 1 – 00028 Subiaco

 +39 0774 82421
Tour Castel di Tora (Rieti, Lazio)
Visit Antuni and the Palazzo del Drago by Jeep or take a walking tour. The Riserva Naturale Monti Navegna e Cervia guides offer tours which can be booked via the contact details here.

 +39 389 686 0142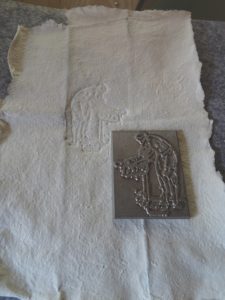 Il Borgo dei Cartai (Lazio)
Try your hand at traditional paper-making techniques at this museum, calligraphy and paper-making workshop venue. But even if you don't get hands-on, the museum offers a fascinating insight into the development of the written word in Europe.
Via degli Opifici, snc – 00028 Subiaco

 +39 333 462 1449
Vivere l'Aniene (Lazio)
Vivere L'Aniene is a centre for rafting and water sports, as well as other outdoor activities such as trekking and orienteering, based along the Aniene valley and the Simbruini mountains. This is a great area for river sports and people come from far and wide to enjoy the waters here. See also www.parks.it and Parco Naturale Regionale Monti Simbruini.
Largo Martiri di Cicchetti, snc – 00028 Subiaco

 +39 320 968 1006
Walking from Pacentro (Abruzzo)
The Majella National Park has 120 walking trails, 30 of which are especially designed for families; there are also three longer themed walks called the Paths of the Park, of the Spirit and of Freedom. There are also cycling, walking and trekking trails on the Abruzzo website. Contact the Information Centre in Pacentro for more. See also Parco Nazionale della Majella and the trekking and cycling sections of the Abruzzo Tourism website.

 +39 0864 41304
lastellaalpina@virgilio.it
Where to stay
Turano Resort
A three-star hotel on edge of Lake Turano, opposite Castel di Tora and Antuni. With a terrace next to the lake and an indoor restaurant overlooking it, the hotel is in a lovely setting. They serve a simple breakfast buffet and evening meals using fresh local ingredients, especially fish. All 13 bedrooms face the lake. £80-£160 per room depending on the season.
Via Parodi, 93 – 02020 Colle di Tora

 +39 0765 189 3586
Stone House
Lake Holiday rentals have a house in Castel di Tora to rent. Stone House is simply decorated with two bedrooms, three bathrooms and Wi-fi. It is situated on the hillside with a terrace overlooking Lake Turano. The minimum stay is 3 nights and it costs between £60 and £90 per night depending on the season.
Via Umberto I, 30 – 02020 Castel di Tora

 +39 347 336 0719
Agriturismo Colle Tocci
Accommodation in a restored building with five double en-suite bedrooms, plus two apartments. A double room costs £66 per night including breakfast, or £58/66 per person for half or full board. An apartment without a kitchen cost £31 per person per night. Half and full board prices are the same. The restaurant serves local dishes and is open to anyone.
Contrada Castagnola, 8 – 00028 Subiaco

 +39 0774 822917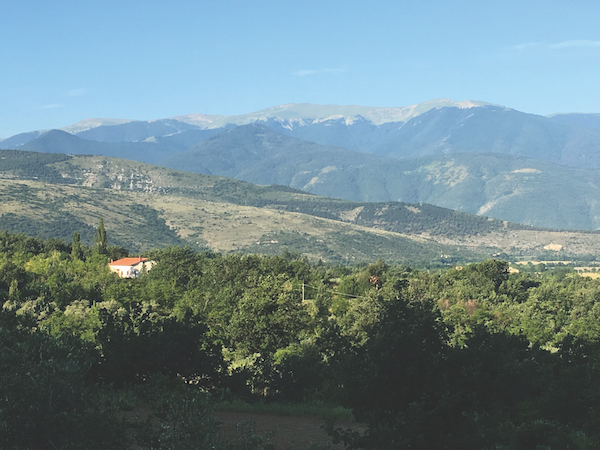 Rocca Lorenizo Country Relais 
Rocca Lorenizo is on a hillside in the Majella National Park, close to Pacentro. The building was a castle built around 1000 AD as part of the defensive system along the route to Pacentro. It has been restored and now offers bed and breakfast. There are lovely grounds with a swimming pool, terrace and places to relax. £85 per night including breakfast.
Via del Carro, 3 – 67030 Pacentro

 +39 346 399 7718
Fattoria Tana della Volpe
Farm with bed and breakfast and restaurant outside Pacentro. There are six rooms decorated in a simple rustic style, some with a balcony and private bathroom. The owners run cookery classes and a pony club for children on the premises. £60 to £120 per night for bed and breakfast.
Contrada Castelluccio, 1 – 67030 Pacentro

 +39 320 387 8159
Turano Resort
Turano Resort in Colle di Tora serves local produce and specialises in fish dishes. In a restaurant facing the lake and with an outside terrace, diners can choose from dishes such as homemade pasta with trout and lime or ravioli filled with fish fillet and sweet tomatoes.
Via Parodi, 93 – 02020 Colle di Tora

 +39 0765 189 3586
Fattoria Tana della Volpe 
Fattoria Tana della Volpe near Pacentro serves a set menu using homegrown or locally sourced ingredients and family recipes. Home made pastas and sauces, with local meat and homegrown organic vegetables. They also serve wines made from their own vineyard.
Contrada Castelluccio, 1 – 67030 Pacentro

 +39 320 387 8159
Agriturismo Colle Tocci
Agriturismo Colle Tocci near Subiaco has a restaurant used by locals for dinner and parties. They serve traditional dishes such as trippa alla romana, coratella, which is an Easter dish with sheep's heart, lungs, liver cooked with onions, pasta arrabbiata with pecorino and ciambelline al vino.
Contrada Castagnola, 8 – 00028 Subiaco

 +39 0774 822917
I Tre Bruschettieri
I Tre Bruschettieri in Subiaco is a traditional restaurant where Italian families eat. They are open Thursday to Tuesday for lunch and dinner, serving home made pasta such as gnocchetti, strozzapreti, cappellacci and tonnarelli. They also offer a wide range of pizzas.
Via Emilio Blenio, 1 – 00028 Subiaco

 +39 0774 85592
Don't miss
Il Palio di San Lorenzo takes place on the 10th of August each year as part of the Festa di San Lorenzo and celebrates the founding of Subiaco. It is a raft race comprising of teams of six men, each representing one of eight districts of the town, such as the Rione Valle or Rione San Lorenzo. The route on the River Aniene, starts at the Ponte Sant'Antonio and finished at the Ponte San Francesco.
La Corsa degli Zingari is a barefoot race which is part of the Festa della Madonna di Loreto in Pacentro. Zingari in local dialect means 'barefoot'. It takes place on the first Sunday in September at 6pm, starting at the Italian coloured rock on Colle Ardinghi and finishing at the church.
I Caldoreschi is a historical pageant which takes place in Pacentro during the last week of August. Dating back to 1450, it involves processions and re-enactments with knights, lords, ladies, musicians and witches. See also Stella Alpina (
 +39 0864 41304) or Proloco Pacentro.
Getting there
By plane
Fly to Rome, Fiumicino or Ciampino.
By road
From Rome you have the choice of the SS4 or the SR5. The SS4 is the more direct route. Follow the signs for Rieti.
Find out more about Penny's travels in Lazio and Abruzzo here