Tuscan Fitness offers revitalizing yoga retreats and health holidays in the heart of the beautiful Tuscan countryside. Combining yoga, fitness training and hiking with delicious yet nutritious food, these are fitness vacations designed to both recharge and relax.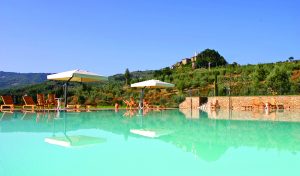 Guests of Tuscan Fitness are hosted at the Fontebussi Tuscan Resort, a charming hotel on a tranquil hilltop with views of the surrounding hills and olive groves. The hotel combines classic Tuscan style with modern comforts including a large swimming pool, restaurant and pool bar as well as a gym. Situated on the doorstep of the beautiful Chianti region, famous for its ancient hilltop towns, stunning views and delicious wines, the hotel is also conveniently close to the cities of Florence, Arezzo and Siena, making it ideal for visiting the area.
Ashtanga and vinyasa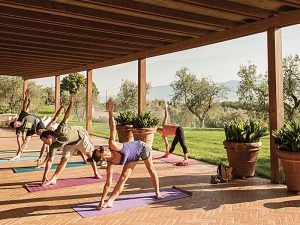 The yoga retreats at Tuscan Fitness focus specifically on Ashtanga and Vinyasa yoga for all different levels so that guests can learn as a beginner, or delve more deeply into their practice if they are more advanced. The daily classes are taught by a number of teachers so as to offer different styles and levels of activity. The aim is to work both the physical body and also the mind so that one can feel at peace with the picturesque surroundings.
Daily schedule
The daily schedule includes two yoga sessions and the option of hiking and HIIT or Barre classes, as well as three nutritious meals at the hotel restaurant and a tasty yet healthy afternoon snack.
As part of the daily fitness options, the HIIT and Barre sessions are customised to suit the guests' levels of stamina and familiarity with these activities. They are held on the beautiful grounds of the resort, set against great views and are a fun and engaging way to improve one's fitness level and stamina.
There are also a variety of hiking options to allow for the opportunity to truly appreciate the gorgeous scenery of the Tuscan countryside. The hikes lead through the rolling hills around the hotel, or into some of the nearby regions such as Chianti and the Valdambra, often leading to a local vineyard for a wine tasting or to an historic town for a cultural excursion.
Additional activities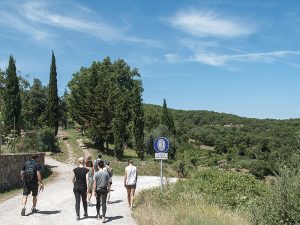 At Tuscan Fitness, guests can also choose to partake in some of the additional activity options on offer that are aimed at maximising relaxation and also highlighting the best that the region of Tuscany has to offer. Some of these options include on-site massages, private yoga sessions, guided tours of the Chianti region, cooking classes, biking tours, wine tasting tours and meditation sessions.
The season opens for continuous enrolment from the 1st of April until the end of October and offers a rolling sign-up to allow guests more flexibility for their trip, so that they can choose whichever arrival and departure date will be most convenient. Guests are welcome to stay for as little as one day or as long as a month or more if they wish.
Best health holiday
Tuscan Fitness is a unique health holiday in Italy, an environment where guests can feel welcome, comfortable and rejuvenated. The whole team at Tuscan Fitness pride themselves on their ability to offer you the best health holiday possible, combining fun, sun, yoga, exercise, healthy eating and relaxation to work for you.
Contact us: 
+39 345 015 0504