A romantic stay for two, or a friendly welcome for the solo traveller… Here's our pick of the best Italian Hotels & B&Bs for those planning a quick jaunt to Italy…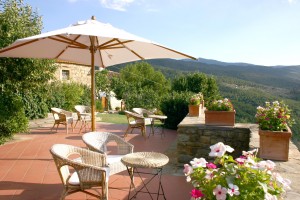 RELAIS SAN PIETRO
This family-run establishment is set in an 18th-century converted hamlet in the Tuscan hills and is pure paradise for those seeking a quiet and romantic retreat.
The owner, Luigi Protti, had been in Milan for 50 years when he decided to seek country life for his family. Since then the Protti family has carefully restored their home to its present charming form. Luigi and his family now take enormous, and understandable, pride in their new property.
The bedrooms have gorgeous old rafters, wrought-iron beds, elegantly hand-painted wardrobes, and rugs on terracotta-tiled floors. For cool autumn nights there are cream sofas and log fires. The panoramic pool surrounded by olive groves is the perfect spot for relaxing or sipping a drink while enjoying the sunset.
In summer guests dine at tables elegantly dressed in white on a terrace overlooking the gardens and views of the olive groved valley beyond.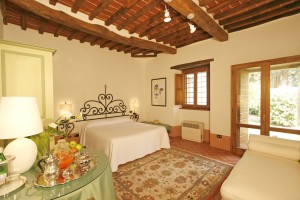 The restaurant serves home-made and traditional food and locally produced olive oil. Bread comes fresh from the bread oven. An atmosphere of luxurious calm and seclusion prevails.
CONTACT DETAILS
➤ RELAIS SAN PIETRO
+39 0575 650100
info@polvano.com
www.polvano.com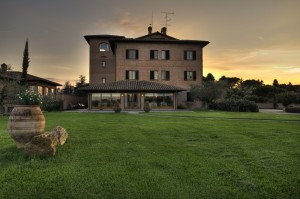 LOCANDA POGGIOLEONE
We all love to be spoilt in a luxury 5-star hotel, however solo travellers always seem to share the same story when staying in hotels. The bigger and smarter the hotel, the more lonely you can feel.
One thing to bear in mind though, is if you are staying somewhere intimate, can you really expect your host to have a good command of the English language? Add to the mixture of fun, lots of arm waving and speaking louder in the hope that it translates better as well as pulling out that old dog-eared phrase book. WiFi may not be that great, but sometimes, that's a huge benefit.
I'd like to share an example of a smaller hotel/bed and breakfast where I've stayed and where I have been made to feel most welcome.
This is the Locanda Poggioleone in Pozzuolo. The owner is a retired gentleman. Retirement was anathema to him so he bought a 12-bedroom hotel in a small village near Lago Trasimeno. Although the village is pretty uninspiring, it's where Umbria borders Tuscany, 10 minutes' drive to the lake, 20 minutes to Cortona or to Montepulciano and just an hour or so to Assisi.
The gardens are large, adorned with roses selected by the ladies of the house, and the gentleman also owns the local farm from where all the produce comes, as well as the local vineyard. Having a restaurant, he brought his little sister in to cook, so only the finest and traditional fare is on offer. The family came to sit with me during dinner, and one night they pulled a few other guests and myself together for a wine tasting.
CONTACT DETAILS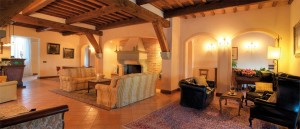 ➤ Locanda Poggioleone
07 595 9519 Fax 07 595 9609
info@locandapoggioleone.it
www.locandapoggioleone.it
➤ Tuscan Secrets
01344 627586
sales@tuscansecrets.co.uk
www.tuscansecrets.com
Tags:
B&Bs
,
Holidays
,
Hotels
,
Tuscany
,
Umbria