Continuing to showcase some of the hotel highlights across Italy, this month we look at the elegant Veneto region and where to stay for luxury or local life?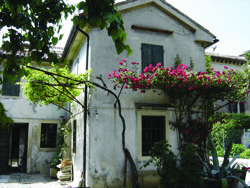 GIARDINO DI MEZZAVILLA
(BED & BREAKFAST)
In a town with a history ? it was the site of the Italian victory over the Austro-Hungarian forces, the end of the First World War ? is a house of bohemian beauty owned by the nicest people. The pretty 17th-century courtyard is still intact, as are the haylofts, the wine cellar and the greenhouse, all enveloped by acres of garden, theirs and their neighbours?. And a big old tree that fell in last year?s storm has been kept, roots and all. The character continues inside, up to two big guest rooms with sober planked floors, colourwashed walls, old-fashioned radiators and the odd antique; no safes or gadgets, just good books, natural soaps, extremely comfortable beds. Janine (who speaks five languages) will lend you maps for free council bicycles ? yes, really. Her breakfasts set you up beautifully ? organic feasts of home-made everything. Or you could jump in the car and visit the Dolomites or the sea. Return to Aga-cooked dinners that are pure pleasure ? fruit and veg from the garden, local meats, Angelo?s well-chosen wines. All this and mountain air… you?ll sleep like a baby.
Other Information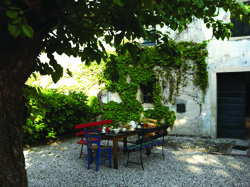 Price ?30-?35 for a single, ?60-?70 for a family room
Rooms 3 (Consisting of 3 singles, 2 family rooms)
Meals Dinner with wine, ?20 Restaurant 300m

Closed Rarely
Directions S. Giacomo di Veglia by church after Albergo da Carlo, first left at bread shop onto Via Mezzavilla; house on right
Contact Details
GIARDINO DI MEZZAVILLA
Via Mezzavilla 26
31029 Vittorio Veneto
+39 3200 525289
info@giardinomezzavilla.it
………………………………….
IL CASTELLO
(SELF-CATERING)?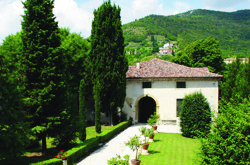 A narrow road winds up to the castello at the foot of the Berici hills ? a special getaway. Also known as the Villa Godi-Marinoni ? it was built by Count Godi in the 15th century ? its massive hewn walls enclose a compound of terraced vines, orchard, and views that stretch all the way to Padua. You enter via an arch, ancient cobbles beneath your feet. The villa itself is still lived in by the courteous owners, Signora Marinoni and her son, who run this vast estate together. Olive oil is produced, and there?s a wine cellar in the bowels of the castle ? ask if you can buy a bottle. The apartments, bright and clean (note, one with its kitchen on the far side of the courtyard), are in an outbuilding with Gothic details in the plastered fa?ade; all are simply, pleasantly furnished with family antiques and modern pieces. Hidden below the castle walls is the garden with fish pond; in spring, hundreds of lemon trees are wheeled out to stand on grand pedestals. The climate is mild and the hillside a mass of olive groves; recline on the lawns or stroll down to the village for supper.
Other Information
Price ?448-?896 per week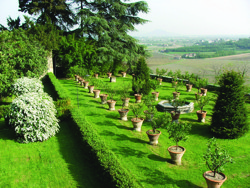 Rooms 4 apartments sleeping 2-4
Meals Restaurant 500m
Closed Never
Directions A4 exit Vicenza Est. At roundabout, follow signs to Riviera Berica for 15km. In Ponto di Barbarano, at lights turn right for Barbarano. In main square, turn left to Villaga. Villa is 500m on left.
Contact Details
IL CASTELLO
Via Castello 6
36021 Barbarano
+39 0444 886055
info@castellomarinoni.com
………………………………….
DELSER MANOR HOUSE
(HOTEL)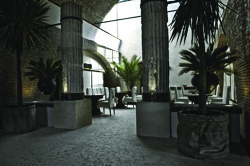 The views from this chic hilltop hotel are amazing, sailing over vineyards to the city of Verona. This ancient flat-topped Sicilian-like building, rescued from disrepair by designer-owner Alberto, is now (eight years on) a minimalist, museum-like hotel. Vaulted brick ceilings, Roman columns and stone arches have been reclaimed and revived in one man?s homage to stone ? daringly unusual for Italy! Alberto?s church-like lobby and breakfast area are an archaeologist?s dream. As for the bedrooms, they?re a unique blend of modern luxury, natural materials and a handsome scattering of 16th-century furniture. Be spoiled by linen sheets and un-rugged oak floors, subtle behind-brick lighting and rainforest showers. Bio wines and olive oil are produced on the estate and breakfasts are feasts served on white china ? tuck into local cheeses, hams, jams, fruits, cakes and breads. And then there?s Verona, just ten minutes below, with all the romance of cobbled alleyways, Juliet?s balcony and opera beneath starry skies in a Roman arena, illuminated by hand-held candles.
Other Information
Price ?160-?260 for a double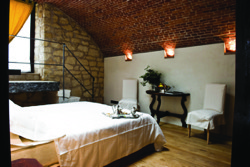 Rooms 9 (Consisting of 3 doubles and 6 twins)
Meals Dinner on request Restaurants in Verona, 3-minute drive
Closed Rarely
Directions Sent on booking
Contact Details
DELSER MANOR HOUSE HOTEL
Strada dei Monti 14/B
37124 Verona
+39 0458 011098
info@delserverona.com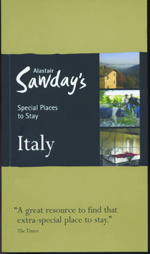 READER OFFER
Alastair Sawday?s Special Places to Stay
Readers can receive a copy of Alastair Sawday?s Special Places to Stay: Italy for free when they subscribe to Italia! magazine. Turn to page 34 for details of our latest subscription offer. The book is also available at the RRP of ?15.99 from all good bookshops, Amazon and www.sawdays.co.uk
Tags:
Holiday
,
Hotels
,
Veneto