This month we showcase the most stylish retreats in the popular region of Tuscany, starting with a traditional family run hotel that offers a slice of slow Italian living?
LOCANDA LE BOSCARECCE
(HOTEL)
A sparkling star in Tuscany?s firmament. Susanna is full of life and laughter, and her daughter Swan is equally warm. Susanna, or Swan?s husband Chef Bartolo, concocts dishes that people travel miles to discover. Fruit, vegetables, herbs and olive oil are all home grown, there are 450 wines in the cellar and a big pizza oven. The 200-year-old locanda is on a ridge, embracing fields and farms. Bedrooms are part rustic, part refined, with bold colours and pretty lace at the windows. Beds are modern and comfortable, furniture 18th and 19th-century, bathrooms have tubs and showers, and some rooms have kitchenettes. Tennis, cycling, swimming in the pool with its panoramic view ? all are possible; or simply relax under the dreamy gazebo and dip into an art book from the library. Even the geography is enticing, in the charmed triangle formed by Florence, Siena and Pisa. Heart-warming, creative and definitely special.
Other Information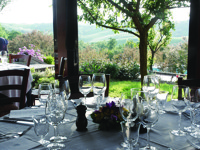 Price ?100-?145
Rooms 12 (Consisting of 8 doubles/3 triples/1 quadruple)
Meals Dinner ?25, Restaurant 3km
Closed 20 November-26 December
Directions From Castelfiorento, take Via A. Vivaldi for Renai. Take a right after the dirt road and follow signs. Over the bridge, stay on paved road for ?di Pizzacalada?.
Contact Details
LOCANDA LE BOSCARECCE
Via Renai 19
50051 Castelfiorentino
+39 0571 61280
info@leboscarrecce.com
………………………………….
SAN GALLO AGRITURISMO
(SELF-CATERING)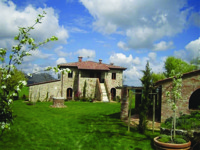 On Fridays they invite you to lunch with their friends ? a gesture typical of a generous family. The setting is bucolic, made up of vineyards, olive groves and views that sweep up to San Biagio and lovely Montepulciano. This is a simple Tuscan farmhouse whose ground floor housed the animals and whose living quarters ? dominated by big country fireplaces ? were upstairs. Today the house sits in spacious gardens with mature trees for shade and benches for views. As for the apartments, these are all in the house, those on the upper floor air conditioned for hot nights; thick walls keep lower floors cool in summer. Kitchenettes ? all bar one ? have hobs not ovens, fabrics are plain and traditional, tiled floors and cream walls are pristine and bathrooms are in perfect order. The 20-hectare estate includes a small lake populated by ornamental ducks (not for the pot!) and a big pool surrounded by rosemary, roses and pergolas for sunloungers: comfort reigns supreme. Architecture and archaeology abound, as does the lush and unsung Vino Nobile.
Other Information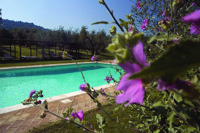 Price ?750-?900 per week
Rooms 6 apartments (Each sleeping 2-3)
Meals Restaurants 1.5km
Closed Never
Directions Take the A1 exit for Montepulciano. Follow San Biagio to church below town, then follow road around church to left and downhill for 700m. San Gallo is signed on the left.
Contact Details
SAN GALLO AGRITURISMO
Via delle Colombelle 7
53045 Montepulciano
+39 0578 758330
info@agriturismosangallo.com
………………………………….
BOSCO DELLA SPINA
(BED & BREAKFAST)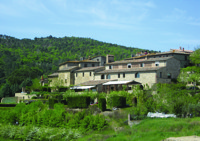 The road sign for pizzeria is misleading: nothing so mundane here. Tables overlook a magical garden of pergolas, waterfalls and wisteria, and Castle Murlo hangs in the distance. Imaginatively restored and landscaped, these former farmhouse cellars in medieval Lupompesi have modern interiors and old Tuscan beams and terracotta; architecturally it is an interesting restoration. The restaurant ? a cool space of open arches and sleek furniture ? serves regional dishes accompanied by 180 wines. Reached down a series of corridors, the super comfy suites, each with fridge, sink and dual hob, have terraces, big divans and furniture made by local craftsmen. Blankets are neatly rolled, colours white and conker brown, beds hi-tech four-poster, bed covers faux suede, shower rooms designer. All this and a wine bar, library, small gym, slimline pool (suitable for lengths only) and garden spots filled with tinkling water and views.
Other Information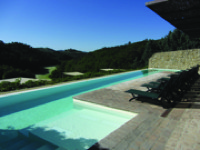 Price ?70-?370
Rooms 14 suites
Meals Dinner ?30. Wine from ?7
Closed 6 November-28 March
Directions Take the A1 for Siena, exit Siena south. Then take SS2 for Rome-Buonconvento for 15km, towards Monteroni d?Arbia. Turn right to Vescovado di Murlo. After 8km, take right for Casciano di Murlo. After 1km, you?ll see a sign for ?Residence? in Lupompesi on the left.
Contact Details
BOSCO DELLA SPINA
Lupompesi 53016 Murlo
+39 0577 814605
bsturist@boscadellaspina.com
………………………………….
Alastair Sawday?s Special Places to Stay
Readers can receive a copy of Alastair Sawday?s Special Places to Stay: Italy for free when they subscribe to Italia! magazine. Turn to page 34 for details of our latest subscription offer. The book is also available at the RRP of ?15.99 from all good bookshops, Amazon and www.sawdays.co.uk