Alex Clohosey spends a glorious few days around the northern end of Lake Garda and is seduced by the sights, sounds and flavours of Limone, Riva del Garda and Malcesine…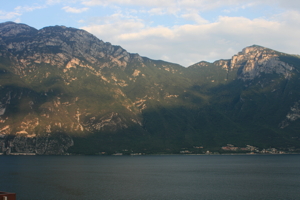 Lake Garda had always been on my radar as a must on the Italian travel circuit. It is only now, as we make our way from Verona airport, that I feel really ashamed at how long it has taken me to act on my desire. The journey has been long; the combination of planes, trains and automobiles has taken its toll and exhaustion has set in. However, as the coach turns the final corner from a long stretch of motorway and affords me my first view of the lake, my travel fatigue is replaced by a sense of wonderment. Towns line up in front of the most breathtaking mountainside backdrop, the sun peers from behind and reflects in the lake as it begins to set. I know that in three days I would only ever scratch the surface of what this area has to offer.
My final destination is Limone sul Garda, a small town close to the northern tip of the lake, which will be the base for my stay. The drive here is stunning as we make our way through a series of spectacular tunnels, the Gardesana Occidentale, which Mussolini commissioned back in the 1920s. The creation of these tunnels meant that new roads would be able to open up access to a number of towns along the lake – including Limone – which were once only accessible by boat.
THE BUZZ OF THE TOWN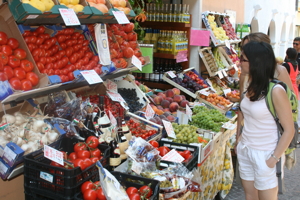 After a relaxing evening at Hotel Panorama, where every room enjoys a sensational lake view, I wake early to explore. It's a blissfully hot day and a hint of lemon from the groves that surround the town drifts through on the breeze. Limone is small but perfectly formed, with a population of just over a thousand. The town once relied heavily on lemon and olive production, and the lemon groves that line the coast are a constant reminder of that heritage. Today, the area relies on tourism for its income and with over a million visitors each year, it's doing rather well.
Limone's shops, restaurants, cafés and hotels create a wonderful buzz. Grocers and supermarkets display local lemons with pride, along with bottled limoncello, which is produced at Limonaia del Castel, just a few streets away. I escape the hustle and bustle of the main thoroughfare and find my way to the lakefront, where bars, street music and market stalls allow me to relax and soak up my surroundings.
Lunch is at Hotel Le Palme, directly on the lakefront. I have been told much about a popular drink of the region, Aperol spritz, and my thirst is begging me to try one. A combination of Prosecco, soda and Aperol liqueur, this orange-coloured drink is a refreshing aperitivo in the scorching sunshine – I can see what all the fuss is about.
My evening brings one of the biggest treats of my whole trip, but one that sadly only comes around once a year. The 'Serata di Suoni e Sapori nell'Uliveto' is an event that takes place on the first Sunday of July, where local restaurants, bars and residents open their doors and introduce you to the sounds and flavours of Limone. A food and wine festival with a difference, the event takes you around the town and into its surrounding hills where you can try the most sublime local food and wine, from fresh sardines and trout to meat delicacies and classic pizza, all accompanied by local wines that bring out the best flavours from each dish.
Each stall showcases local music too, and when evening draws in and the sun goes down, there is a real party atmosphere as people eat, drink and dance their way through the streets. It was a unique experience of local Italian tradition that I'll never forget, and one I would thoroughly recommend if you get the chance.
TRAVELLING FURTHER AFIELD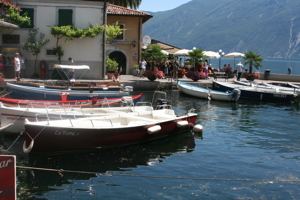 It would be very easy to spend all your time in Limone and to avoid venturing much further afield, but there is so much more to explore in the area, and plenty of ways to get around.
Around ten minutes' drive from Limone is Riva del Garda. The second largest town on the lake, with a population of over 16,000, Riva once belonged to the republic of Venice and later to the Austro-Hungarian empire, becoming part of Italy in 1918. Historically, the town has always been of strategic importance, having controlled the northern half of the lake and enjoyed a significant influence on trade routes coming and going over the Alps, and so it is unsurprising that many of the historic sites in Riva relate to war and fortification. One such site is the Bastione, a Venetian fortress built in the early part of the 16th century. It was designed as a protective structure for the settlement below, as Venetian power diminished. The walk up to it is a bit of a challenge, especially in the relentless heat, but as I approach the top I feel a sense of satisfaction as my companions and I are treated to the first glimpse of the Bastione and the stunning views that lie behind its walls. Fortunately for us, there is a little café at the top; a welcome resting place where we sit and enjoy the view with a refreshing spritz in hand.
Although there is a dominant historic element to the town, Riva is by no means a one-trick pony and there is a huge amount to see and do here. As the narrowest and most northerly part of the lake, Riva has become renowned worldwide as a perfect place for windsurfing. The high, constant  winds entice hundreds of windsurfers onto the water and it's a spectacular scene. National and international events are held here, but instruction for the less experienced is also available from the many schools. For those who aren't keen on attempting the activity, sitting on the beach and watching it all unfold is an experience in itself.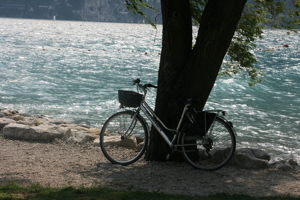 I hire a bike and ride to Torbole, a smaller town to the east of Riva that's just a few miles away. Bike hire is very popular in the area and there are many places to pick them up. Done at your own pace, this is a great way to explore or simply to take yourself a little further out of town for a quieter, more relaxing beach experience than the one you get in Riva itself.
If you do want to explore a little further afield, just 20 minutes by ferry from Riva and across the lake from Limone lies Malcesine. Guarded since the 13th century by the stone towers of Castello Scaligero di Malcesine, it boasts a picturesque harbour, surrounded by multicoloured buildings that exude charm. The winding streets are lined with shops and restaurants and I am spoilt for choice as I look for a place to rest and escape the heat.
TOP ATTRACTIONS
One of the most popular tourist attractions in Malcesine is the funivia. These cable cars take tourists up and down the mountain that sits behind the town. They are heading towards the peak of Monte Baldo. At 2,200m above sea level, this is the highest point around Lake Garda, and as such it boasts some of the most fantastic views of the region available. This is a spectacular trip and well worth the €17 they charge, in spite of some pesky mist and cloud disturbing my own view as my car reached the top. If I were to dish out one piece of advice, it would be to make the trip on as clear a day as possible – it's
too good a view to miss.
As we head back on the ferry to Limone for our last night, I am overwhelmed at the amount I have seen and done in so short a time. Limone in itself would be a superb place to visit for a short break, but with Riva del Garda and Malcesine so close by I feel that I could have stayed here forever. The sense of tranquility and the friendliness of the locals combine to make this such a special place to visit.
From the boat we can just about make out the route to the Forra di Tremosine, a narrow gorge that Winston Churchill once described as the eighth wonder of the world. He spent a lot of time around Lake Garda after he retired, and I can see why. After so long in the waiting, this may have been my first visit but it won't be my last.
Tags:
Holidays
,
Lake Garda
,
Limone
,
Malcesine
,
Riva del Garda
,
The Lakes