Jenny Crombie takes a relaxing trip to the sunny shores and calm sapphire waters of Lake Garda. The delights of pretty Bardolino tempt her to stay a little longer in paradise…

There must be something in the air around Lake Garda. Some other-worldly matter, maybe exuding from the lake itself, that won't allow any other state but relaxation in its environs. At least this is the conclusion I reach after, travel-weary and fresh from Verona airport's hectic, heaving baggage carousel,
I am treated to my first sparkling glimpse of the lake from the road, and the stresses of the journey are immediately eased by its glittering calm.
I am bound for the lakeside resort of Bardolino on the enormous lake's southeastern side. On arrival at the lush, landscaped grounds of my hotel, the modern and stylishly sprawling Hotel Caesius, just a 20-minute walk from the town's centre, my sense of peace is boosted still further as I step into the cool of its spacious reception. Reaching my room, I'm delighted to find a sideways-view of the lake from my balcony.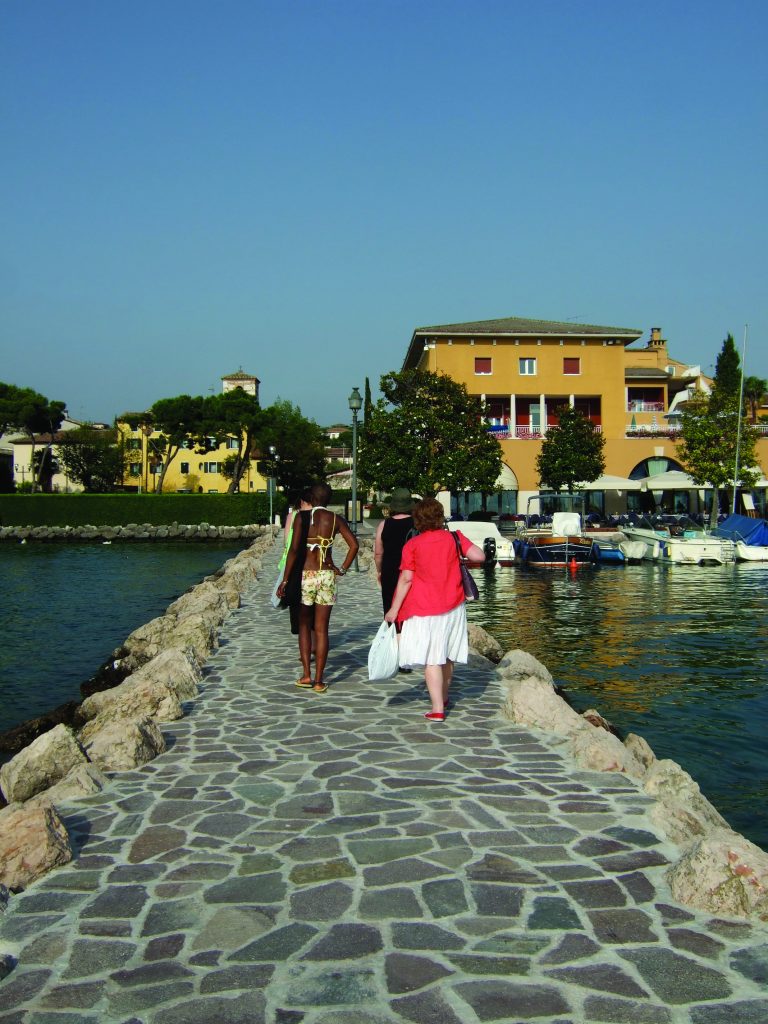 I'm just in time for lunch and am more than ready to enjoy the plate of fresh lake trout and cold glass of Soave that are served up for me at the hotel's restaurant. Chef at the Caesius, Angelo Vaiuso, offers tempting Mediterranean fare here. He specialises in delicious fish dishes – from both the lake and the sea. Soon happily replete, I am keen to shake off any remaining strains of the journey, and to blow away the cobwebs by getting out on the lake itself.
There is little chance of much cobweb-blowing, however – it's such a still, hot day that even out in the middle of the lake any breeze is minimal but delicious. Hotel Caesius owns a striking 1926 wooden sailing boat, the San Nicolò. It's an eye-catching, attention-grabbing vessel that can take up to 20 people out to see the sights of the lake exactly as they should be seen: from the water.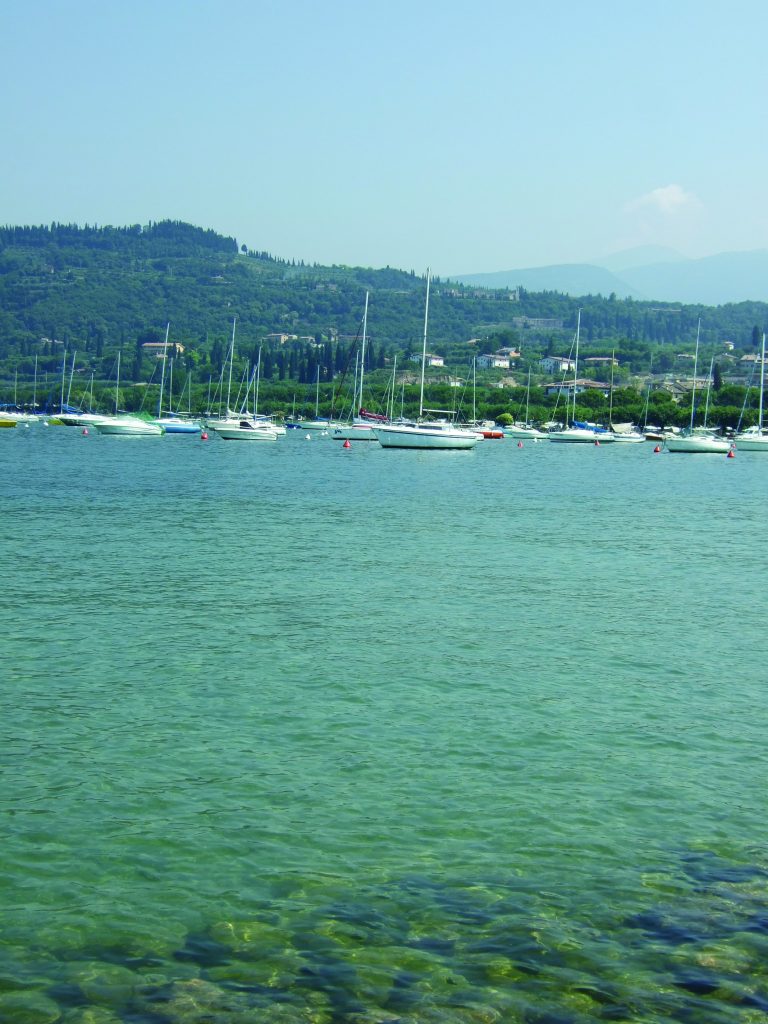 The four-hour trip involves some great views of the lake's surrounding towns, hills and exclusive lakeside residences, as well as a little food and drink and a lot of lounging. Forget massage or yoga – this is without doubt one of the most therapeutic and relaxing experiences possible. Sitting back on deck, gazing at the water and being gently lulled into a doze, all earthly worries are a million miles away. It's an instant balm for the soul.
Beginning to nod off to the boat's serene bobbing, my drifting senses are reawoken with some force at the suggestion of a bracing swim in the lake. We 'drop anchor', and I rouse myself from my snooze to join my fellow sailors jumping into the water from the side of the boat. It is a sensational way to both wake up and cool down before heading back on deck to glide back to the tiny, chic port of Cisano, handily situated right next to Bardolino.
Hitting the market
Now I've satisfied the craving to get out onto the lake, I'm ready fill my next few days with the other treats Bardolino has to offer. And it turns out there is plenty to keep one busy. Bardolino is a small and peaceful, but strikingly picturesque lakeside town. It boasts a couple of pleasant beaches, two lovely churches – San Zeno and 12th-century San Severo – plus plenty of bars and restaurants and a lively market every Thursday morning.
The market is well worth checking out for local products and more – and it's all located right by the lake, with some stalls so close to it they seem as if they could almost tumble in. Slip behind them if you need a breather from the shopping hordes, and you're immediately confronted with the water's edge, swaying boats and the quacks of demanding ducks requesting food.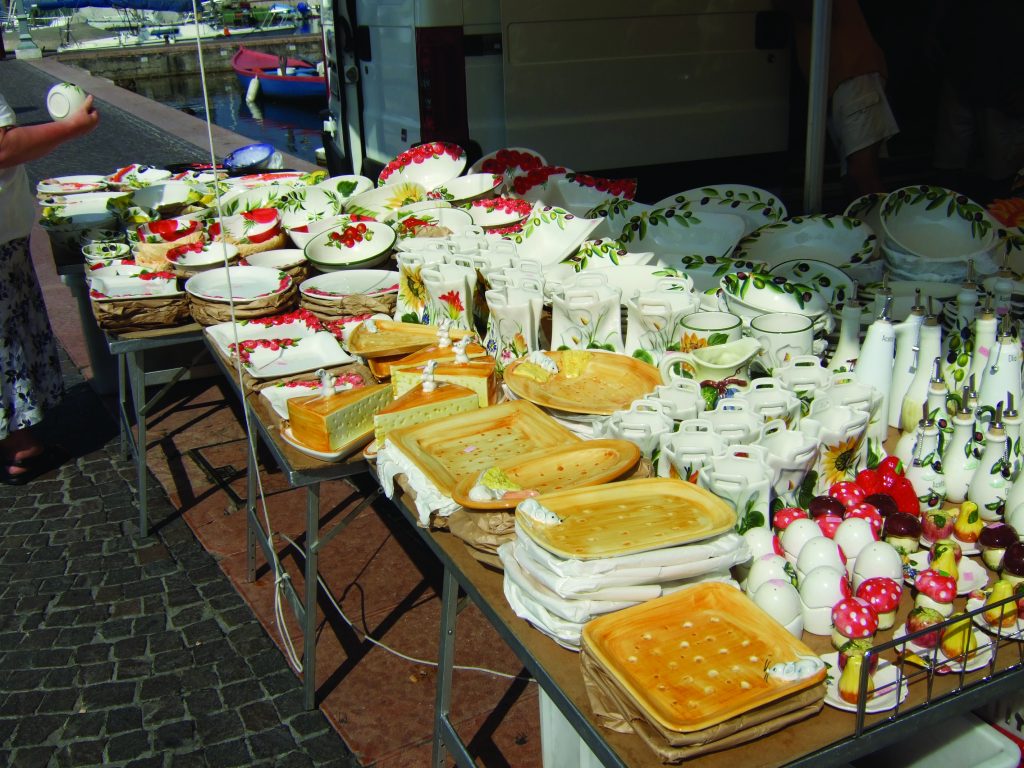 I'm overwhelmed at the market by what seems to be several miles of stalls stretching into the distance. Each one has its own particular selection of delights, from bargain clothes to brightly-coloured ceramics, crafts, local gastronomic treats, or nick-nacks. Get stuck in to rummage for some bargains, or simply wander along at leisure, enjoying the lively atmosphere. I choose the former and am soon laden with their spoils and gasping for refreshment and a sit down.
Bar Lido at the edge of the market is perfectly located for a coffee stop – again, right by the water and with a quirky garden filled with what look like indoor-furnishings to sit on while you gaze out at the lake. I make myself comfortable here, grab a reviving caffè and sit back to admire the view – and ponder how elastic my suitcase will prove when packing for my return trip.
Local vintage
Any visitor to Bardolino can hardly ignore its most famous and important export: delicious Bardolino wine – a light, dry red, and a rosé (Bardolino Chiaretto), which are celebrated in autumn in the town's 'Grape Festival'. It would be a near-crime to ignore Bardolino wine on your trip – and indeed you'll find it difficult to do so given its prevalence on local menus. It is, naturally, prolific in the area's restaurants and hotels, and is well worth a taste or two. And once tasted, what better way to embrace the area's favourite produce than by visiting the place it's made?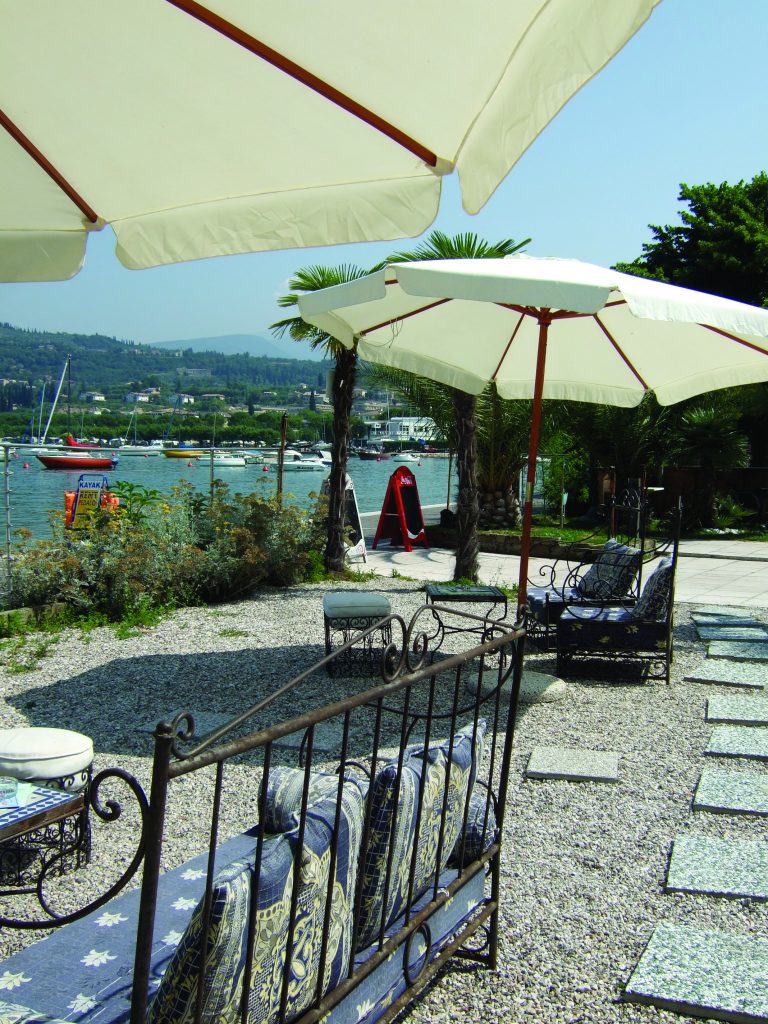 The Zeni Wine Museum and cantina is a short drive from Bardolino. Having sampled a few varieties of Bardolino on my trip already, I am keen to see the process behind its making – and even keener to get up close and personal with a few vintages at a tasting session. It's a sweltering day, as a heatwave continues to rage across the region, and on arrival at Zeni my admiration of their rolling vineyards is tempered by my discomfort in the absence of shade on this exposed hillock.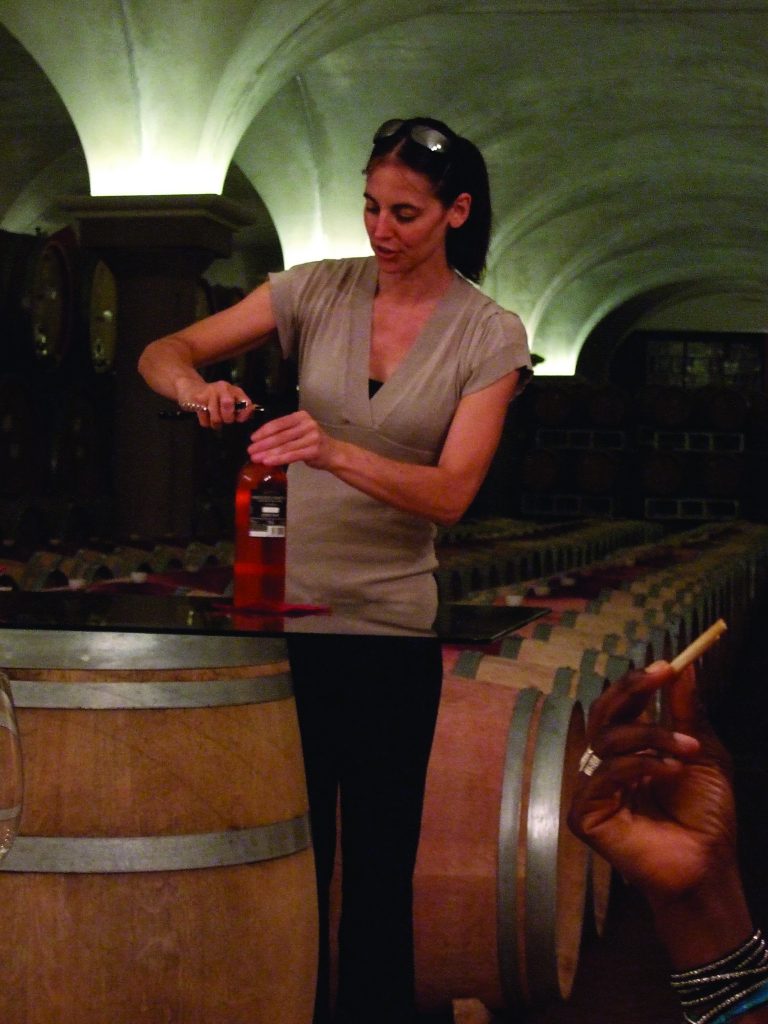 All of which makes venturing down into the wine cellars themselves a particularly appealing move. The barrique cellar is atmospherically cavernous and delightfully cool, filled with endless barrels of Zeni wine. It's a striking sight, and makes an impressive setting for a tasting. We work our way through a selection of the wines from the vineyard – from crisp Soave to velvety Amarone and, of course, Bardolino itself.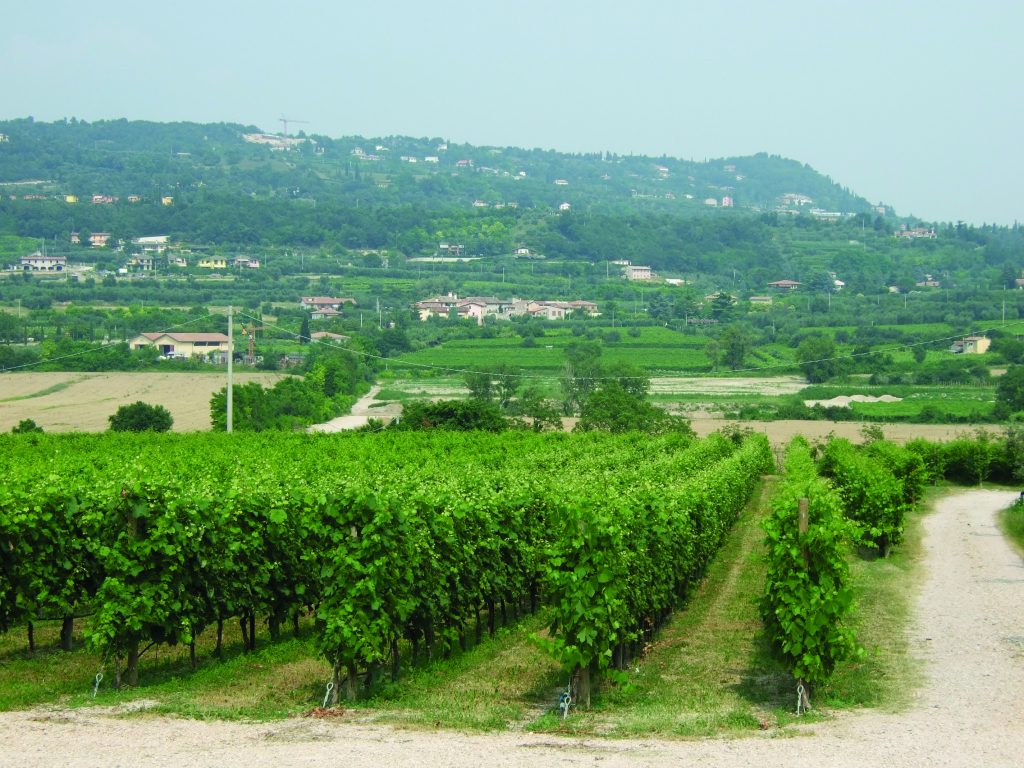 Our group is ably guided by Elena, one of the Zeni daughters, the latest in a long line of winemakers from this famous family. She is passionate, knowledgeable and imparts relevant, interesting information to help us along. It's a great insight into the wines of the region and makes it easy to choose a few products to take home from the shop afterwards, aware – but ignoring for the moment – the further strain this is likely to cause to my poor suitcase.
Further afield
Once you've sampled the delights of little Bardolino itself, the town makes a wonderful base from which to explore other tourist hotspots further afield. It is well connected by road, ferry and footpath to other places that are well worth visiting. The town of Garda is a short ferry journey or a 45-minute walk from Bardolino and is home to some lovely Renaissance palaces. Like Bardolino it is set in an idyllic lakeside location and here, verdant hills stretch into mountains behind the town. Verona is also an easy day trip from Bardolino by car and the lake's ferry system allows you to travel across the water to many other towns that line the lake.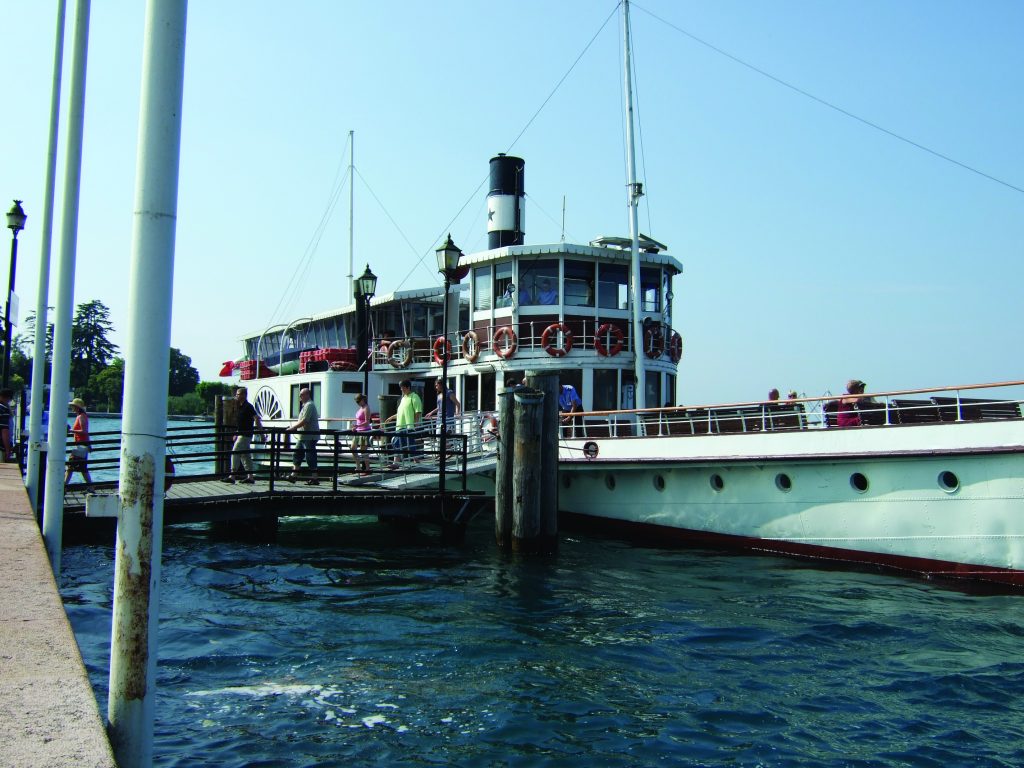 I decide to visit famous Sirmione, formerly home of the Roman poet Catullus and latterly of opera singer Maria Callas – and many other luminaries besides. The subject of much poetry throughout the ages, this fascinating town is set on a precariously thin peninsula that stretches northwards out into the lake. The ferry makes it an easy and pleasant trip, and even waiting around for the boat is a pleasant experience – a far cry from public transport queues back home – as travellers mill around the port in the sun, enjoying views over the water and into the hills towards mighty 2218-metre Monte Baldo.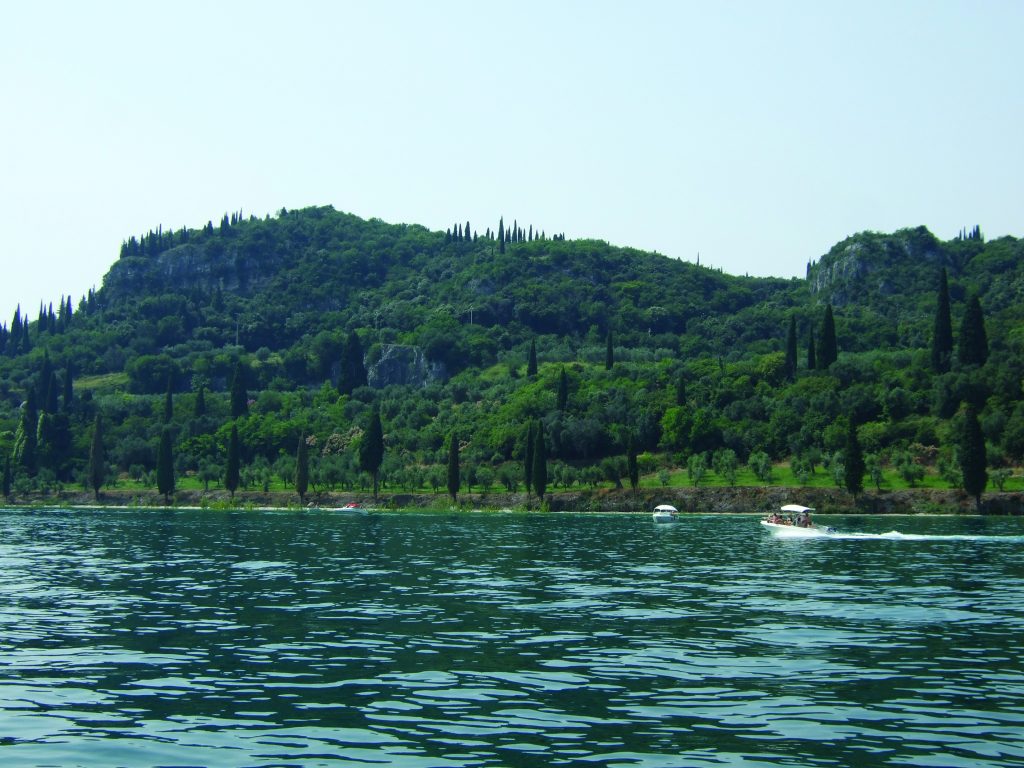 The contours of these hills north of Bardolino create a fascinating face-like shape from the vantage point of the town's port. Local guide Gabriele fills the time while we wait for the ferry by explaining a local legend behind the view. He tells me the contours are said to be the outline of sleeping Gardena. Her lover Benacus (the lake's original name) died at their wedding party and it was said that she cried so much her tears filled the lake. This romantic, tragic tale sets us on our way to Sirmione, gazing as we drift from shore, at sleeping 'Gardena', still and peaceful under the tranquil spell of Garda Lake.
Sense of serenity
Sirmione is a fitting literary inspiration, surrounded in almost every direction by sapphire glinting water and home to atmospheric architecture, including the historic Scaligero castle – one of the many built by the region's influential Scaligeri family, which is recognisable as one of the dynasty's many forts for its fishtail-shaped battlements.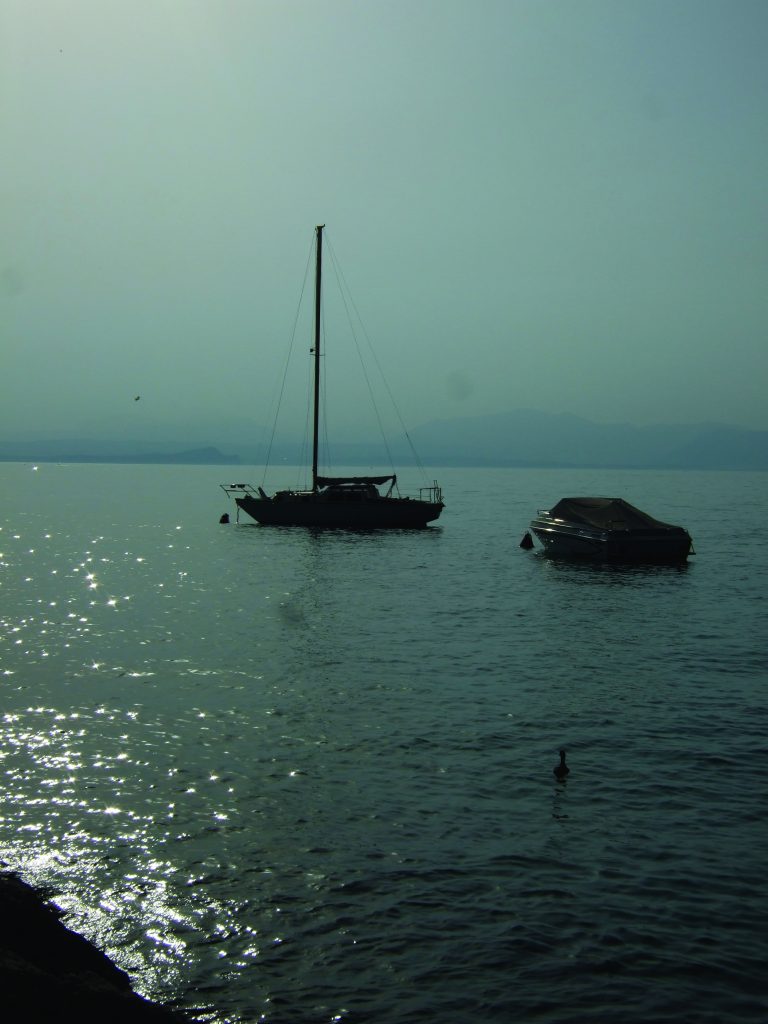 The whole place is enchanting, it feels almost like being on an island. It's possible to take a speed boat ride around the peninsula, which is a heart-racing way to get a sense of its unique geography. A ferry back to my Bardolino base later, and I'm enjoying my ongoing sense of serenity, boosted by being out on the water again, after the afternoon's exploration of Sirmione. 
There's just time on my last evening to enjoy an aperitivo of Aperol Spritz – a local drink made from Prosecco and the spirit Aperol – and for another delicious dish caught from the depths of the lake, and then it's time for bed and an early start to head home. After several packed, but utterly relaxing days on and around the waters of über-tranquil Garda, even the thought of Verona airport, the journey ahead and lugging around my now ridiculously excessive luggage cannot temper the feeling of calm that the lake and its peaceful pace of life have instilled in me.
I'm determined to hold on to the feeling as long as I can back in the real world, and can rest assured that once home, a smooth glass of Bardolino will transport me back to Garda's gently lapping shores.
Jenny travelled to Bardolino with Crystal Lakes. To book call 0871 230 8180
or visit www.crystallakes.co.uk
Tags:
Holidays
,
Lake Garda
,
Lakes
,
Northern Italy
,
Northern Lakes