Sarah Rodrigues has a sparkling time on the southern shores of Lake Iseo, where they produce champagne-method wines to rival the best…
Images by Sarah Rodrigues unless otherwise stated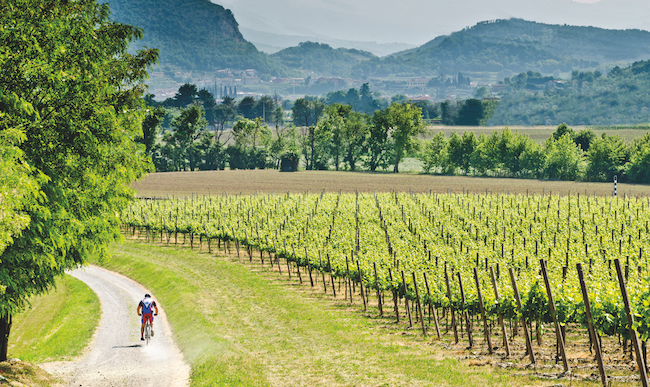 "Why wasn't I born the daughter of an Italian winemaker?" This green-tinged thought ripples through my mind as I stand in the cavernous space below ground at Bellavista. The room is filled with
oak barrels, and light is shimmering on the surface of the richly-hued wood, coming from a huge, round skylight that forms the base of a water-filled pool at the entrance to the estate. On the wall behind us, carvings devoted to each of the women of the Moretti family tell the tale of their role within the family business. One of the three daughters, Francesca, now leads the company.
It's not for nothing that the winery is called Bellavista. The views it commands over the indisputably magnificent landscape of the Franciacorta region, which occupies a section of the Province of Brescia, just over an hour's drive from Milan, are incredible. Given the scale and luxury of the winery, it's almost laughable to think that its founder, Vittorio Moretti, first bought the land and produced a vintage with the modest idea of making a wine he could enjoy with friends.
Why wasn't I at least born the friend of an Italian winemaker?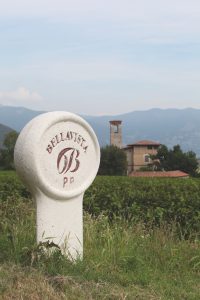 Magnificent landscape
The scenery over which Bellavista gazes is more than just aesthetically pleasing, though. It is essential for the production of the grapes that create the winery's distinctive sparkling wine. Retreating glaciers after the Ice Age left behind mineral-rich soils, and formed a natural amphitheatre of small mountains around Lake Iseo; thus the cold winds from the north are blocked and warmer temperatures from the south are cooled.
Franciacorta has long been compared to Champagne, thanks to the methods employed in its production. Unlike Prosecco, which has its second fermentation in the tank, Franciacorta and Champagne both have their second fermentation in the bottle, which involves a painstaking and costly hand-turning method called 'riddling'. Like Champagne, too, is the fact that the name Franciacorta refers to both the region and the wine.
That's where the similarities end, however – as the producers of Franciacorta are keen to point out. The relative warmth of the microclimate in which the Franciacorta vines – primarily Chardonnay, Pinot Nero and Pinot Bianco – are grown make for a full and fruity grape which is beautifully balanced by the acidity of the soil.
Hand-harvesting and soft-pressing, to reduce contact with seed and stem, are two of the guiding principles. So too is slow ageing and maturation on the flavour-enhancing lees (the sediment of dried yeast and grape particles that has developed during fermentation). Eighteen months is the minimum, but vintages and reserves age for 30 and 60 months, respectively.
A consortium for the production and promotion of Franciacorta was created in 1990; five years later, in 1995, the wine obtained the status of Controlled and Guaranteed Designation of Origin (DOCG).More recent developments in the region have seen an emphasis on sustainability, which has resulted in an impressive reduction in CO2 emissions. In some vineyards, organic farming methods are used, as well as natural cooling systems, waste water recycling and energy derived from photovoltaic panels. This is not merely as a gesture, but shows an acute awareness of their reliance on, and their deference to, the natural environment.

Notions of femininity
"Nature is our first partner," says Paola Beghini, head of hospitality at Monte Rossa. "The vineyards are our life." Flame-haired and feisty, I wonder briefly at this point if the winery has taken its name (as rossa is 'red' in Italian) from Paola.
This entire area is remarkable for its high concentration of female winemakers in an industry that's conventionally always been male. But the predominance of women here seems to make sense when you consider viticulture's reliance on and relationship with the earth and its cycles – something that has perhaps traditionally informed notions more of femininity.
"Our philosophy," says Paola as she swiftly quaffs a sparkling glass, "is to make a wine that is drinkable, so that you can have another, and another." And another. One of the defining characteristics of the Franciacorta grape is its digestibility, an edge it has over grapes produced in cooler climates. This is something the sun-dappled crowds in attendance on the first Sunday of the Franciacorta Summer Festival, who are making full use of their tasting allowance without any appearance of squiffiness, seem to be really enjoying.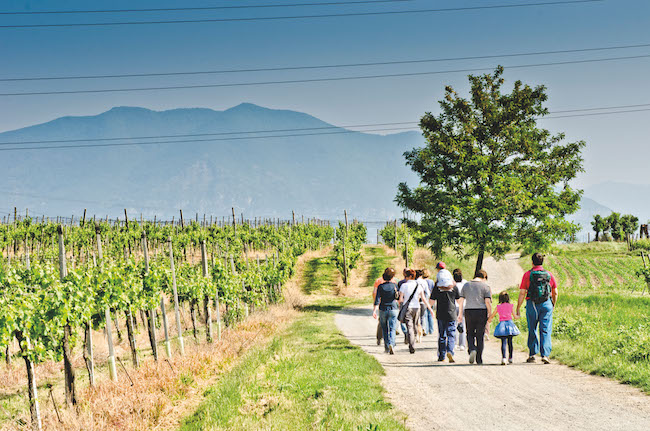 Villa Fassati Barba
Held in the grounds of Villa Fassati Barba, an 18th-century gem, the setting is, in itself, a treat – and that's before you make your way inside, where chefs are preparing tasting plates to accompany the wines against a backdrop of distressed walls in washed tones and large windows through which the sunlight streams. Saffron risotto, mantecato with Taleggio and peaches alla Franciacorta from Trattoria del Gallo's Alberto Bittu is a hands-down winner – the cheesiness is sinfully silky. Coming a close second are the offerings from Trattoria del Muliner's Andrea Martinelli. Sushi and Franciacorta are widely regarded as a match made in heaven (in fact, Japan is the wine's leading export market) and this hosomaki and uramaki with freshwater fish and vegetables prove that.
Having sampled our way through the offerings at the festival, it was doubly exciting to make our way to Villa Calini the following day, where we were going to be guided in the making of our own lunchtime feast. Dawdling through the grounds, which are lavishly planted with herbs, our senses are singing with their scent, freshly released by the heavy rain that fell earlier this morning and is now evaporating in the strong beat of the sun. Chef Alessandro Cappotto is twinkly-eyed and warm. It's clear that his staff adore him – and before too long, so do we. Over the course of our lesson, he's patient and encouraging, and clearly an advocate of cooking with passion, and with the best, mostly locally-sourced, ingredients available.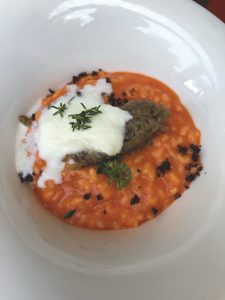 Food and wine
Afterwards, we retire to an adjoining dining room to be presented with the fruits of our labours accompanied by a selection of Franciacorta wines. Rabbit ravioli and beef braciole are two of the highlights of the meal, but the one we're all completely dizzy over is an exquisite risotto al pomodoro, which takes everything we ever thought we knew about risotto – not least the slowness and constant attention it requires – and turns it on its head. No butter or oil, just the Arborio rice 'toasted' in a dry pan followed by the addition of a few ladlefuls of clear stock made from onion, celery and carrot – and then left for 11 minutes. I've always thought you had to hover over a risotto as if it were a poorly child but here, there's no stirring, no adding; it's just left. After this we added some tomato passata and a little more stock, stirring a little now and testing the liquidity and al-dente-ness of the dish. A spoonful of potato purée added a touch more creaminess, as did a chunk of butter and a heap of parmesan. Finally, the top of the dish was sprinkled with olive dust, burrata and roasted aubergine, and decorated with herbs and petals from the garden. It was fantastically simple – and utterly dreamy.
Though it is a speciality of the region, dried fish from Lake Iseo didn't make it onto our menu, but the lake is an incredibly vital part of this region, both in terms of scale and its effect on the climate responsible for producing the Franciacorta grapes, so it seemed only right that our hotel, the Araba Fenice, should be perched immediately on its shore; the water laps almost at its walls. The rooms are bright and comfortable, yet still more functional than luxurious – a fact that fades into insignificance as you stand at your window and feast your eyes on that view.

Fairytale castle
A boat collects us just before sunset one evening to tour the lake and its islands. Two of these are privately owned. Loreto Island is remarkable for its straight-out-of-a-fairytale castle, which was built as a private residence in 1910; Isola di San Paolo is the domain of the legendary Italian gun-making Beretta family; but the third, Monte Isola, is a fairytale of a different sort. The largest lake island in Europe, it is densely wooded and dotted with step-back-in-time villages.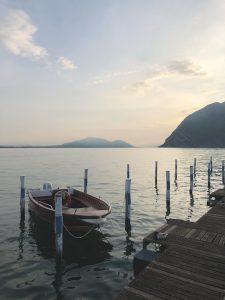 A pilgrimage of sorts can be made via a steep mule track that winds through groves of chestnut trees to the island's 600-metre 'summit', where you'll find the 5th-century Santuario della Ceriola and sweepingly glorious views. Down in the village of Peschiera, artisans still make and mend traditional fishing nets, while traditional boats, called naèt, bob gently on the lake's waters just beyond the 11km car-free road that rings the island.
The boat ride back to Araba Fenice is chilly but tantalising: all the glimmering lights of invisible villages tumbling down to the lake's edge make us painfully aware of how much more of this jewel of a region there is to explore, how many more vineyards there are to visit – and how many more varieties of the sparkler there are to try.
I wasn't born the daughter or friend of an Italian winemaker but I've been made to feel as welcome as one, and I will certainly be returning to Franciacorta.
Franciacorta Wines
If you want to try these sparkling wines for yourself, they are available in the UK from the following suppliers:
Bellavista
Alma NV, £37.50 and Bellavista Rose 10, £55.00, both 750ml from Harvey Nichols.
Monte Rossa Wines
Flamingo Brut Rosé, £28.32 and Sansev Satèn, £27.05, both 750ml from Tannico.
Where to stay
Hotel Araba Fenice
Hotel Araba Fenice's position makes waking up a joy. If you've shuttered the windows overnight (although why would you?) you'll find yourself flinging them open each morning, greedy for those 180-degree views of Lake Iseo that are offered from almost every room. If you're the sort to doze off on your sunlounger, the outdoors pool area, with its sweeping vistas of the lake and mountains, may well entice you to put that habit on hold. And don't miss the chance to have dinner in the Bella Iseo restaurant. There's no lovelier place to watch the sky change colour over the water.
Via Caproni, 246 – Iseo

 +39 030 982 2004
Getting there
By plane
Franciacorta is well-served by airports: Bergamo is 38km, Verona 75km, Linate 80km, and Malpensa 130km.
By car 
Come off the A4 Milan-to-Venice motorway onto Statale 11 Pallazolo sull'Oglio to Brescia. Then take the Provinciale 510 from Brescia to Iseo.
Click here for more Italian wine inspiration.