Just outside Turin stands a pleasure place built for Victor Amadeus, Duke of Savoy, who commissioned it as a hunting lodge.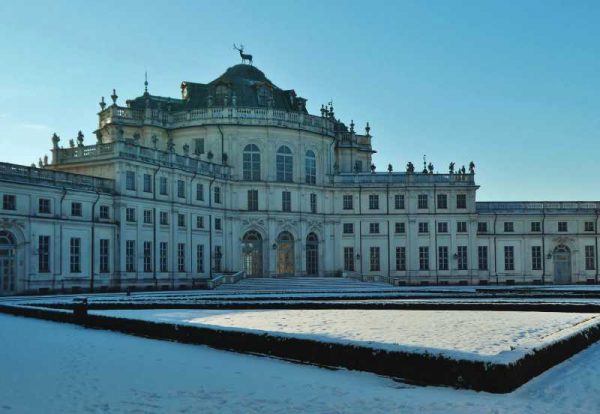 Image: Facade of the Palazzina di Caccia by Patricial Gartman
It all started with Humbert the White-Handed. I don't know how he got his nickname, but I'd guess that his hands, though white, weren't exactly clean. He was a supporter of the Holy Roman Emperor Conrad II, back in the 11th century, and, as a reward for helping Conrad grab a lot of territory from the Archbishop of Milan, he was named Count of Savoy and given the counties of Maurienne and Aosta to rule. The latter gave him effective control of several key mountain passes in the Alps, so he could extort tariffs on goods travelling to and from the Italian peninsula. His descendants formed what is known as the House of Savoy. Over the following centuries, the Savoyard rulers were wily and persistent enough to survive the constant European territorial struggles – usually involving disputes between France and Spain, the Holy Roman Empire and occasionally England. Though they lost most or all of their territory a few times, they managed to ultimately regain, and even increase, their dominions by picking the right combatants to support.
In 1563, Emanuel Philibert, then Duke of Savoy, moved the seat of his court from Chambéry to Turin, and in the following centuries the Savoy rulers turned their new capital into a truly regal city. They built an enormous Royal Palace and Garden, a Royal Library and a Royal Armoury. They built a Royal Theatre. They built a State Secretariat. They built a Military Academy, a Riding School, and, to pay for it all, they built a Mint.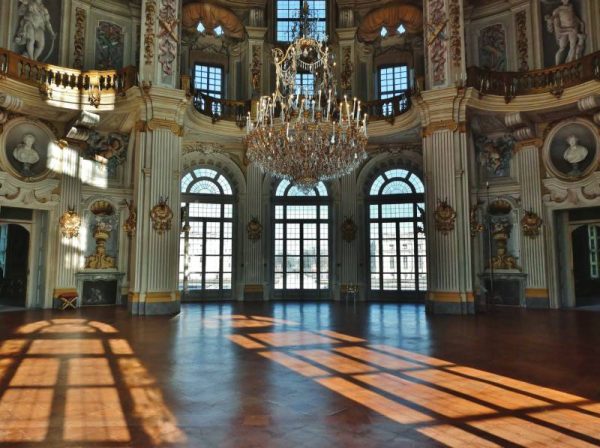 Image: The Great Hall by Patricial Gartman
Then, to relieve the stress of running an absolute monarchy, they built several pleasure palaces, known as delizie, around the outskirts of Turin. In 1729, construction began on the most famous of them, built for the Savoy ruler at the time, Victor Amadeus. (Victor had recently been promoted from Duke to King. How and why this happened is a long story, but it involved the War of Spanish Succession and the Treaty of Utrecht, if you're interested. He became King of Sicily, which is inconvenient when your capital is Turin, and he soon traded Sicily for Sardinia, a slight improvement.) His little getaway is a hunting lodge called the Palazzina di caccia di Stupinigi.
We were curious, so we took a bus, one grey morning, from Turin out to Stupinigi. There was slushy snow in the parking lot where the bus stopped. A kind lady on the bus told us to watch out for ice and to continue sempre dritto to the palazzina – "bellissima e molto famosa!" she said.
The palace is fronted by an enormous lawn, with a trident of gravelled paths through it. Snow covered the grass but had melted into slush on the pathways. On either side were the long wings of the palace. Ahead, a great copper dome crowned the central pile and, at the very top, the figure of a noble stag was silhouetted against the sky. We found the ticket office and then, proceeding inside, suddenly came face to face with the stag's twin, standing nonchalantly as if waiting to check our tickets.
Image: Fire Screens in the Great Hall by Patricia Gartman
An affable young man appeared. He was the actual ticket-taker and he explained that the deer we'd just met was the original bronze ornament of the dome, cast in 1766, who had been relieved of his duty a few years ago by a copy.
Our host left. From the stag's small chamber a staircase led upward, and we found ourselves apparently quite alone in a vast 18th-century royal pleasure palace of 137 rooms and 17 galleries, lavishly decorated in the very best late Baroque and early Rococo style. We walked down a long gallery lined with hunting trophies and ornate candle-holders and found ourselves in a room whose walls were, collectively, a huge oil painting of a deer hunt, with scenes separated by gilded wood mouldings, under a vaulted ceiling frescoed with Apollo slaying a dragon.
But beyond the next door was the architectural centrepiece of the lodge. The Great Hall is a soaring elliptical room bordered by apartments for the king and queen, with two other openings into galleries leading throughout the lodge. The enormous fresco in the main vault of the dome appropriately features Diana the Huntress, while the complicated structure of the rest of the ceiling – soffits, lunettes, pendentives – have romping putti, nymphs hunting peacocks and miles of gilded wood and plaster work.
Patricia wandered off happily with her camera and I spent several hours hiking the hallways. From time to time I would see a faraway figure crossing a corridor or ducking into an unknown room. There were canopied boudoirs, chinoiserie rooms, game rooms, a room with painted trompe l'oeil mirrors "reflecting" ancient ruins, and dozens more. Pauline Bonaparte's bathroom, with a specially made marble tub, was a souvenir of another time when the Savoy lost control of their territory. (They got it back, though, after Waterloo.)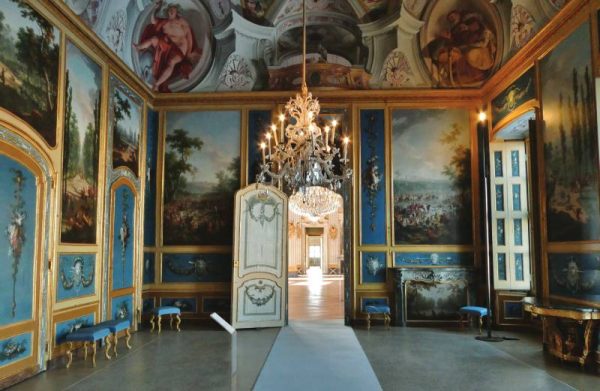 Image: Hunting Scenes in Arminger Hall by Patricia Gartman
I met Patricia back in the Great Hall. A fellow in orange trousers was there, apparently guiding a trio of tourists. For some reason, I felt rather aggrieved that he'd invaded our privacy. As we headed to the bus stop, the day's light was fading. The sky was overcast, and the stag on the roof was backlit where the setting sun pierced the clouds. I thought of the pettiness of rulers who would expend so much of their people's resources on something so beautiful and so useless, but then I remembered that during the Risorgimento, when Italy needed a king to help unify the country, Victor Emanuel II of Savoy, King of Sardinia, was there – ready, willing, and able.
JOE GARTMAN writes about travel, history and culture, and divides his time between the southwest US and Europe. Learn more at www.joegartman.com
Images by Patricia Gartman unless otherwise stated.