Liz Harper gets the balance just right on a family holiday in Florence, as her young daughter Molly enjoys a uniquely educational treasure hunt?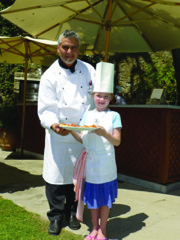 Taking a bite of the pizza she?d just created with the help of our hotel?s executive chef, my daughter Molly proclaimed it fantastico. No further words left her mouth until her plate was clean, but the grin on her face said it all. What could be better than making and cooking your own pizza ? other than eating it afterwards, of course.
My husband and I went to Florence on our first city break together ? a wonderfully romantic weekend packed with gallery visits, long lazy lunches and far too many bottles of Chianti. Some years later, and with a small addition to the family, we decided to head back.
A return visit to this city of a thousand memories with a small child in tow required careful consideration and serious planning. I wanted my daughter to love this wonderful cultural city without being phased by it, to sample its museums without overdosing on them, and to take away a richness of memory that would have her coming back in later years to fully explore the culture, architecture, art, food and atmosphere that make up this Renaissance beauty.
Finding Tranquility
A stay at the picturesque and luxurious Villa San Michele, a former monastery dating back to the 15th century, provided not only a spectacular view of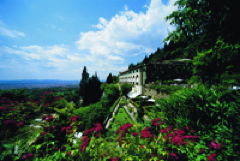 the jewel in Tuscany?s crown but also an escape from the crowds and heat of the city. Nestled among the hills above Florence, and yet just 15 minutes away from the centre, the hotel sits in landscaped and terraced gardens with sprinklings of lemon trees, ivy lined walls, masses of red geraniums, and a view to die for. It also boasts an idyllic swimming pool, hidden within the greenery, on the top terrace ? an essential element of any seven year old?s perfect holiday.
With such a beautiful home for the weekend it was difficult to drag ourselves away from the pool and into the city on the first morning, but for Florence it had to be done. The hotel offers a ?museum treasure hunt? for kids which takes in both the Palazzo Vecchio and the Uffizi, and I have to confess to initial reservations about how this would work. Anyone with little ones will know that it?s no small challenge for a tour guide to get young children excited about art and artifacts, history and heritage ? no matter what they try. Luckily, our guide managed to achieve this spectacularly well.
Searching for Treasure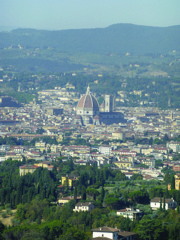 I knew Molly would love the people, the food, the weather and the city during this visit: my worry was the museums. The Uffizi is home to the world?s greatest collection of Renaissance art and you?d have to spend days there to do it justice, and my daughter has the attention of span of a gnat when it comes to museums!
Enter Alessandra, our tour guide, come children?s entertainer. For a couple of hours she led Molly around the museum with child-friendly explanations of what they were looking at. Having discovered that round paintings were only ever done for women, she was tasked with finding a number of these pieces. After learning that the only faces to look out of paintings would be those of the artist and the person who commissioned the piece (and how to identify which was which) she was challenged to point out both parties in a number of paintings. Being led to Botticelli?s The Birth of Venus ? much excitement here as it was a painting she?d seen a number of times at home ? Alessandra then explained the story within the picture and pointed out the details that are only visible in the original, such as the gold detailing around the shell, tree, hair and clothing.
For every question Molly got right during the visit, and every masterpiece she identified, she earned points ? and every child knows that points mean prizes! A passing reference to her collection of snowstorms proved a vital clue for the thoughtful team at Villa San Michele who presented Molly with a certificate of success on the treasure hunt and a reward of a Florence city snowstorm later that night ? the perfect gift. A visit to the Palazzo Vecchio had Molly learning about the powerful Cosimo de Medici, Duke of Florence during the early 1500s and spotting his trademark turtles and capricorns throughout the Palace?s elaborate rooms ? not to mention checking out one of Michelangelo?s lesser known sculptures, Victory.
Next day, the morning?s swimming pool exertions were rewarded with a private pizza-making session with the hotel?s executive chef, Attilio Di Fabrizio. Donning a chef?s hat and apron, Molly set to work under the kind direction of a man who normally presides over a team of leading chefs in the hotel?s kitchen. Dough was kneaded, pummelled and stretched, toppings agonised over, selected and positioned and pizza baked. As Attilio sampled Molly?s creation, my daughter looked on eagerly hoping for approval from this culinary god. A grin and hug of congratulations at his miniature sous chef?s creation left her looking like she would burst with pride. The rest of the pizza lasted just minutes!
An Education
A return trip to Florence later that evening had Molly reciting some of her new-found knowledge. We were reminded that it was due to Cosimo that there are now jewellery shops lining the Ponte Vecchio bridge. It used to be full of fish markets, but when a private walkway above the shops was created for the Medici family, Cosimo didn?t want to be hit by the smell of fish during the passage ? thus the fishmongers were thrown out in favour of jewellers.
Furthermore, my daughter reminded us that only one of the eight sides of the Duomo has a balcony. The original plan was to extend the balcony around the extent of the dome but when Michelangelo was asked what he thought of it he scoffed and, legend has it, remarked that it looked like a cricket cage ? work immediately ground to a halt with the remaining seven sides unfinished to this date. Her enthusiasm for this fresh knowledge is testament to our tour guide who managed to not only get our daughter into museums, but keep her happily engaged for a whole morning ? something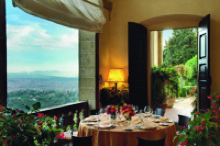 her father and I would have failed dismally to do.
Of course this trip differed from our earlier courting visit, with far less time in galleries and museums and far more in gelaterias. Swimming pools played no part in our previous visit and yet the hotel?s pool was a daily ritual on this occasion. We did, however, achieve what we set out to do ? to give our daughter a taste of what?s on offer in this beautiful city: to introduce her to the people, the food, the atmosphere and the art. We also achieved a first ? a relaxing city break ? thanks to our home for the weekend, the beautifully picturesque and unpretentious Villa San Michele and it?s team of helpful, engaging, knowledgeable and child-friendly staff. Many hotels make the ?family-friendly? claim ? this one exceeded expectation in every way. From the rose petal messages left on my daughter?s bed by the housekeeping team, to the ?Molly cocktail? concocted by the head barman ? and from the child-friendly guidebook she was presented with to the treatment she received by the hotel?s executive chef during her pizza-making session. Every little girl loves to be treated like a princess, and my daughter was certainly made to feel nothing short of one for the entire visit.