Alan Reed and his wife Susan run painting holidays in Italy. This is a beautiful and unique way to explore everything that the country has to offer. Here he tells us all about his journey.
It was my wife Susan who first introduced me to Italy. She had lived in Venice for five years and was always enthusing about the country, its people, the culture and of course, the food and wine.
We made our first trip together in 1991 and I soon found myself painting exquisite scenes on location. I was beginning to discover for myself why Italy has always inspired artists from all around the world.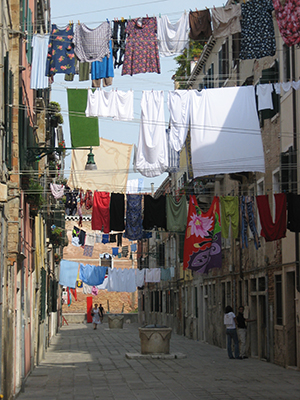 I've been painting "en plein air" in Italy since that first trip. I fell in love with the Italian architecture, the light, atmosphere and culture. However, it was not until our first visit to Umbria in March 2002 that I started to make better use of watercolour sketchbook studies.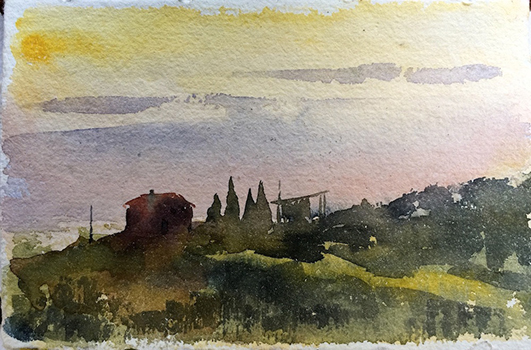 We were staying at the Relais il Canalicchio hotel perched on a hill commanding stunning views of the Umbrian countryside. During the first night of our stay, having enjoyed a fabulous meal at their restaurant, there was a heavy fall of snow. We awoke to complete silence and total white out. We were literally snowed in until the following day. Once the snow had cleared we began to explore Umbria in earnest, taking in hilltop towns like Orvieto, Todi, Perugia, Assisi and Norcia.
On one of our trips out to explore we visited the Fabriano paper factory where I purchased several leather bound sketchbooks containing their beautiful hand made paper which is a delight to paint on. In fact these tiny sketchbooks are so lovely you initially feel a little scared to paint in them in case you mess it up!
I did pluck up the courage though and one evening I painted the view from out window, a simple composition of a small farm building silhouetted against the warmth of the spring evening light.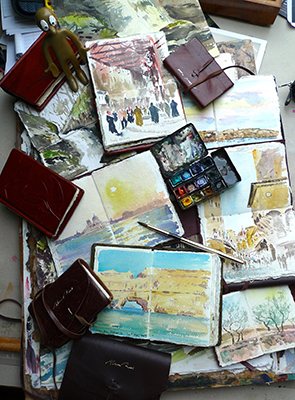 These are the kind of subjects that I would be encouraging guests on our painting holidays in Italy to paint. I would be leading by example but also overseeing their work, deciding on the right composition, advising on choice of colours, sequence of washes and of course making sure that they don't spoil the painting by overworking it.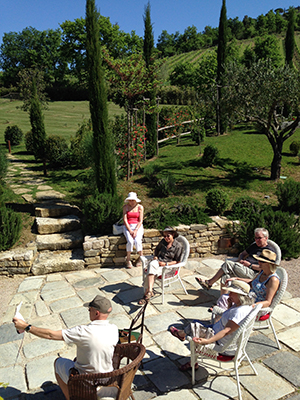 I began to develop a sketchbook painting style in watercolour where I would deliberately avoid drawing out the scene in pencil. Instead I would "draw" with the brush. This meant that the brush marks became more considered, fluid and direct.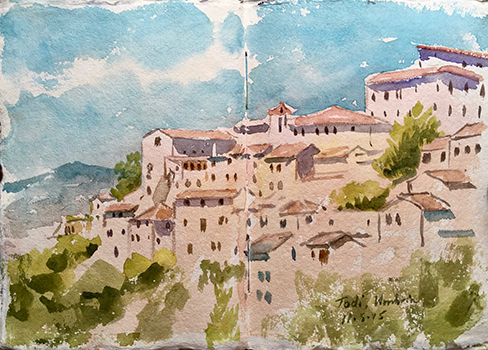 These days I have learnt how to make my own sketchbooks using paper from Khadi Paper and leather from a local supplier.
Over the years, my paintings of Italy have resonated with many customers, particularly those who have properties there. I've been very fortunate to have received a number of commissions to go out and paint original paintings of clients homes particularly in Umbria, described as the "Green Heart of Italy".
I deliberately choose to use a limited palatte to create mood and atmosphere, usually working on location in my hand made sketchbooks so that I have something to show the client before starting on the finished work. I will refer back to my studies painted on location to ensure that I retain the lively brush marks and looseness of the original sketch.
One of the many thrills of being a full time artist is receiving commissions to paint subjects which you find stimulating and exciting. Over the last few years I've received a number of commissions to paint some of the architecture built by the Romans.
Because of my training at art college in architecture, I really enjoy the whole process of gathering reference material on location through watercolour sketchbook studies of the ancient architecture and my own photography.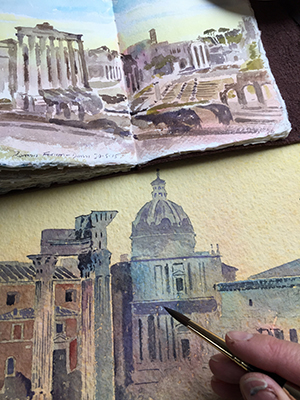 Pulling all the material together in my studio to create a finished watercolour is a rewarding task, particularly when I know how much the client really appreciates the final outcome.
Testimony about the Arch of Titus Commission.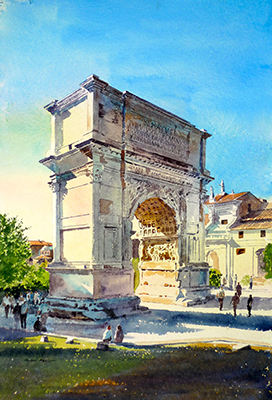 "Dear Alan,
I fear singing your praises as you may decide to raise your price for future work.
But worthy praise should be given heartily and your work is spectacular – worthy of the Emperor himself!
Thank you.
I look forward to the forum and other works".
Sylvano
I'm aware that not everyone can afford to buy an original painting so for almost 20 years, I have been building up a collection of limited edition prints reproduced from some of my original paintings of Italy.
Italy has also been very instrumental in enriching my skills as an artist, having spent time studying portraiture at the prestigious Charles H Cecil School of Fine Art in Florence.
This wonderful country continues to be an integral part of our lives, both personally and to the development of our business. To read more about our adventures and stories from Italy, visit www.reedartholidays.com
To see more of Alan's fantastic work visit www.alanreed.com.