If you really want to experience the beauty of a natural landscape there's no better vehicle than the bicycle. And it needn't be an exercise in strength and endurance. Jon Palmer goes e-biking in Italy…
Photos by Getty Images & Verona Garda Bike
The hills of Valpolicella, which rise in an uncoordinated eruption of undulations on the eastern shore of Lake Garda, have given us not only one of Italy's most famous wines, but also some its most distinguished and distinctive olive oils – and the enchanting curiosity of the most northerly lemons in the world. Yes, that's right: nowhere else on the planet can you grow lemons outside at this latitude. They grow them for fun these days (wine and olive oil are bigger business) but in times of yore the people of central and northern Europe relied on Lake Garda for their citrus-sourced Vitamin C.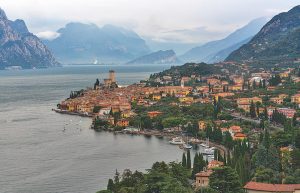 It's all about the microclimate, and that's a product of the topography: the sheltering effects of the Alps to the north; the sun-trap south-facing valleys; the temperate breezes from the lake; the peculiarities of terroir of a once-glacial terrain. For students of wine (and presumably geography) it's a paradise; and seeing it for yourself, and what and how people cultivate here, will really help you develop your understanding of the region's produce. However, these hill roads aren't really designed for car traffic, and you don't see much from inside a car anyway. Cycling is a much better way to get around. But then there is the issue of those hills… 
The last time I was in Bardolino was on a mountain-biking trip. We cycled a little way up into the hills of Valpolicella, to see the famous Masi vineyards and the venerable Turri olive groves, but mostly we'd pootled along on the flat, between the towns on the eastern shore of the lake and along the riverbank to Verona, stopping frequently for coffee, ice cream and photos at Juliet's balcony. We did spend an enjoyable afternoon risking life and limb by hurtling down La Rocca, but the trip as a whole wasn't really mountain-biking in any real sense beyond the fact that our bikes were 'mountain bikes'. 
With all the will in the world, the problem is that while cycling down mountains is tremendous fun, cycling up them is pretty hard work, and often quite boring. It will keep you fit, but for most people it's not really a holiday – especially when the shores of the lake and the banks of the river are calling you to tarry in the presence of their prettiness and peacefulness. And that's where the e-bike comes in.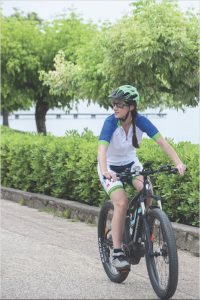 Cooperative network
Verona Garda Bike, which is a cooperative network of people and businesses with a common interest in cycling, has recognised that if they want to further develop cycling in the hills here, which they do, they need to look beyond the hardcore keen cyclists – the mtb'ers, the triallers and trailers and the road-racers – and reach out to people like, well, me. People who like to cycle, but don't wear lycra. People, perhaps, whose nearest and dearest, while encouraging them to cycle for the wide range of health benefits the activity confers, would also actively, and strongly, discourage them from investing heavily in the lycra side of things, for sartorial motives.
That's not to say that e-biking is for people who are old, lazy and/or unfit. It's not. Unless you really are just going to drift from shoreside gelateria to gelateria – with the bike motor on full boost all the way – you do need to pedal, and getting up hills does take effort. But it takes a lot less effort that it would on a normal bike. This matters not only in the hills but on the flat too. If your itinerary involves taking the children to Gardaland or the Cavour Water Park, you'll want to conserve some energy. If you're going to visit the Sigurtà gardens, which are huge, an e-bike is a very good way of not only getting there but also getting around the estate. 
At the zoo you have to leave all bikes at the gates because the animals aren't too sure about them, and getting around the zoo is quite a long walk. It's all well and good working on your fitness by 'feeling the burn' on that last stretch of hill climb, but if it means you can't walk round the zoo to see the white rhinos, what have we gained?
Cycling for everybody
E-biking opens up cycling for everybody, and Lake Garda, thanks to the continued efforts of Verona Garda Bike, is the perfect place to try it out. If you are going to insist on renting a car to join the traffic jam that is the Lake Garda shore road in summer, or take a wrong turn on a single-track road in the hills and have to find a way of getting back to where you were, then I'm sure you'll find a place to rent you whatever fancy four-wheeler you care for (perhaps check out the Museo Nicolis for inspiration) but now you have to think about where you're going to park, how long it's going to take you to get where you're going – and who's driving back from the wine-tasting at Masi! 

Light and slender
And do also remember that whatever car you're driving, whatever colour, whatever vintage, whatever the mechanism for retracting the roof, how ever much money you've spent on it, you will never, ever, look, or feel, as cool in a car as you will on an e-bike. They are the future.
And modern e-bikes are so light and slender that the untrained eye wouldn't know you were riding motor-assisted anyway, so it's quite easy to convince bystanders that you're actually a serious athlete in training for next year's Giro d'Italia. (The secret is to wear wraparound sunglasses and to make sure you buy a lycra shirt that's at least two sizes larger than you think you might actually need.)
If you've ever thought about e-biking, the routes, facilities and support you get here make Lake Garda a great place to try it out. 
What is an e-bike?
It's an electric bicycle: a bicycle with an electric motor to augment your pedal power. The motor needs to be charged, at a charging station, but for a day's riding, as long as you remember to switch it off when you lock up anywhere, this isn't something that's ever going to affect you. An e-bike has gears, which you'll need – because this is not a motorcycle: there is still effort required to keep the wheels going round – but is also has a booster, usually with three settings, that makes the cycling considerably less strenuous that it would otherwise be. If you're reasonably fit, and you use the gears correctlyx, a decent e-bike will get you up pretty much any hill. If you're not fit, even if you don't cycle at all, they'll still get you along the riverbank or the lakeside with scarcely any physical exertion. They're a lot lighter than they used to be and though even the best e-bikes will feel a little heavy with the motor off, you can ride them like that too.
For more things to see & do in the area, read our Lake Garda travel guide
In the next part, we'll venture up the A22 further into the Alps, to Alta Badia, where there's another concerted effort to get people cycling, and where e-bikes also play a major role in that initiative.