Valentina Nicastra shares some top places to eat and stay in this province of Piedmont, around the villages where the region's lovely lavender fields can be found
Photos by Valentina Nicastro, unless otherwise stated
Where to stay
B&B Il Galletto
An ancient farmstead that has been recently renovated and offers simple, cosy rooms with the most beautiful views over the countryside. It's about 2km from Sale San Giovanni, so it's the perfect base for early morning walks in search of picture-perfect lavender fields (pictured)!
Località Galletto, Via Vadda, 9
12070 Sale San Giovanni
B&B Magiche Langhe
A ten-minute drive from Sale San Giovanni, this bed & breakfast is a great choice for those looking to get away from it all. Guests sleep in a charming wooden chalet surrounded by a romantic garden and start they day with a breakfast feast looking out onto the Piedmontese countryside.
Via Coste, 49 – 12070 Paroldo
B&B Il Riccio
A family-run bed & breakfast in Ceva, close to the motorway exit and less than 1km from the historical centre, which is a nice walk. They offer three simple but spotless rooms and a generous breakfast of fresh bread, homemade cakes and jams.
Via Tamagno, 1a – 12073 Ceva

B&B Sant'Agostino
If you are looking for a bit of action, then consider staying in this lovely bed & breakfast in the historical centre of Mondovì, halfway between Sale San Giovanni and Demonte. It's located on a lovely pedestrian street with lots of nice restaurants and cafés, and features a delightful terrace to relax after sightseeing.
Via Sant'Agostino, 10 – 12084 Mondovì

Albergo Perdioni
A budget-friendly lodging about 3km from the centre of Demonte. It may look simple, but rooms are clean and comfortable and the family that runs it is very welcoming and friendly. The free on-site parking is a bonus point.
Via Merana, 5 – 12014 Demonte
Where to eat
Osteria delle Erbe
At this delightful, family-run trattoria located at the entrance to Sale San Giovanni you'll find great locally sourced food on the menu, paired with excellent regional wines and fantastic views over the surrounding countryside.
Via Villa, 3 – 12070 Sale San Giovanni
Ristorante Italia
A cosy restaurant near the centre of Ceva that serves classic Piedmontese dishes with a modern twist. You can choose between à la carte and a set menu, just make sure to try their vitello tonnato – it's to die for!
Via Moretti, 19 – 12073 Ceva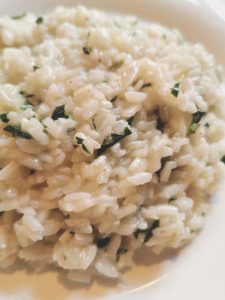 La Baracchetta
This is one of those places that exemplifies the old adage about not judging a book by its cover. The exterior looks a little rough and there's no sign of a written menu anywhere, but if you give it a chance you'll be rewarded with some real treats like creamy herb risotto (right) and richly seasoned steak tartare.
Piazza Della Libertà, 1 – 12073 Ceva
Lou Stau
Located in a hamlet just outside Demonte, this rustic trattoria with a homey atmosphere is a must when you are visiting the area. Dining here is totally worth the drive through the narrow and windy road, with excellent dishes on the menu including handmade pasta and a heavenly peach and chocolate pie!
Località Trinitá, 12014 Demonte

 +39 0171 955788
Bar Agnello
If you crave ice-cream, then this is your place. Nestled under the porticoes of Demonte's main street, this café is a great place for a fresh break during your visit. The gelato here is absolutely delicious and they do a great selection of flavours. They serve also excellent croissants.
Via Martiri e Caduti per la Libertà, 11 12014 Demonte

 +39 0171 955632 
Getting there
The best way to explore off-the-beaten-track locations is by using a car, and the Cuneo province in Piedmont is no exception. Driving here is easy: roads snake gently across the landscape and make for a picture-perfect summer road trip in Italy. Driving is also the most convenient and time-saving option for reaching the area.
Genoa Cristoforo Colombo is the closest airport, about an hour away from Sale San Giovanni, while the drive from Torino Caselle airport is just 30 minutes longer. If you land at Milan Linate or Malpensa, it will take about two and a half hours to reach your destination.
The road that leads from Sale San Giovanni to Demonte is filled with great places to explore, such as Ceva, an elegant town famed for being the capital of mushrooms, and Mondovì, whose delightful historical centre sits on a hill that can be reached with a pleasant funicular ride.
For more about the Cuneo province, Valentina's Piedmont's Little Provence is packed with travel inspiration