Make the most of your travels with Rachael Martin's tips and advice for anyone travelling to this spectacular part of Italy…
Photos by Rachael Martin and Auberge de la Maison
What to see & do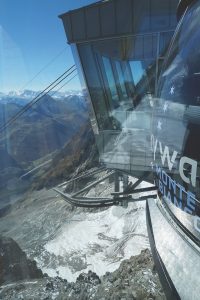 The Skyway
The Skyway (left) offers breathtaking and emotional views of Mont Blanc and the surrounding mountains. It's Italy's extreme engineering showcase, advertised as the eighth wonder of the world with 360° rotating cabins that take you up to 3,500 metres between the ice and snow of the mountains. It climbs so high that it is recommended that you pause at the first stop, Punta Helbronner, to acclimatise. While you are there, you can admire the alpine botanical garden, the permanent exhibition of crystals, and check out the wines at Cave Mont Blanc, which produces wine and spumante at high altitudes.
Skyway Monte Bianco, Strada Statale 26 dir, no. 48, Entrèves, 11013 Courmayeur (AO)
Maison Anselmet
"In 1977 my dad died," Renato Anselmet tells me. "We had a few vines, and out of respect to my father I tried to make wine, and we're still here." In 1978 he enrolled in a group of local winegrowers, and in 1979 they organized their first wine festival and started selling wine to local restaurants. Although 1978 is quoted as the date the vineyard began, there is an Anselmet recorded as having made wine here in 1585. Renato's son Giorgio has taken over but Renato remains involved. They are notable for their Le Prisonnier, Pinot Grigio and Pinot Nero, Fumin and Petite Arvine wines.
Fraz. Vereytax, 30 – 11018 Villeneuve

 +39 0165 904851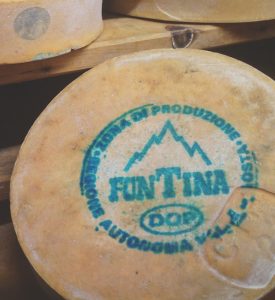 Azienda Agricola Quinson
This family-run business (left) in Morgex produces Fontina DOP and other local cheeses. In summer the cows are taken up to feed on the mountain pastures in summer in La Thuile at the Little Saint Bernard Pass. In winter, they are brought back to feed on hay from the same pastures. Their Fontina DOP is the cheese that comes from the mountain pastures; in winter they produce other cheeses including a type of raclette cheese called Barmettes. "Eat it over boiled potatoes," I was told. "It's delicious." And it was. I recommend you do the same. If you're there in autumn there's the transhumance, or the Désarpa as it's called in Valle d'Aosta, which generally coincides with the Feast of Saint Michael on the 29th of September. It's an important moment for every local producer; cows are decorated with flowers and the whole town takes part in the celebration.
Fraz. La Ruine, 101 – 11017 Morgex

 +39 339 728 8678
Aosta
Nearby Aosta (right) is a city of Roman origin with the elegant Piazza Chanoux, a castle and Roman theatre and gates. Also look out for the wood carvings throughout the city. It's a charming place to spend a morning and stay for lunch. We ate at La Bottega degli Antichi Sapori, via Porta Pretoria, 63.
Walking and cycling trips
Courmayeur is best-known for its skiing, of course, while the adjoining valleys of Val Vény and Val Ferret are very popular for walking in summer – though it can get hot down there, so do make sure you are properly prepared. Consider coming in spring or autumn – and if you're able to come outside the holiday periods, even better. I visited in autumn and the landscape was stunning. There is something about autumn in the mountains, as if the mountains are laid bare. Covered in neither snow nor flora, they reveal their essence, which is beautifully bleak at times.
The area is a paradise ready to be explored by bike or on foot. The staff of Auberge de la Maison can also recommend specific walks and itineraries, and even have a taxi service to take you to the start of your walk. And, should you wish, there are walks you can take with a personal trainer. The Auberge will also provide you with your picnic (or 'chicnic', as Alessandra calls it) for you to enjoy amid the beauty and tranquility of an alpine view.
My guide took me along Val Vény (left) for views of Mont Blanc and the surrounding mountains and of the Brenva and Miage glaciers. The valley is connected to France by the Col de la Seigne and is a natural habitat for alpine ibex, chamois, golden eagles and bearded vultures, and native species of flowers such as alpine columbines and yellow bellflowers. 
The river Dora runs through both Val Vény and Val Ferret. Val Ferret is the valley that heads east of Entrèves and is famous for cross-country skiing, with facilities also for snowbikes. In summer it is the ideal place for mountain biking.
Where to stay
Auberge de la Maison
This four-star Alpine Resort & Spa (right) is a real home-from-home. You'll find a warm welcome, spectacular views and glorious food. A lovely, comfortable base for any stay in the area.
Entrèves, 11013 Courmayeur (Aosta)

+39 0165 86 98 11 
info@aubergemaison.it  
For more on Courmayeur, Rachael's guide is a great starting point