For food enthusiasts, there?s nothing better than escaping to Italy to learn some new kitchen skills. We?ve selected some top cooking holidays for those who want to learn cucina italiana?
CUCINA DELLA TERRA
Set in the beautiful Italian countryside setting of Umbria, Cucina della Terra offers customized cooking vacations or one-day cooking classes that enable you to reconnect the local harvest to the table. Whether you?re a food enthusiast or professional chef, the culinary immersion and contemporary Italian dessert programmes teach you the old world methods of preparing traditional and contemporary Italian cuisine. As Italy?s premier hands-on cooking school, the classes are taught in a state-of-the-art cucina and are conducted in English.
During a week-long trip, you?ll meander through Etruscan and Roman towns and cities that are carefully selected from many in the surrounding area: Perugia, Siena, Orvieto, Montepulciano, Montefalco, Bevagna, Cortona, Castiglione del Lago, Pienza, or Arezzo. You?ll shop in the outdoor markets, participate in exclusive wine tastings, and learn firsthand about authentic raw milk pecorino, ricotta, and yogurt production while visiting a sheep farm. You?ll also meet butchers, chocolatiers, cheese mongers and shopkeepers to gain an insight into how ingredients are sourced and used to prepare traditional dishes.
Chef Gerri leads the course and teaches a deeper understanding of Italian food, culture and cooking techniques that you?ll continue to use in your culinary repertoire. Prices start from ?1,815. For more information and to book a place, check out the website.
Contact details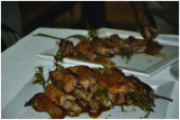 Cucina Della Terra
Geraldine Sarnataro
+39 3338 246373
+1 6467 618037 (USA)
gerri@cucinadellaterra.com
………………………………….
ECCO LA CUCINA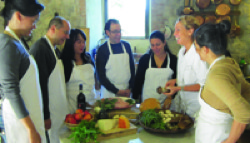 A cooking class with Ecco La Cucina is the perfect way for any lover of food and wine to experience Italy. Located in the heart of Tuscany near Siena, Ecco La Cucina offers both week-long culinary tours and single day cooking classes in a small group setting.
Hands-on classes are held in a lovely 900-year-old stone kitchen where you?ll learn to make local dishes paired with regional wines, followed by lunch in the garden, creating close camaraderie with fellow enthusiasts. The programmes taught at Ecco La Cucina are true immersions into the regional foods, renowned wines and the warm and friendly culture of Italy. The chef, Gina, has lived in Tuscany for many years and loves sharing stories about life in Italy. Her sister, Mary, helps to organise and lead the tours to nearby parts of Tuscany, Campania and Puglia.
Contact details
Ecco La Cucina
Gina Stipo
+39 3387 745487
ginastipo@yahoo.com
Mary Potter
mary@goitalyhomes.com
………………………………….
MANUELINA CULINARY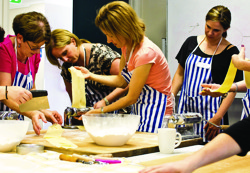 In the gastronomical capital of northern Italy, Manuelina Culinary offers cooking programmes and tours which take both professionals and food lovers to the heart of Italian regional cuisine. A team of experts are on hand to show you the real Italy, often hidden from the typical visitor. The school was designed to teach restaurant-quality skills to a range of chefs, but the approach is suitable for anyone with a love and enthusiasm for good Italian cooking.
The programme offers a culmination of knowledge from professionals who are the top in their field, and are continually updated to accommodate a highly competitive and forever changing industry. The intensive seven week master programme covers all areas of Italian cuisine including pasta, artisan breads, pizza, gelato, desserts, pastry, preserves and of course regional cuisine. Each topic is covered in one week and can be studied on its own or incorporated into the seven week course. For those short on time, there are also one week programmes that are taught by five different chefs to cover the foundations.
One week costs ?2,850 and seven weeks is ?10,900 inclusive of meals, accommodation and training.
Contact details
Manuelina culinary
www.facebook.com/manuelinaculinary
melina@manuelinaculinary.com
Tags:
blog
,
Cookery
,
Holiday