Which do you prefer? The five-star touches of a boutique hotel or the warm, welcoming embrace of a family-run B&B? You don't have to choose at Abbadia San Giorgio on the Ligurian coast, says Sally FitzGerald.
Abbadia San Giorgio is an exclusive boutique hotel nestled in the heart of a peaceful town called Moneglia on the Ligurian coastline. With the Cinque Terre just a few miles up the railway line in one direction and Portofino on the opposite side, its location really couldn't be any better. But it's the unique nature of the hotel itself that really makes it stand out.
As you may have already guessed from the word 'Abbadia' in the hotel's name, the building is located in a former monastery. Adjacent to St George's church, the hotel's rooms are hidden behind the ancient, yet incredibly photogenic, double cloisters. The Abbadia was built in the late 15th century by Franciscan friars and remained a monastery until 1866, when the friars left and it was passed to the local council.
It was then used as a school and warehouse until the post-war period, when it reverted to the church. The cloister was restored to its former glory and re-opened in 2005. The cloister floor is still made up of bricks dating back to the second half of the 1800s, and under the porticos remain faded scenes of St Francis's life painted onto the dry lime.
The style of the paintings dates them back to the 17th century, but because some of the subjects are unidentifiable, unfortunately they couldn't be included in the restoration; however their charm doesn't suffer for it.
Today, the church of St George remains an active place of worship, but the priests decided to make use of the cloister area, first by renting it out as flats, then by allowing it to be turned into a hotel.
THE COMFORT OF LUXURY
Abbadia San Giorgio is the dream of lifelong friends Giorgio and Angelo.
They grew up together in Moneglia and as teenagers used to joke about one day turning the discarded cloisters into their own luxury hotel.
Fast forward many years and when the opportunity to make this dream come true materialised, they jumped at the chance. While the priests were renovating the outside of the building, the team behind Abbadia San Giorgio spent a year and a half transforming the inside.
The hotel now boasts eight rooms, ranging from small classics to large doubles, suites and, the largest of them all, the honeymoon suite. Each room has its own slightly different style and colour scheme, and each is named after a friar who used to live at the monastery, a lovely reminder of the hotel's past life.
The hotel is run by Giorgio's daughter Greta and Angelo's daughter Francesca, the latter primarily running sister hotel Villa Edera e La Torretta, which is located just down the road from Abbadia San Giorgio. Greta was responsible for many of the interior décor choices and she's also the one who will greet you when you arrive at the hotel. It might sound like a cliché, but her welcoming smile makes you feel at home straight away.
She isn't just a faceless name behind a beautifully built but essentially sterile check-in desk, and her genuine interest in making sure you enjoy your time spent here will still give you a warm glow when you think about it for months after you return home.
It's the little touches that raise this way above being your average hotel.
With a small team running the hotel, there must be many things for Greta to do, but you can tell that she honestly gets pleasure from taking time out to recommend her favourite restaurants for you to try, even offering to phone up and book you a table, and then making sure you know which of the Cinque Terre trails to try out and which to avoid unless you're a serious hiker. It's the little touches like this that raise this way above being your average hotel and give it a really special place in your heart.
The touches extend to the rooms themselves of course, which have been sympathetically designed to seamlessly marry history with modern luxuries. The furniture has stood the test of time, with solid oak wardrobes and wrought iron beds draped with sheer white fabric.
You'll even find a few of Greta's grandmother's lights adorning the walls, everything sourced from Italy's finest makers. Nestled in between the bigger pieces are small, crested chests filled with homebaked biscuits, and baskets of beach towels placed next to the door just in case you fancy a refreshing morning dip. Every last detail has been carefully considered.
Yet within the faded grandeur of these historical rooms, modern luxuries are still on hand to spoil you. Trust me when I say that little feels as good as turning on the spa shower to have four jets of water gently massaging your tired, aching muscles after a long day spent hiking the Cinque Terre, or the refreshing blast of the rainfall-effect jets cascading down onto your head once the eight o'clock alarm call of St George's bell ringing has woken you up… There is a beautiful world waiting out there for you to explore and that bell really isn't going to let you sleep in and ignore it.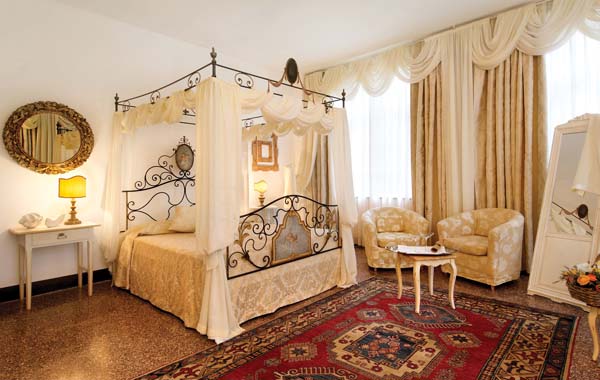 PERFECT START TO THE DAY
Breakfast is another aspect that really sets this hotel apart. Sitting outside in the lower portico, surrounded by faded frescoes, suddenly the classical music emanating from speakers in the corner of the grounds isn't the only thing you can hear.
Faint singing echoes to your left and you wonder if you've been transported back in time overnight, or if the ghosts of past monks have decided to join you for breakfast.
Then you realise it's the sound of Morning Mass in the adjacent church, so your attention can return undisturbed to the extensive breakfast menu, now comforted by the morning blessing.
Starting off with a bowl of the season's finest fruit and a glass of freshly squeezed orange juice is a must, but then which of the five different types of eggs should you opt for? A popular choice is chef Susanna's omelette filled with tomatoes and herbs, drizzled with rich olive oil and topped with crispy slices of prosciutto. You'll be truly set up for a day of exploring.
If eggs aren't your thing, you can take your pick from the fresh local ingredients adorning the breakfast table: focaccia, Ligurian honey, jam, cheese, meats, the list goes on… Or how about a slice of lemon and yoghurt cake? Jam-filled tart? Homemade heart biscuits? Breakfast is a reassuringly relaxed affair, so you've plenty of time to make your way through it all. My mouth still waters at the thought.
Although the hotel doesn't have its own restaurant, you can order a light lunch from a choice of regional specialities such as Pesto alla genovese and Crostini alle acciughe salate (salted anchovies on toast). Enjoy these seated in the upper balcony, looking out through the cloisters to the striped tower of St George's church and indulge in a rare moment of true tranquillity and relaxation, perhaps accompanied by your book of choice.
Another unusual treat that the hotel offers is the chance to order an aperitivo in the early evening before you head out to dinner. Again, as you relax in the upper cloisters, you can enjoy a reviving glass of Aperol Spritz alongside a flavoursome dish of aged Parmesan and a freshly prepared platter of bruschetta. The intense flavour of the tomatoes along with the pesto-topped ciabatta is a real treat, showcasing the high quality of the region's ingredients, and proving just how much we're missing out in the UK by not incorporating this Italian tradition into our regular routine. Add the right company and it's the perfect start to any magical evening.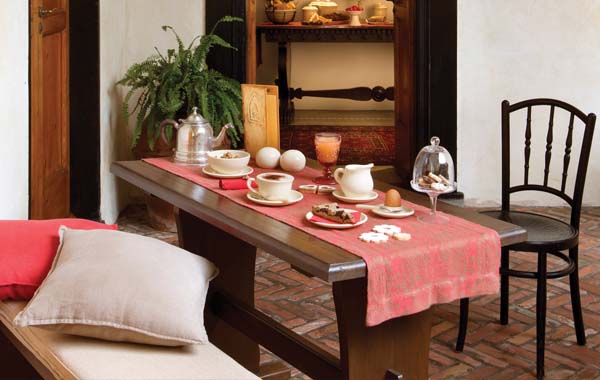 MAKING THE MOST OF YOUR STAY
If you're visiting the Abbadia during the summer season, there are a number of optional extras you can add to your already unique experience. Chef Susanna cooks up a feast during the weekly traditional Ligurian dinner, using recipes that have been passed down through generations of her family to introduce you to the classic favourites of the region, all of course accompanied by wine and beautiful views of the hotel.
You can also book to take part in a cookery course, again run by the lovely Susanna. Classes have a minimum of four students and must be booked 24 hours in advance, but you can collectively learn what you want to make. Pesto, gnocchi, tiramisù, focaccia… The choice is yours.
If yoga is your exercise of choice, classes can also be arranged to take place first thing in the morning in the upper portico. They're run by an English-speaking teacher and generally last 45 minutes. And if further relaxation is your aim, 45-minute massages can be booked in the comfort of your own room, as long as you're staying in either the large suite or a small suite (space restrictions dictate this).
It's not often you find a hotel that truly captures your heart so you're still talking about it, and the people who run it, months after you return – just the mention of a brief moment transporting you back to that place and instantly making you smile. But Abbadia San Giorgio really does have that power. I hope to return one day, and I hope just as much that you decide to experience it too. I promise you won't regret it.
WHAT TO SEE AND DO IN THE AREA
Moneglia is the perfect base for your Ligurian getaway as you can easily experience the delights of the area, and then escape the hoards of tourists at the end of the day for a little tranquillity in this coastal haven. Moneglia has a good train line and you can reach the Cinque Terre within about 30 minutes.
CINQUE TERRE
Liguria's Cinque Terre is one of Italy's most iconic sights – you'll have seen the clusters of colourful houses built into the coastal path adorning the front of more than one guide book or advert. But did you know that the name actually belongs to the area's National Park on which the five vibrant towns are located? While there are coastal paths connecting each of the five villages – Monterosso, Vernazza, Corniglia, Manarola and Riomaggiore – only two of the hiking routes are open for the next few years due to landslides. The existing paths take a couple of hours each to complete (Monterosso to Vernazza takes 2 to 2½ hours; Vernazza to Corniglia takes 1½ to 2 hours), and have challenging aspects with a lot of vertical inclines and steps involved. Paths can be uneven and it's actually illegal to wear sandals on the coastal paths – this is definitely an occasion where a good pair of walking boots comes in handy! But any exertion will be treated with the most breathtaking views and glimpses of mini monorails connecting vineyards and olive groves. You'll also need to remember to buy a Cinque Terre Trekking Pass as these are checked at different points along the trail. For those looking for a more relaxing way to get between the five towns, there is a very good railway service. Although it gets busy even out of season, it does allow you to see all five towns in one day. However you choose to travel between the towns, this is definitely a bucket list experience.
PORTOFINO
This beautiful fishing village was a favourite with 1950s film stars, and continues to be a popular location for the rich and famous, if the impressive yachts docked in the marina are anything to go by. It's easy to reach from Moneglia – simply get the train to Santa Margherita Ligure, then either follow the 5km path along the coast and through a very pretty park to the town, or there is a boat that goes between the two towns at regular intervals throughout the day, as well as local buses. When you get there, while away the hours people watching in a café, checking out souvenirs in the winding narrow streets, or paying a visit to the castle. Slightly less busy than Cinque Terre, it's full of old-world charm.
GETTING THERE
To reach the hotel by plane, fly into Pisa or Genova. You can then either drive to Moneglia (the hotel has a couple of private car parking spaces), or take the train. As cars are not permitted in many of Cinque Terre's towns, it's advisable to use the regular train service to get around while you're there.
WHERE TO EAT
Moneglia is a hidden gem when it comes to restaurants, with fine dining at a good price. Here are three of our favourites… ASSIRTO 118 Via Vittorio Emanuele, 16030 Moneglia www.facebook.com/Assirto
This has to be one of the best restaurants I've been to in the whole of Italy, not just Moneglia. With a cosy, cavernous interior and relaxed yet romantic atmosphere, you know you're going to get great service when your waitress pulls up a seat to talk you through the menu. Nothing is written down as it changes on a daily basis depending on what is the best produce of the day. Ingredients aren't necessarily local; they go where they have to for the best quality – for example importing pork from Spanish pigs that have been fed on acorns. The menu is simple, with around four choices for each course, but the food that arrives at your table is anything but – packed with flavour and lovingly prepared, with wine pairings to match.
RISTORANTE BISTROT JULIA
1 Via Luca Cambiaso, 16030 Moneglia ristorante-bistrot-julia.business.site
This light, airy restaurant has a very homely feel to it, complete with fairy lights and warming fireplaces. Portions are large and filling, with the tempura squid and vegetable platter starter putting the UK's equivalent of fish and chips truly to shame! An amuse-bouche was brought out between courses to showcase more of the region's best ingredients and to add to the experience. This is a great place to go if you're after a comforting bowl of pasta or risotto, as well as for the delicious fish and seafood options, which are available at many of the area's restaurants. A regional treat that feels a bit like you're being welcomed into someone's home for dinner.
RISTORANTE LEVANTINO
Corso Libero Longhi, 16030 Moneglia facebook.com/RistoranteBagniArcobaleno
If you're really in the mood for fish or seafood, head straight to Ristorante Levantino on the beach front. The food lives up to the setting, offering you the chance to try the best of the local specialities with a gorgeous view of the beach. Start off with the sharing platter piled with varieties of fish and seafood that perhaps you wouldn't have chosen otherwise. People in this area are fond of anchovies, and in this restaurant you can see why. A far cry from the tinned variety, Moneglia's are fresh, meaty and full of flavour. Follow with grilled fish, seafood pasta or anything with pesto, and then a shot of limoncello to round it all off.
FIND OUT MORE
ABBADIA SAN GIORGIO
Piazzale San Giorgio, 16030 Moneglia
www.abbadiasangiorgio.com
info@abbadiasangiorgio.com
Rooms start from €175 per night for a small classic in low season.